ASHS alumni award recipients announced
Posted: December 18, 2012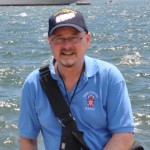 Tom DiDonna, DHSc
Two ASHS alumni have been selected for the 2012-13 ASHS Alumni Awards in recognition of contributions to their professions, communities, and alma mater.
The Distinguished Service Award was awarded to Bethany Rogers, MS, ATC, '07 for her work in bringing athletic training services to youth in inner-city schools. With the majority of youth not having access to athletic trainers, those dealing with sport-related injuries can often end up in a lifetime of inactivity, increasing the risk for obesity and related conditions. As CEO of the Student Athlete Foundation of Kansas, Rogers has helped provide this essential service to a population that already has limited access to healthcare. Her dedication to the underserved truly represents the lasting impact on society through professional and voluntary accomplishments that the Distinguished Service Award symbolizes.
Tom DiDonna, DHSc, '10 is the recipient of the Humanitarian of the Year Award for his commitment to improving global health. His extensive volunteer experience with organizations such as Operation Smile and Helping Babies Breathe has earned him considerable admiration around the
world. His passion for training other healthcare professionals has not only inspired them, but it has given them the advanced skills needed to improve and sustain the health of their own communities. The Humanitarian of the Year Award honors those who have demonstrated exceptional dedication, enthusiasm, and leadership through volunteer service.
Both alumni will be presented with their awards at their respective alumni events in 2013.