ASDOH student attends prestigious student leadership symposium
Posted: May 1, 2018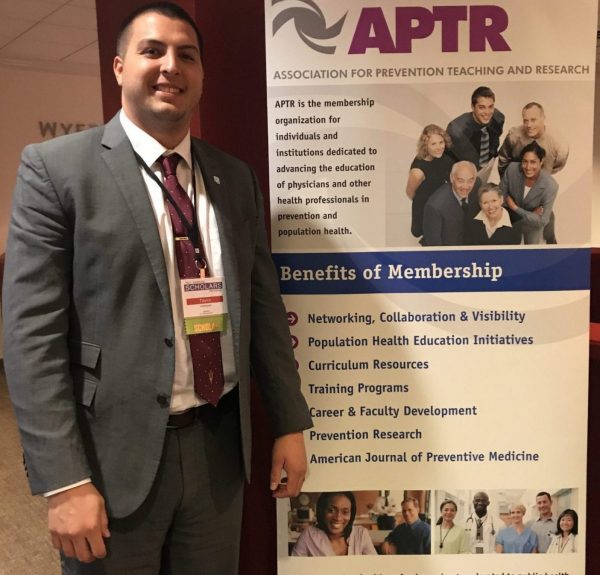 Taylor Velasquez, D3, a dentistry student at A.T. Still University's Arizona School of Dentistry and Oral Health (ATSU-ASDOH), was accepted into a highly competitive program to attend the 16th annual Paul Ambrose Scholars Program Student Leadership Symposium, held April 9-10 in Philadelphia, Pennsylvania.
The Paul Ambrose Scholars Program honors Paul Ambrose, MD, MPH, who was onboard American Airlines flight 77 that was hijacked on Sept. 11, 2001. Dr. Ambrose had an accomplished career and left behind a powerful and far-reaching legacy. Following his personal vision, the program supports leadership development for students pursuing careers in preventative medicine and public health.
Velasquez joined 40 other medical and dental students from across the country who are dedicated to bringing health promotion and preventative approaches to health professions education in their communities. Velasquez attended presentations focused on prevention, healthcare, health policy advocacy, project planning and community organizing, media relations, and social determinants of health. The symposium empowers health professions students by enhancing their leadership skills and teaching them important public health competencies in a non-traditional and interactive forum.
When asked about his participation in the symposium, Velasquez was eager to implement his own community health project based on everything he learned at the recent symposium.
"The leadership symposium provided me the opportunity to collaborate with other young health professionals across the country to discuss major issues that are affecting our communities. I am proud to have represented ATSU in this capacity and look forward to starting my project to bring more awareness to populations that are underserved."