ASDOH alumnus lives out mission to the underserved in China
Posted: December 6, 2013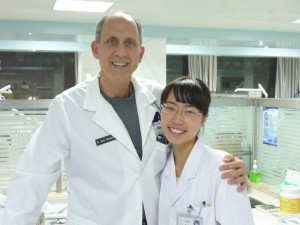 Dr. Davidson and Dr. Hu Xaoxi
In October, Joshua Davidson, DMD, '11, participated in a humanitarian trip to Guilin, China to provide oral healthcare to school children with special needs, to treat the local underserved population, and to offer instruction to hospital staff on new dental techniques and dental materials. Dr. Davidson accompanied a team of 22 healthcare professionals, including seven dentists from across the United States. The Affiliate Hospital of Guilin Medical University's department of stomatology hosted the team.
"The patients were so pleased to receive care, and I was happy to provide care and see, from the inside, a country whose history is long and interesting," said Dr. Davidson. "The local sights were spectacular, particularly one 300-year-old village. I'm amazed when doors open so flawlessly because of my dental skills. ATSU-ASDOH was represented in China!"
Dr. Bruce Bosler, DDS, FAGD, a Calif. dentist, led the team of dental practitioners. The humanitarian trip was recently featured in the California Academy of General Dentistry publication.
Of his experience at ATSU-ASDOH Dr. Davidson says, "I'm so proud to be an ATSU-ASDOH graduate. I tell everyone I meet, with pride, that I was trained at ATSU-ASDOH."