An osteopathic tenure
Posted: July 11, 2018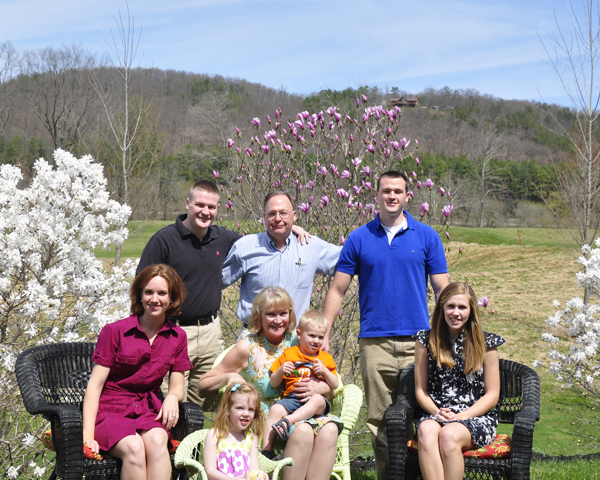 Dr. Tooke-Rawlins (center) is proud of her family. Her husband (back, center) is an ER physician and works in academic medicine as a leader in healthcare simulation. Both of her sons became DOs. One son is an Air Force critical care physician who just returned from deployment, and the other is an internist with the National Health Service Corps in Virginia.
The "Kirksville experience" is a term of endearment used to describe a person's tenure in Kirksville, Missouri. People who come to this educational hot spot are able to embrace a small-town lifestyle in a cultural hub of rural America. Dixie Tooke-Rawlins, DO, FACOFP, '80, was fortunate to experience Kirksville three times.
Originally from a rural town in southeast Missouri, Dr. Tooke-Rawlins began her career pursuing nursing. As an undergraduate student, she worked for Richard Gayle, DO, '67, and David Gayle, DO, '69, in a busy rural family practice. The doctors encouraged her to pursue medicine instead. A year later, she changed her major to premed and transferred to Truman State University in Kirksville, preparing for ATSU-KCOM.
After graduating from ATSU-KCOM and completing postgraduate training, Dr. Tooke-Rawlins became board certified in family medicine and emergency medicine and spent her first eight years working in southeast Missouri. Shifting her focus to family medicine and academics, she came back to Kirksville in the early '90s as an ATSU-KCOM faculty member while her husband, Frederic Rawlins II, DO, '95, was earning his medical degree.
A few years later, the couple and their two sons moved to Michigan and then to Pennsylvania. While he finished his clinical training, she served as a residency director and then a director of medical education. The family found its way back to Kirksville again in the late '90s when Dr. Tooke-Rawlins accepted the position of associate dean of clinical affairs at ATSU-KCOM. One and a
half years later, she stepped into the role of interim dean – the first female to hold the position.
Through each experience in Kirksville, she propelled her career to the next level. While interim dean, Dr. Tooke-Rawlins was recruited to Edward Via College of Osteopathic Medicine (VCOM) and became the founding dean. Today, she serves as VCOM's president and provost, overseeing three campuses in Virginia, the Carolinas, and Alabama, along with international rotation sites. Of her many roles and responsibilities, she enjoys mentoring students most, watching their excitement in learning medicine and caring for patients.
"I get to see students' faces when they cross the stage at graduation, when they get their first white coat and how excited they are," she says. "Those are the things that make it worth coming in every day."
Like anyone, Dr. Tooke-Rawlins faced her share of challenges, but with her family always by her side, she was able to follow her ambitions. She has received many awards including the Kirksville Osteopathic Alumni Association's Distinguished Service Award, American Osteopathic Foundation Educator of the Year, and American College of Osteopathic Family Physicians' Lifetime Achievement Award, which she received this year.
"As a DO, all of us have a responsibility to ensure we do the right things for those who come after us," says Dr. Tooke-Rawlins. "We have to be advocates for the osteopathic profession."