Afsoon Johnston: An Iranian girl's American dream
Posted: April 20, 2022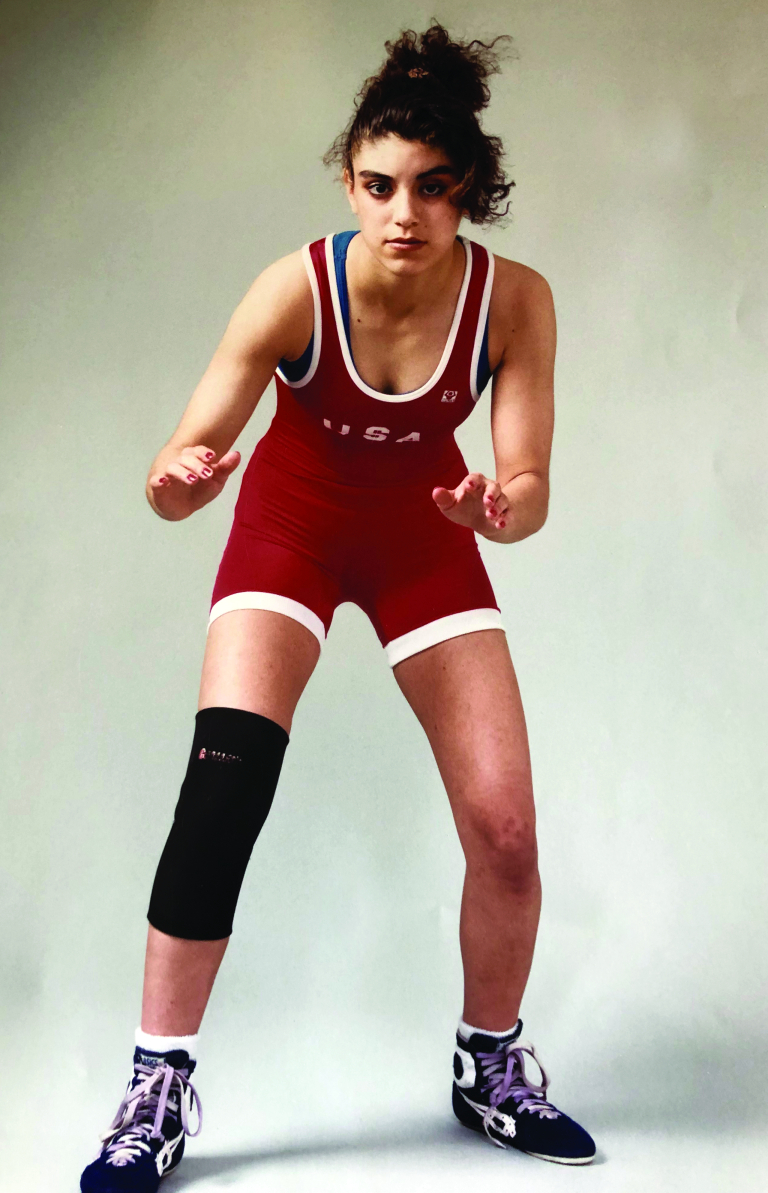 Johnston is the first woman to win a world wrestling medal for Team USA.
Wrestling has always played a significant role in Afsoon Roshanzamir Johnston's life. Being born in Iran in the early 70s, wrestling was and still is the national sport. Her father was a wrestler and always wanted a son to follow in his footsteps. Although Johnston, MSPT, '00, was an only child, her father believed she could do anything a boy could do. His mindset was more progressive from the rest of the country, as men and women didn't have equal opportunities. Throughout her childhood, Johnston's father would teach her wrestling moves in their living room, and he would let her win wrestling matches against him while her mom refereed.
Johnston's home life was a stark contrast to the outside environment. First, the revolution happened, and her country became the Islamic Republic of Iran. Rights for women were turned back about 100 years, and women were very limited in what they could do. Then, Iran went to war with its neighboring country, Iraq. This was a very scary time for Johnston. She would be relaxing at home, and suddenly a siren would go off – she had to rush to the basement as fast as possible because Iraqi warplanes were dropping bombs. Sometimes at school many seats were empty, and it didn't mean those students were sick; it meant their houses had been bombed and they or their family had died. For Johnston, growing up there was tough, and her parents didn't want that life for her. To give her a better future, they decided to risk everything and immigrate to the U.S.
Even through her experiences in war-torn Iran, Johnston said the hardest part of her life was those first few years in the U.S. She was only 11 when her family moved, and American culture and society was very different from what she had known. Johnston didn't speak a single word of English, which made it challenging for her to communicate or express herself. By the other students, she was seen as the weird kid. When some students would learn where she was from, they would call her a terrorist and tell her to get out of their country.
As she struggled to find acceptance, she learned two very important things. First was the value of an education, something no one could take away from her. Second, even though other kids wouldn't interact with her, that changed when it came to sports. During recess, she was always the first one picked for teams because of her athleticism. Johnston thought sports could be her ticket to fitting into this new environment.
Eventually her parents were able to save enough money to buy a house and move, which meant a new school for Johnston to start high school. At the time, cheerleading was the all-American girl thing to do, so Johnston joined the team. Once winter sports rolled around, she was cheering for the wrestling team, which was only for boys. As she watched the team wrestle, she thought about how she was cheering on the sideline when instead she could be out there wrestling too.
Under Title IX, Johnston knew legally the school couldn't stop her from joining the team. She walked up to the wrestling coach in her cheerleading uniform, weighing 98 pounds, and said she knew the sport well and wanted to try out for the team. The coach was hesitant at first and not knowing who her father was, called him to see if he would say no. To the coach's surprise, Johnston's father was thrilled by the idea and fully supported her desire to wrestle. She earned her spot easily by beating the team's starting varsity wrestler in her weight class. By joining the team, she received a lot of criticism from other people and the media for being a female wrestler. She had to prove herself – to others and for girls who loved wrestling – and she did so by working incredibly hard.
From the time she started wrestling, more and more girls started going out for predominantly male sports. By her senior year in high school, for the first time ever, women's wrestling had a world championship. Johnston made the national team, went to the championship, and won the first medal for the U.S. women's team.
After high school, Johnston wanted to continue wrestling and her education. She received her bachelor of science in kinesiology and exercise science from the University of California, Davis. She trained with the men's wrestling team there and was still able to compete for the national women's team. But while wrestling, Johnston tore her ACL, which required months of physical therapy.
After going through her recovery, she realized physical therapy would be the perfect career for her. She came across ATSU-ASHS and loved its program because it was ahead of its time. Johnston was able to continue her wrestling career while taking online classes to earn her master of science degree in physical therapy in 2000. Also during this year, she hoped women's wrestling would be added to the Olympics, but when it was not, she decided to retire from wrestling to start her career and family.
Four years later, in 2004, women's wrestling was added to the Olympics. At the time, Johnston was nine months pregnant. This was a very bittersweet moment for her because that is where she wanted to be, and she had won against girls with gold medals around their necks. However, she was thrilled to see women's wrestling finally in the Olympics and women accepted in the sport.
In 2012, the coach of the women's wrestling national team contacted her and wanted her to be involved in the sport again. She went back to help as a physical therapist and as a coach. Then in 2016, she reached her dream of coaching in the Olympics in Rio – the first year the U.S. won a gold medal in women's wrestling.
Today, Johnston continues coaching and practicing physical therapy. She uses her story to motivate others to reach their goals and often gives inspirational speeches to various groups and organizations. The book "Afsoon," which was recently published, gives a detailed account of her life in Iran, moving to the U.S., and achieving her dreams. Her message to others is with hard work and motivation, anything is possible.
"Don't limit yourself, believe in yourself, and follow your dreams," Johnston says. "As a female athlete, you can still have a family, you can still have a career, and you can still balance everything and bring it all together."