An expression of gratitude
Posted: May 21, 2019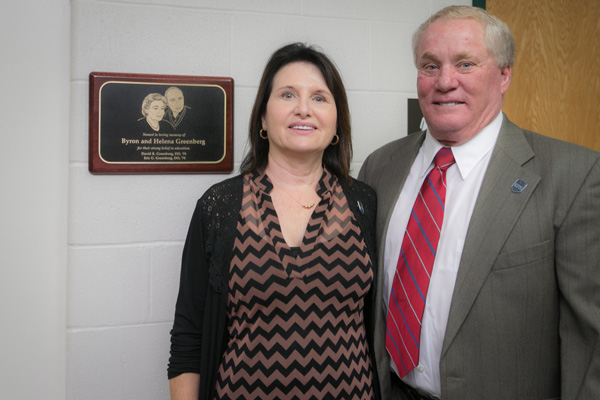 Nancy Greenberg, widow of David Greenberg, DO, '74, and Eric Greenberg, DO, '74, attend the Byron & Helena Greenberg Performance Assessment Center dedication on the Kirksville, Missouri, campus.
Growing up in New York, brothers David, DO, '74, and Eric Greenberg, DO, '74, had never heard of osteopathic medicine, let alone held aspirations to become osteopathic physicians.
It was 1969, and New York Post publisher Byron Greenberg learned during a visit to the newsroom the upcoming National Convention for Osteopathic Medicine was to be held in New York City. He offered his son, Eric, a press pass to attend. That offer changed the course of Eric's life. He found himself absorbed in the convention's lectures and the osteopathic concepts that were shared. During the reception, he met Dr. Morris Thompson, then president of Kirksville College of Osteopathic Medicine (ATSU-KCOM).
"He must have seen something interesting in my inquiries as he took me under his wing, introducing me to many of the faculty in attendance, and invited me to be his guest for the remainder of the conference," Eric recalls. "At the conclusion of the conference, President Thompson asked me, 'You are going to apply for next year, aren't you?'"
Fate favors the fearless, and Eric enthusiastically applied. He soon found himself and his brother in classes with beloved anatomy professor and University icon Duke Snyder.
"What a difference that week made in my life," Eric says. "I completely changed my career path after that experience."
This unexplored path led to careers that allowed the brothers to spend their lives in a profession they thoroughly enjoyed, while rewarding them with professional and financial success.
"It is the rare person who is genuinely engaged in a profession they truly love," Eric notes.
As an expression of gratitude to the University and to their parents for their sacrifice, David and Eric chose to fund a naming opportunity at ATSU-KCOM with a six-figure gift from a charitable remainder unitrust.
"We wanted to show our appreciation for the opportunity ATSU-KCOM had given us while honoring our parents who undertook the financial burden of simultaneously putting two sons through medical school, never once worrying about this burden or expecting us to reimburse them for this tremendous commitment to our professional careers," Eric says.
Choosing to name a facility dedicated to student assessment and learning seemed to be the perfect choice. The newly named Byron & Helena Greenberg Performance Assessment Center provides learning, testing, and, where necessary, remediation experiences to validate a level of clinical skill competence appropriate for medical students entering their postgraduate training.
"My only regret is that David was not able to live long enough to have been able to see this wonderful center and attend the dedication ceremony to witness the joy I felt as President Phelps unveiled the naming plaques of the Byron & Helena Performance Enhancement Center," Eric says. "It may be the most rewarding feeling I have ever experienced, knowing how the center will enhance the education and training experiences of future students."