An ear for healing
Posted: July 11, 2018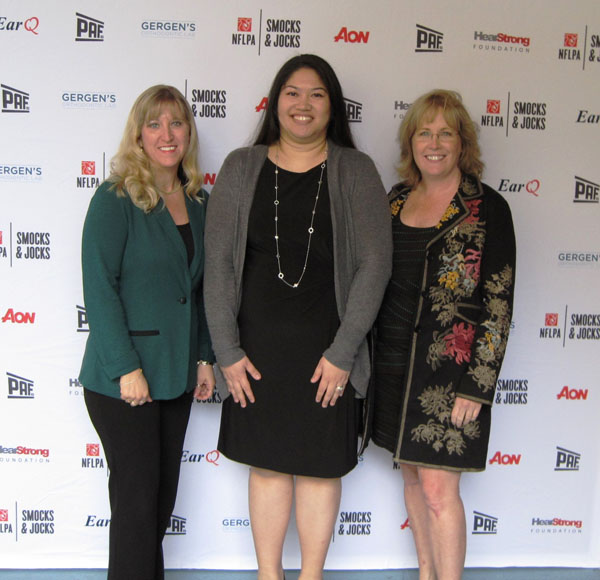 Dr. Favor (center) poses for a picture at an award ceremony.
According to the Centers for Disease Control and Prevention, nearly three out of every 1,000 children in the United States are born with a detectable level of hearing loss in one or both ears. Kathleen Favor, AuD, '14, was one of those children. She has firsthand experience with the challenges and successes of growing up with hearing loss and navigating through adulthood.
As a child from Dublin, California, Dr. Favor and her parents were referred to the Hearing and Speech Center of Northern California (HSCNC). The center confirmed her hearing loss, and she was fitted with her first pair of hearing aids. Dr. Favor's family provided her with the support to treat her hearing loss while ensuring access to the tools necessary to be successful academically. Even with all the love and encouragement as a child, Dr. Favor had not yet encountered another individual with hearing loss.
"I remember as a young child that I just felt different from everyone else and yearned to make a connection with someone outside of my family who also had hearing loss like me," says Dr. Favor.
Over time, she began to meet people with hearing loss, which strengthened her self-esteem. By the time she reached middle school, Dr. Favor began imagining her career as a teacher, wanting to fulfill a desire to help others. One day, Dr. Favor's school teacher suggested she help others with hearing loss, just like herself.
"At the time, it never dawned on me that someone with hearing loss could help other people with hearing losses," says Dr. Favor. "I just assumed an audiologist had to have normal hearing. Once the realization sunk in, I was more inclined and determined to pursue the audiology profession."
During her time in the Doctor of Audiology program at ATSU, Dr. Favor applied for and was accepted to a clinical externship at HSCNC, the same center she visited as a child years before. Following graduation, she was offered a full-time position there.
Today at HSCNC, she works with patients who are 6 months and older, conducting diagnostic audiologic evaluations, hearing aid fittings and checks, and aural rehabilitation. She has incredibly appreciative clients with whom she offers her services and shares her personal experiences. Her greatest joy comes from witnessing patients' reactions to the first time their hearing aid is turned on.
"I am reminded frequently why I pursued my doctorate in audiology," she says. "I want my patients to know that I am there for them and will support them to the best of my ability."