American Dental Association visits ATSU-ASDOH
Posted: October 19, 2018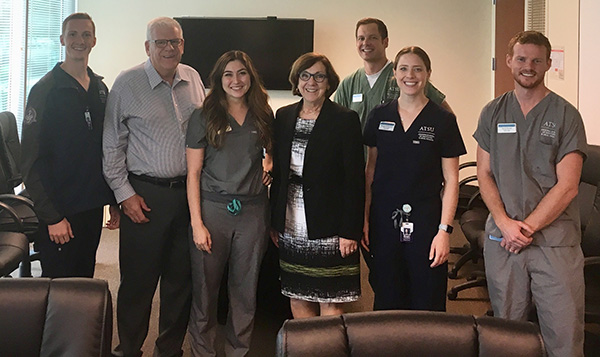 On Wednesday, Oct. 3, the executive director of the American Dental Association, Kathleen O'Loughlin, MPH, DDS, visited the Mesa campus to tour A.T. Still University's Arizona School of Dentistry & Oral Health (ATSU-ASDOH) and the clinics. She was accompanied by Kevin Earle, MPH, MBA, executive director of the Arizona Dental Association.
Dr. O'Loughlin and Earle were given a tour of The Center for Advanced Oral Health by Maureen Perry, DDS, MPA, MAEd, associate dean for the Advanced Care Clinic at ATSU-ASDOH,  and of the pre-doc clinic, Dillenberg Center for Health Innovation & Technology, and PDS Innovation Clinic by Wayne Cottam DMD, MS, vice dean at ATSU-ASDOH.
Dr. O'Loughlin also had lunch with ATSU-ASDOH student leaders.