Alumnus to current, future ATSU students: Find your 'North Star' to guide path
Posted: July 20, 2020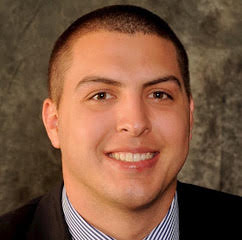 Taylor Velasquez, DMD, '19
Taylor Velasquez, DMD, '19, recalls making trips to the dentist as a child. The A.T. Still University-Arizona School of Dentistry & Oral Health (ATSU-ASDOH) alumnus is the oldest of five siblings, two of whom are on the Autism spectrum. 
"Going to our pediatric dentist was never a fun time for them, as they loathed having any dental treatment getting done," Dr. Velasquez said. "Seeing my brothers scared and helpless made me want to be able to help them. This was the spark that pushed me to pursuing a career in dentistry." 
His career has taken some turns in recent months, due to the coronavirus pandemic. Dr. Velasquez works at Lone Star Circle of Care (LSCC), a Federally Qualified Health Center (FQHC) in Austin, Texas. When the pandemic postponed many regular dental patient visits, he and other dentists found other ways to help, performing nasopharyngeal swabbing at LSCC's drive-thru location for COVID-19 testing.
"We were all trained and certified at our FQHC," Dr. Velasquez said. "I never thought I would be doing this, but it is something that I'm proud to be part of. My dental director, Dr. (Denise) Armstrong, is the individual to thank, as she has provided this opportunity for us to help our FQHC and community."
Dr. Velasquez's desire to help was honed at ATSU-ASDOH. He called his classmates "a family" who had a profound impact on his experience, quickly erasing any concerns he had about what atmosphere he would find in dental school.
"When I first entered ASDOH, I was on my toes about how cutthroat dental school was going to be, but I was totally wrong about this when I saw how everybody wanted to help each other pass the next test," he said. 
"Getting to know and work with like-minded individuals who wanted to make a change in the world was really inspiring."
Coursework and clinical rotations kept Dr. Velasquez busy, which is exactly what he wanted. He loaded his schedule to ensure he was properly prepared for professional life, and simultaneously completed his master of public health degree.
Dr. Velasquez moved to South Dakota to work with the Delta Dental Philanthropic Foundation following graduation, and was part of a mobile clinic providing free dental care to children across the state. He was a contracted, temporary dentist, and in searching for a more permanent position found LSCC. 
He now works in south Austin and primarily treats a low-income population.
"I was looking for an opportunity to make an impact in a local community, and mentorship," Dr. Velasquez said. "LSCC checked all of those boxes for me.
"I enjoy the connection between the patient and myself. Working with the underserved population here in Austin has really humbled me. My patients are hardworking individuals who make a big impact in my community, and learning more about them really makes my job easy. If I get to learn more about themselves and their family, I can effectively communicate with them about their oral health. Inspiring my patients to actively take care of their oral health is empowering and I always try to push my patients to improve each time they come in."
Dr. Velasquez implores those planning a career in healthcare to take a long look at why they want to enter the field. Finding their own "North Star," as he put it, can help them determine a path and stay on course toward their goals.
"The journey to becoming a health professional is rigorous, but you have to trust the process," he said. "Be open-minded and be able to help out when your community needs you, like in these current times."