Alumni Spotlight
Posted: June 5, 2014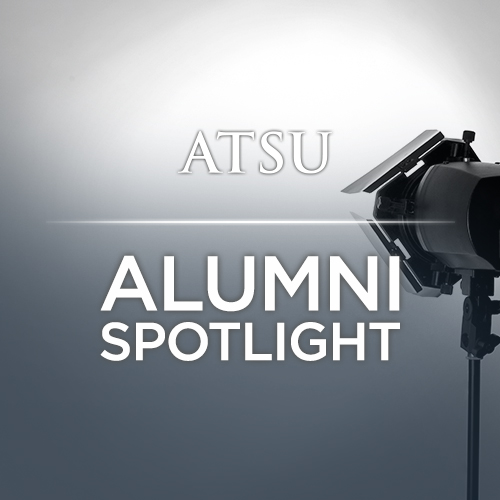 Sarah Piebes
This year, Sarah Piebes MS, ATC has been chosen as the AT program alumni spotlight. Sarah graduated from Ithaca College (Ithaca, NY) in 2006 with a Bachelor of Science degree in Athletic Training & Exercise Science. She graduated from ATSU-ASHS in 2008 with a Master of Science degree in Athletic Training.
Her first full-time position was as an assistant athletic trainer at the University of Vermont (2008-2010), in Burlington, VT. At UVM, she worked with field hockey, softball and women's lacrosse, and served as a clinical instructor for the UVM Athletic Training Program. Following her time at UVM, she accepted a dual position of assistant athletic trainer and physical education faculty member at Milton Academy (2010-2012), in Milton, MA. During this time, she also served as a clinical instructor for the Boston University Athletic Training Program. She left Milton in 2012, to accept her current position at her alma mater, Ithaca College, as a Clinical Assistant Professor and Assistant Athletic Trainer. She was kind enough to participate in a Q&A session that highlights the impact ATSU has had on her current career path.
How did ATSU prepare you for the position you hold today?
The Athletic Training program at ATSU provided a compressive education that built upon the strong foundation I received in undergrad. The classes expanded my knowledge, in both breadth and depth, and strengthened my clinical skills. This, in combination with my graduate assistantship at Xavier College Prep, gave me the experience and confidence that allowed me to eventually return to Ithaca College and teach in a nationally recognized undergraduate program.
What is your most memorable moment from ATSU?
There are so many!! My number one would probably have to be being the first in my class to successfully defend my thesis. My close friend defended immediately after me, and I vividly remember sitting in the hallway with her after our presentation, waiting to hear the final decision. (She passed her defense as well – great day!)
What was your favorite class from ATSU?
I loved Human Anatomy with Sue Hillman. As a hands-on learner, being able to see what we were studying made all the difference for me. This class, in combination with our rehabilitation classes, allowed me to really "connect the dots" between anatomy, injury and rehabilitation.
What is the best advice you received while at ATSU?
"You can do anything for two years." Jackie Kingma gave me this advice on a visit to the campus before I committed to the program. As a native of Connecticut, the idea of moving across the country was terrifying, and she helped me to see the big picture of what I was about to do. At that time, deciding to attend ATSU was the best choice I could have made for myself, and this simple sentence helped me to take a chance. The meaning behind her words have stayed with me to this day.
What advice can you provide to incoming students as they matriculate into the program?
Take advantage of all of the opportunities that are about to open themselves to you…
The faculty at ASHS are incredible people – they have so much to teach you, in and out of the classroom. They will ask you to work harder than you've probably ever worked before, but they will support you every step of the way. And they will allow you to use the connections that they have worked so hard to create, to better yourself – do not take this for granted.
For those of you who are not from the Southwest (and even if you are!), take full advantage of living in a new place. Make time to explore – hike Camelback, go to Sedona and Flagstaff, make sure to see the Grand Canyon. The friendships and memories I made living in Arizona are as valuable as the education I received.
And stay on top of your thesis – you'll thank yourself for it. Successfully defending and officially graduating on time is a great feeling!
What advice can you provide to new graduates as they step into new jobs?
Don't feel like you need to have all the answers and trust your instincts. In my first two years as a full-time athletic trainer, I truly learned the meaning of "there is only so much we can teach you in the classroom". Every day will be a learning experience, and you're ready for it.
If someone asked you to describe the AT program at ATSU what would you say?
Hopefully my other responses answer this!
In your opinion, what was the strongest and most beneficial aspect of the AT program at ATSU?
The curriculum and the faculty. There is not another program in the country that will prepare you for a career in athletic training the way this program will.