Alumni access to A.T. Still Memorial Library resources
Posted: February 19, 2021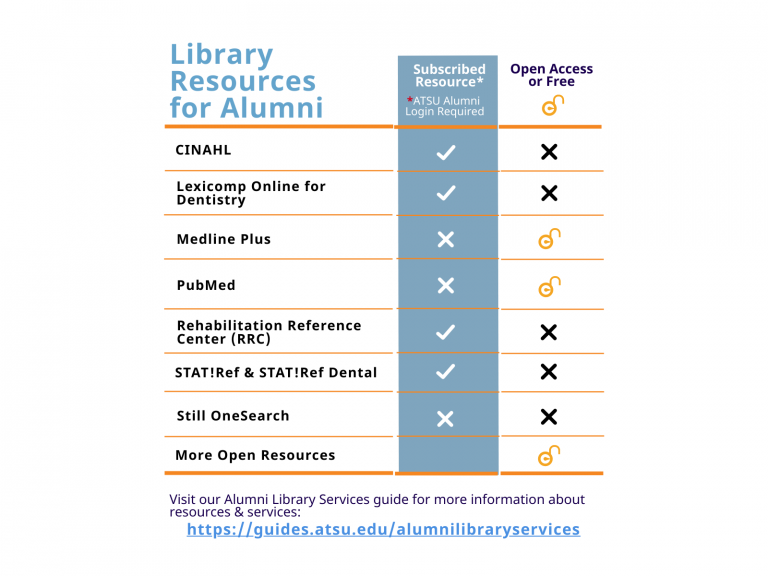 "What can I still access after I graduate?"
As students transition through their programs at A.T. Still University (ATSU), the question of access is often asked. As your status gets updated from currently enrolled to alumni, you'll notice that your access to library resources will also change automatically. While it's important to note that not all library resources will remain accessible after this transition, we offer a variety of resources and services to support alumni in their post-program research and lifelong learning pursuits!
For the most up to date list of accessible resources and services:
Visit the alumni tab of the library website or click here to visit our alumni guide.
Click the linked name of the desired collection.
If an ATSU alumni login is required (and you're not already logged in), the ATSU Portal will appear. Enter your ATSU credentials.

"Will I still be able to use Still OneSearch?"
Unfortunately, no. After your enrollment status updates to alumni, Still OneSearch will no longer recognize you as an authorized user. Check out the alumni library services guide for alternative resources.
"What if I can't get access to the resource I need through the alumni resources listed on the guide?"
The library provides access to an assortment of skilled research support for alumni in addition to free & low-cost Interlibrary Loan via the request an article form. Up to five journal articles a month are free, while each additional article per month is +$10.
"What if I don't know my alumni login or need the password reset?"
ATSU offers alumni a variety of services through the ATSU Alumni Services site and through the ATSU Portal.
Need a password reset for ATSU Portal access? Contact ITS at 866.626.2878.