Alum to the 2014 Winter Olympics as team physical therapist
Posted: January 21, 2014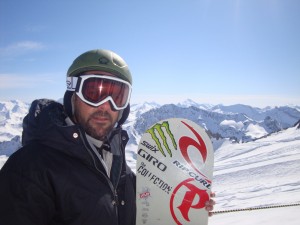 Robb Blackaby, PT, ATC, CFMT, DPT, '04, is heading to Sochi, Russia for the 2014 Winter Olympics as team physical therapist and athletic trainer for the United States snowboarding half pipe team. Dr. Blackaby, who is co-founder/owner of Medicine in Motion, with fellow alumnus Clay Selby, PA, ATC, '08, will be the team physical therapist and trainer for four men and four women.
This is not Dr. Blackaby's first involvement in the Olympics. "I was blessed to work at the Winter Olympics in Salt Lake City in 2002," he said. "I had not pursued working at any Olympics since then. But when I received a call from Kyle Wilkens PA, ATC, medical director of the USSA, to work the Olympics in Russia, I was completely surprised. We've had a great relationship working at various events throughout the years, and I am humbled that he invited me to work the games."
Dr. Blackaby said that a typical day at the Olympics begins with providing onsite medical coverage at the half pipe during practice and/or competition. He will be available for taping, stretching, warm-ups, and to assist in emergency response if an athlete sustains injury on the pipe.
"In the afternoon, my time is devoted to providing manual therapy care to any athlete that needs work," he said. Being dual-credentialed (DPT/ATC) as well as being a certified functional manual therapist is key since I need to utilize all skill sets to provide optimal care."
Dr. Blackaby is currently working with the team at the Olympic qualifiers. Before leaving for Russia, he will be in Aspen, Colo., for the Winter X Games, where Medicine in Motion is the official sports medicine provider.
Said Dr. Blackaby, "I will be quite busy over the next few months, and I am fortunate to have a wonderful wife who can hold down the family fort and our PT clinic, Desert Institute of Physical Therapy in Scottsdale, Ariz., while I am away."