All it takes
Posted: October 29, 2018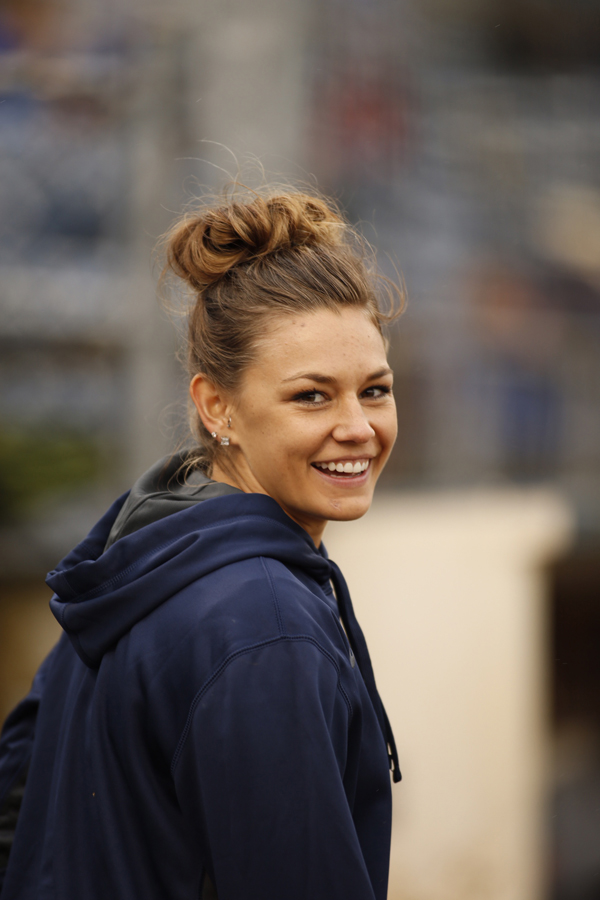 Kelly Boyce is the first female athletic trainer for the Arizona Diamondbacks organization. Photo credit: Joanna Wedge
Kelly Boyce, MS, '16, knew she wanted to be an athletic trainer, but she didn't know what steps to take to reach her goal. With a tenacious attitude and an inquisitive nature, she worked to achieve her dream. Here, she describes what it took to earn the distinction as the first female athletic trainer for the Arizona Diamondbacks organization.
Why did you pursue a master's degree at ATSU?
Looking back, I didn't expect to end up where I am today. I was completing my undergraduate degree at Illinois State University when my mentor recommended ATSU as a next step in my education. ATSU has a reputable Athletic Training program, and Arizona was a draw, too, because it's the mecca for spring training. I was hopeful to get, at the very least, an internship with one of the teams.
While attending ATSU, you were also working at Mesa Community College (MCC) as a graduate assistant athletic trainer. How did these two experiences prepare you for the Arizona Diamondbacks?
All of it prepared me. Classes with Bart Anderson, DHSc, MS, AT, ATC, '03, were more clinical and hands-on. We used manual therapy techniques to treat athletes, and I'm continually using those techniques. We have 140 games in our league during the summer. With only six days off during the season, a 25-man roster, nine on the field at a time, and the few in the bullpen, we don't have many extra players. It's a lot of maintenance treatment.
Being at ATSU also put me in front of some amazing instructors who have incredible connections, which allowed me to network with people in the field. I was also able to reach out to Dr. Ander-
son and Sue Falsone, PT, MS, for advice when I began the interview process with the Diamondbacks.
Eleven years ago, Sue Falsone was named the first female head athletic trainer and physical therapist for the Los Angeles Dodgers. How did that influence you?
It gave me hope that becoming a team athletic trainer was attainable. I asked her a ton of questions, and she gave me her contact information. I was able to gain so much advice and insight from someone who already broke the glass ceiling for others.
What led you to the Arizona Diamondbacks?
I met Ken Crenshaw, medical director for the Diamondbacks, when he visited ATSU to meet and talk with athletic training students. Following his presentation, I immediately introduced myself and shared my desire to work as an athletic trainer in professional baseball. The work being done at the Diamondbacks organization blew my mind because it was so innovative. We exchanged contact information, and I bothered him for a year. At that time, I was working at MCC, and I would email him every two weeks with questions about things I was encountering with athletes. He would give me suggestions to research techniques to implement on the athletes.
How did you score an internship?
During our year of contact, Ken would invite me to seminars and any talks he was giving. I would drop whatever I was doing to listen, learn, shake his hand, and thank him for his time and help. In summer 2015, I finally worked up the courage to ask him for an internship. He said yes, and I spent five weeks with the minor league staff at Salt River Fields.
How were you selected as the Diamondbacks new athletic trainer?
I emailed Ken after I completed my internship, letting him know working in professional baseball was my goal. He worked with me to apply for positions with other teams. A few weeks later, a Diamondbacks employee was promoted to another team, opening a rookie athletic trainer position.
Hearing this news was the most exciting moment of my life, and within the next two hours, I submitted my application. I had eight phone interviews! It was overwhelming, but it was nice to talk with everyone I worked with during my internship. To me, it showed the importance of the team being included in the decision.
In my final interview, I met with Director of Player Development Mike Bell, and all he said was, "If Ken says you're good, you're good." Right then and there I was offered the position. I really had to refrain from screaming with joy. I did give out a few hugs.
Where do you plan to go from here?
Right now, I'm incredibly happy with the Diamondbacks. Recently, my supervisor challenged me with helping new hires and training them on the techniques we use with our athletes. I'm grateful for the opportunities that have been afforded to me here, and I'm looking forward to trying new things with the organization.