All elite DO: ATSU-KCOM alumnus serves as ringside fixture in professional wrestling
Posted: April 20, 2022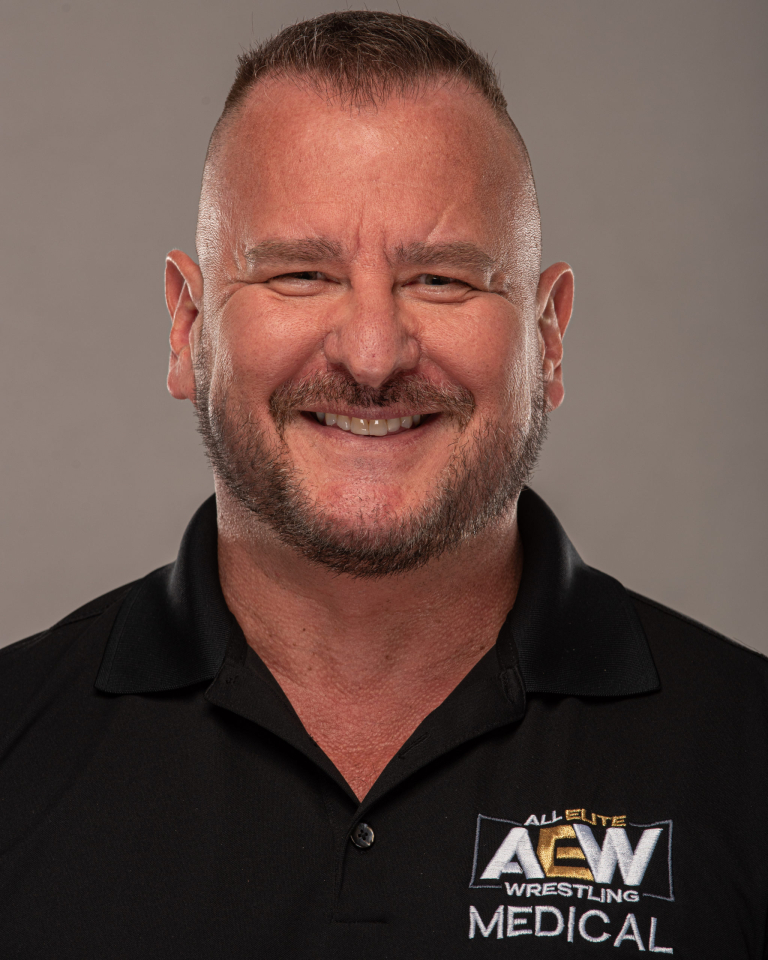 Dr. Michael Sampson has served as AEW's ringside physician since 2020.
To say Michael Sampson, DO, FAOASM, '92, delivers care in challenging environments is a complicated understatement.
Complicated, because as the ringside physician for All Elite Wrestling (AEW), and formerly in the same role with World Wrestling Entertainment (WWE), some of those challenges are in the script. When he's tending to a wrestler and their opponent tries to take his head off with a kendo stick, Dr. Sampson ducks, shouts, and goes about his business for the TV cameras.
An understatement, however, because those made-for-TV moments are a mere fraction of what Dr. Sampson is handling. Whether he's performing osteopathic manipulative treatment (OMT) on 7-foot-tall, 400-pound Paul Wight (formerly known as The Big Show), or aiding an accidentally concussed wrestler and being punched in the face in the process, there's no shortage of moments falling outside typical physician care.
His career has taken him across the country and around the world, with stops in collegiate athletics, the classroom, and higher education administration, and the ATSU-KCOM alumnus has found his home in the world of professional wrestling. Osteopathic medical education in Kirksville, Missouri, and training and mentoring on rotations, residency, and fellowship provided him a foundation, but Dr. Sampson reached his position through a willingness to seize opportunities when presented – even if those opportunities are in areas in which he was initially unfamiliar, like professional wrestling.
"I was never into professional wrestling. I'd gone to one show in Pittsburgh with my friends after college, and only watched it occasionally on TV," Dr. Sampson says. "Now, here I am, having worked at two of the major professional wrestling organizations. Not many doctors can say that. It's an amazing thing to have this on my resume, but it wouldn't have happened if I'd have said 'no.'"
Originally from Monaca, Pennsylvania, Dr. Sampson majored in biology and minored in microbiology at
Gannon University in Erie, Pennsylvania. That's where he first learned about osteopathic medicine and was
encouraged to apply to ATSU-KCOM when he decided to pursue medicine.
Calling the College a "factory for sports medicine doctors," Dr. Sampson found many fellow alumni as willing mentors along his chosen path, including Dixie Tooke-Rawlins, DO, FACOFP, '80, now president and provost of Edward Via College of Osteopathic Medicine (VCOM) and former director of residency at Metropolitan Hospital in Grand Rapids, Michigan; Craig M. Phelps, DO, '84, ATSU president and former Phoenix Suns team physician; Linnette Sells, DO, FAOASM, '82, ATSU Board of Trustees chair and team physician for Georgia Tech; and Gunnar Brolinson, DO, FAOASM, FAAFP, FACOFP, '83, vice provost for research and chair of sports medicine at VCOM.
While he was on faculty at Philadelphia College of Osteopathic Medicine (PCOM)-Georgia and working as a team physician for Georgia Tech athletics, WWE reached out with a job offer to become a ringside physician. The organization was seeking a doctor of osteopathic medicine who performed OMT, and Dr. Sampson's reputation for proficiency was widespread.
"We could help get them back to what they do the best by using OMT," Dr. Sampson says. "There are so
many applications, and I could help people get better faster than just throwing pills at them, or having them put on braces. You're putting the body back into optimal position to heal itself. Doctors, we don't heal people. We just put their bodies back optimally to get them to heal.
"Allowing people to do what they do, just by knowing the anatomy, biomechanics, and nervous system of the body, is amazing. I know the athletes really appreciate that, and I enjoy it because I see the results. Treat the whole person. I've been able to diagnose a lot of people just by asking questions, and not treating where their pain is, but what's causing their pain, and getting rid of their pain."
Dr. Sampson made a brief return to academia after five years with WWE, serving as founding chief academic officer at PCOM-South Georgia before AEW called with an opportunity to return ringside. Initially, he could manage those duties alongside his academic schedule because the new organization's handful of events were all on weekends, and his reputation and OMT skills quickly earned him respect with AEW's roster.
It's a mutual feeling, he says.
"I have the utmost respect for professional wrestlers," Dr. Sampson says. "They're entertainers, they're stuntmen and women, they're actors, and they're amazing athletes. On top of that, they are the most thankful and humble, and respectful to what we physicians and trainers do for them."
As AEW grew and eventually expanded to weekly, live, nationally televised events in different cities, Dr. Sampson faced a choice, and he began full time as AEW's ringside physician in early 2020.
Again touring the country, Dr. Sampson makes it a point to invite sports medicine clubs from local health sciences schools to come backstage when AEW is in town. He encourages medical students and young professionals to be open and willing to learn from those around them, including people in different healthcare disciplines.
"Whatever field you go into, be the best in that field you can be," Dr. Sampson says. "Take in everything. Work with other parts of the medical team. Know how to work with people, know their strengths, and respect them for their strengths within their fields."
And for doctors of osteopathic medicine, Dr. Sampson has one additional recommendation.
"Learn your OMT, and know the value of it," he says.