After 64 years in medicine, DO's passion spans generations
Posted: January 27, 2017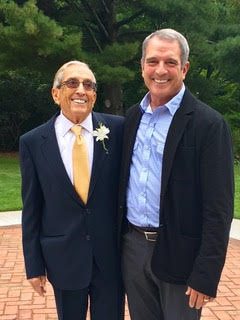 What could you accomplish in 64 years? Over the course of a career that spanned more than six decades, Julian Gershon Sr., DO, '52 delivered close to 4,000 babies and performed more than 10,000 blood pressure checks. He was a staple of the communities he served, and cared for many of his patients from cradle to grave.
At 92 years old, Dr. Gershon Sr. has dedicated a lifetime to helping others. His lengthy resume includes prestigious degrees, certifications, fellowships, and awards. But perhaps one of his proudest moments was presenting his son, Julian Gershon Jr., DO, '80, with his diploma as he graduated from A.T. Still University's Kirksville College of Osteopathic Medicine (ATSU-KCOM), Dr. Gershon Sr.'s alma mater. Dr. Gershon Sr. was serving on ATSU's Board of Trustees at the time, and had the honor of appearing in the graduation ceremony.
The Gershon family has deep roots at the University. Dr. Gershon Sr. was inspired to pursue his medical education at ATSU-KCOM by his late brother, Eugene J. Gershon, DO, '40. Naturally, Dr. Gershon Sr. was pleased that his son shared the family's interest in osteopathic medicine.
"I encouraged my son to do what he wanted to do, but I did talk to him about following in my footsteps and becoming an osteopathic physician," said Dr. Gershon Sr. "He picked right up on it."
Dr. Gershon Jr. said he developed an interest in medicine at a young age while accompanying his father on house calls and helping out at his father's office after school. He was also determined to continue his family's legacy by attending ATSU-KCOM.
"It's all I ever wanted to do," he explained. "My mother grew up in Missouri. I visited the medical school as a young boy. It's the only place I wanted to go."
After Dr. Gershon Jr.'s graduation, the father-son duo practiced together for five years in Clare, Michigan. Dr. Gershon Jr. is immensely grateful to have shared this experience with his father.
"My dad is my best friend," he said. "We delivered babies together. My kids used to joke that being with grandpa was like watching the learning channel."
Several years after his father presented him with his diploma, Dr. Gershon Jr. had the opportunity to reciprocate the gesture. Dr. Gershon Sr. received a fellow award from the American Osteopathic Academy of Sports Medicine, and his son had the honor of presenting it.
"I'm just blessed to have such an amazing father," said Dr. Gershon Jr. "He's 92, and I'm still trying to keep up with him! His passion is helping others, and it always has been. He's been a tough act to follow, but I can't imagine doing things any differently."
Although Dr. Gershon Jr. emphasized his father's achievements, he has also carved out an impressive career for himself. As an accomplished diagnostician, Dr. Gershon Jr. has saved many lives by detecting previously undiagnosed malignancies. Many patients credit him with restoring their zest for life through his innovative work in anti-aging and regenerative medicine. As Dr. Gershon Jr. sees it, that's just what DOs do.
"You try to do your best and make a difference. I think that's the hallmark of osteopathic medicine," he said.
An avid skier, Dr. Gershon Jr. has now fulfilled his lifelong dream of living in the mountains. He practices regenerative medicine in Aspen, Colorado. Dr. Gershon Sr. is enjoying his retirement in Florida, although his family jokes that he would rather continue working. His retirement plans include visiting his grandkids, golfing, and exercising regularly.
After 64 years in medicine, young DOs can certainly learn a lot from Dr. Gershon Sr.'s example. So, what advice does he have for someone who is just starting out in the field? "If you enjoy people, and you want to take care of people, I would encourage young doctors to consider family practice. I think that's what made DOs important to people. Become part of the community, and participate in the community. It's important."