Adversity on the path to graduation
Posted: April 9, 2018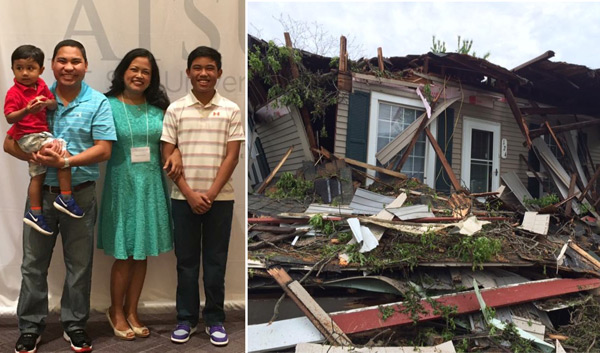 The past few years of Nathalie Fabriquier-Pormentira's, PT, DPT, '17, life have been a lesson in perseverance.
Dr. Pormentira has faced many obstacles in pursuit of her doctor of physical therapy degree at A.T. Still University (ATSU), from the birth of a new child followed by post-partum depression, to the total loss of her home and half of her and her family's possessions, and her son's autism diagnosis.
But despite these challenges, Dr. Pormentira never considered ending the pursuit of her DPT degree.
Dr. Pormentira's second child was born shortly after she started the DPT program at ATSU. Unlike her experience with her first child, Dr. Pormentira experienced post-partum depression. Fortunately, Dr. Pormentira found strength and guidance with her instructors at ATSU.
"They provided advice on handling the normal academic challenges while also juggling motherhood and family life," noted Dr. Pormentira.
In addition to her supportive and understanding instructors, Dr. Pormentira's family assisted with the baby at times to provide her the opportunity to focus on her coursework.
As Dr. Pormentira and her family were finally settling into a routine, they were completely unaware that they would soon face yet another overwhelming, trying circumstance. One afternoon, following a heavy storm, Dr. Pormentira was awoken by what, at the time, felt like a devastating earthquake tearing through her home. The recent storm had caused the large tree next to Dr. Pormentira's home to collapse through the front of the home, with the impact destroying the entire house.
"Í was lifted into the air for a few seconds and I was so disoriented," said Dr. Pormentira.
Her first thought was to locate her oldest son who was with her in the home at the time disaster struck. Her husband and newborn baby were away from the home running errands at the time of the incident.
"There was dust everywhere and the walls were splitting out sideways from the ceiling," recalled Dr. Pormentira.
Dr. Pormentira had only minutes to grab possessions that she could quickly carry out of the home, such as hard drives and family photos, as the home was deemed a total loss and first responders feared that the roof of the home would collapse entirely.
Following the loss of their home, Dr. Pormentira and her family stayed with friends and at various rental properties until they were finally able to purchase another home. She somehow found the strength to manage her coursework and four different moves, in the span of one year.
Just a few short weeks after Dr. Pormentira completed her capstone project, her son was diagnosed with autism.
"It seemed like yet another blow as soon as we were finally starting to get on our feet again," said Dr. Pormentira. "We were just in survival mode."
When asked about her experience at ATSU, despite the numerous unforeseen circumstances, Dr. Pormentira would not change a thing.
"The obstacles made me realize how much we can do and accomplish if we put our minds to it. I think those were very difficult times for us but I couldn't have made it through to graduation if not for God giving me my supportive family and relatives, the understanding and supportive professors and other ATSU staff, and our very kind friends who were always ready to lend a helping hand."
Raising a family while attending a post-professional physical therapy program is a unique experience in itself. Schedules, homework, studying, lectures, labs, and textbooks are all icons of college students, and that arsenal of tools for student success does not change because you are a parent.
Dr. Pormentira currently resides in Nevada with her husband and two children. While she awaits the endorsement of her license in the state of Nevada, she assists her youngest son with Applied Behavior Analysis therapy five days a week.
Dr. Pormentira has a newfound interest in pediatric patients and her dream is to operate a pediatric therapy clinic for patients with special needs.
Dr. Pormentira is the epitome of perseverance and her success, despite numerous debilitating obstacles, is nothing short of incredible.