A West Coast story: College for Healthy Communities
Posted: April 20, 2022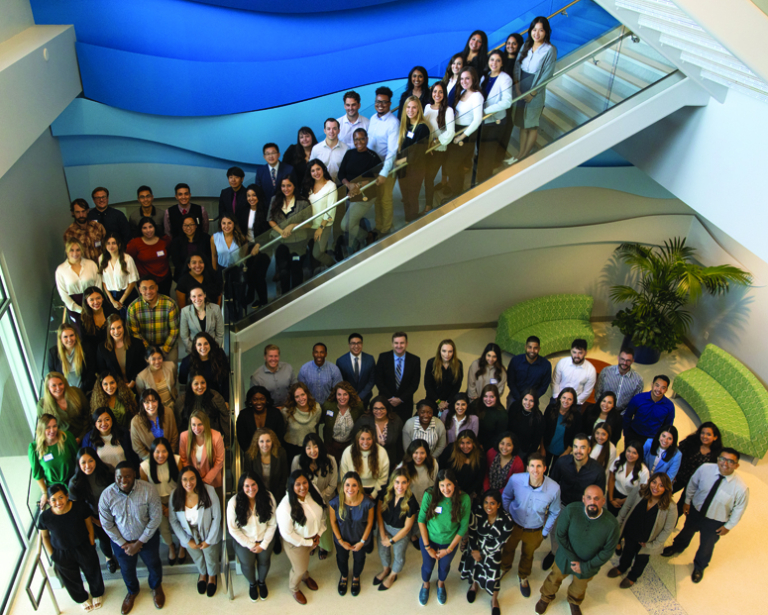 From its roots in Kirksville and the farmland of northeast Missouri, to Mesa, Arizona, and the footsteps of the nearby Superstition Mountains, to St. Louis and the iconic Gateway Arch, ATSU's story of meeting underserved communities' needs is writing its next chapter in the strawberry fields of the California coast.
ATSU, local officials, and guests welcomed the Central Coast Physician Assistant (CCPA) program's inaugural class of nearly 100 students on Sept. 27, 2021, in Santa Maria, California. Then on Jan. 10, 2022, the Institutional Actions Council of the Higher Learning Commission approved the University's request to establish its newest campus, ATSU's College for Healthy Communities (ATSU-CHC), in Santa Maria.
"This is the next step in a strategic plan reflecting the national appeal of our programs and our influence," says O.T. Wendel, PhD, senior vice president for university planning and strategic initiatives and interim ATSU-CHC dean. "This application's success was a team effort."
Establishment of a new college and campus is key in receiving approval for access to Title IV funds from the U.S. Department of Education. Those funds provide students access to financial aid through various federal programs.
The campus' home is a 27,000-square-foot, state-of-the-art facility, which includes a large learning theater, clinical simulation rooms, library space, student break room, and faculty and staff workspaces. Administrative offices for Community Health Centers of the Central Coast Inc., an instrumental partner in developing the CCPA program, are located in the facility as well.
CCPA will educate culturally humble, diverse physician assistants to serve the primary care needs of medically underserved communities. The 24-month, entry-level program seeks applications from first-generation college students, historically underrepresented groups, and economically disadvantaged students. The first cohort includes 14 students from ATSU's Hometown Scholars program, and students speak nine different primary languages.
"We make diversity a priority. It is among the driving factors in the admissions process," Dr. Wendel says. "We've tried to eliminate barriers that are commonly faced in other programs. That approach yielded a culturally diverse class."
Students have been overwhelmingly impressed by the program. John Butler, a first-year student, is pursuing a second career as a physician assistant after more than two decades in the entertainment industry. At first, the 47-year-old student wasn't sure what to make of things like "flipped learning," but quickly saw the benefits.
"You put five people in a pod, and we teach each other," he says. "Being 47 years old, I'm new to that. I'm like, 'Where's the lecture? Where's the PowerPoint?' But all day long, we go through cases and have a chance to workshop and argue passionately and kindly to each other about what certain things are, and our professors are there for us to guide us through it.
"I've been really impressed by the program so far. It has surpassed my expectations."
The program is already making a difference. More than a third of the class, as well as faculty and staff, volunteered at Community Health Centers of the Central Coast's Day of the Farm Worker event in December 2021, which provided medical screenings, vaccinations, healthcare education and resources, and more to the community's underserved farm workers. The added assistance from ATSU helped the event serve nearly 70% more people than the previous year.
CCPA students will spend their first 12 months in Santa Maria, engaging in facilitated learning with case studies, interactive learning, projects, and preclinical community experiences. For their final 12 months, ATSU has collaborated with the National Association of Community Health Centers to integrate student clinical experiences in 20 community health centers.
ATSU-CHC is closely aligned with the mission of the nation's community health centers, and possible future programs on the campus would be developed to meet workforce needs of those vital healthcare providers. Both the name "Healthy Communities" and acronym "CHC" were selected with intention.
"The name relates to the mission and relationship ATSU has with community health centers," Dr. Wendel says. "Their mission is to increase the health of the communities in which they are located. This college's purpose revolves around the workforce needs of community health centers nationwide. We wanted to reflect their mission in our name."
Accreditation update
On July 15, 2021, the Accreditation Review Commission for Physician Assistant Education (ARC-PA) granted Accreditation-Provisional status to the CCPA program sponsored by ATSU. Accreditation-Provisional is an accreditation status granted when the plans and resource allocation, if fully implemented as planned, of a proposed program, that has not yet enrolled students, appear to demonstrate the program's ability to meet the ARC-PA Standards or when a program holding Accreditation-Provisional status appears to demonstrate continued progress in complying with the Standards as it prepares for the graduation of the first class (cohort) of students. Accreditation-Provisional does not ensure any subsequent accreditation status. It is limited to no more than five years from matriculation of the first class. The program's accreditation history may be viewed on the ARC-PA website.