A.T. Still University hosts ATSU Family FitFest
Posted: May 29, 2018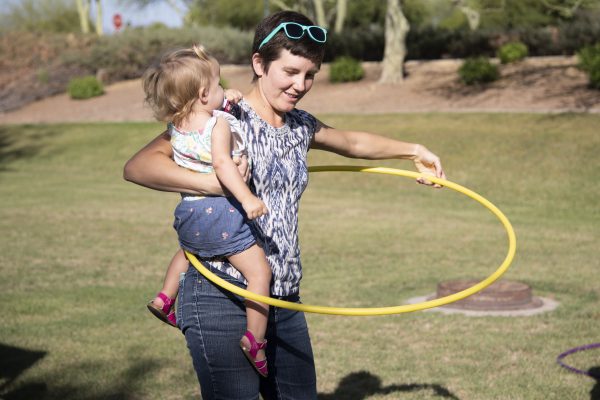 As part of its community project, the School held its ATSU Family FitFEST on Friday, May 18, on the Arizona campus. Students in ATSU's medical, dental, and health professions programs taught nutrition and health lessons for children of all ages.
On Friday, May 18, A.T. Still University's School of Osteopathic Medicine in Arizona (ATSU-SOMA) hosted the ATSU Family FitFest on the University's Arizona campus. ATSU-SOMA students taught nutrition and health lessons to children of all ages at the event. The University provided food, games, and prizes. Youth attendees visited educational booths, where they participated in engaging learning experiences designed to teach health concepts. For example, children learned how much sugar is in different beverages and what a clogged artery looks like.
"You can never predict which tiny bit of information might stick with a child forever," says Shovna Mishra, OMS III. "If we are able to inspire positive attitudes about food and teach children to make healthy lifestyle choices, our efforts can go a long way for the future."
The event was the culmination of a larger effort to prepare children to lead a healthy lifestyle. This spring, over the course of several weeks, ATSU-SOMA students volunteered at Superstition Springs Elementary School to teach Nutrition and Health Awareness to 120 fourth-graders. The community health program is designed to promote whole person wellness by reaching children when they are beginning to make their own healthy lifestyle choices. The interactive lessons include physically engaging games to model the body's functions. ATSU-SOMA student volunteers acted as mentors, influencing youth participants in a positive way.
The University hosted the ATSU Family FitFest in celebration of its 125th anniversary. ATSU has planned a series of service projects to give back to the communities that support it.