A.T. Still University dental clinics to now accept patient insurance
Posted: July 3, 2013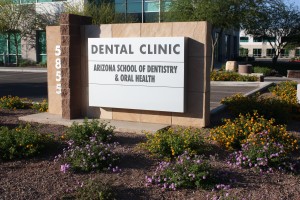 A.T. Still University's Arizona School of Dentistry & Oral Health (ATSU-ASDOH) announced today that their clinics will accept and process most medical and dental insurance carriers effective Monday, July 8.
ATSU-ASDOH features four public clinics, which offer a variety of comprehensive dental services to patients at a lower cost. Three of its clinics are located on the University's Mesa campus and its other, Dental Care West, in Glendale.
"We are happy to announce that patients seeking general or advanced care dentistry services may now have the option to apply their medical or dental insurance," said ATSU-ASDOH Dean Jack Dillenberg, DDS, MPH. "This capability will afford patients easy access to our four celebrated clinics."
Under the supervision of renowned dental professionals, services provided at each of the University's clinics are rendered by ATSU-ASDOH student doctors. Patients with complex cases may be seen by residents of ATSU-ASDOH's Advanced Education in General Dentistry program. These residents have already graduated from dental school and have returned for advanced training.
ATSU-ASDOH's most recent development is its nearly 22,000-square-foot, state-of-the-art oral healthcare center, which is slated to open Monday, July 8.
The Center for Advanced Oral Health is located on the Mesa campus location and will offer multiple dental specialty services to patients through either of the two clinics that comprise it – Advanced Care Clinic and Orthodontic Clinic.
The Advanced Care Clinic will provide comprehensive care for individuals with complicated oral health needs or medically complex conditions including, but not limited to: cancer, cardiac disease, renal disease, bleeding disorders, physical disabilities and developmental disabilities. It will also feature a bariatric suite specially-designed for patients over 350 pounds. The Orthodontic Clinic, a pre-existing ATSU-ASDOH clinic, provides comprehensive orthodontic services for adolescents and adults.
For information on services offered or to schedule an appointment, please call 480.248.8100. For Dental Care West in Glendale, please call 623.251.4700.