A.T. Still University Board of Trustees appoints officers, elects new trustees
Posted: September 14, 2022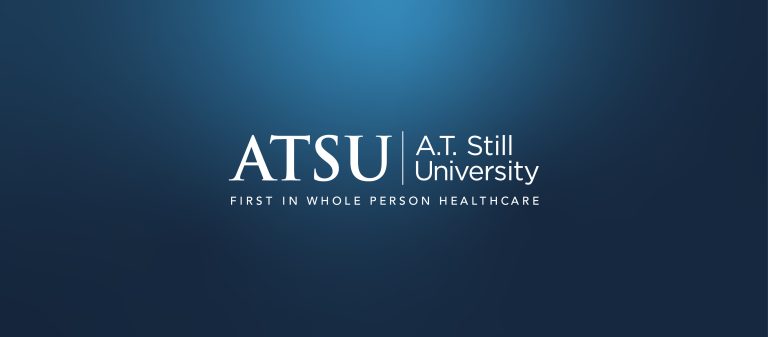 A.T. Still University of Health Sciences (ATSU) Board of Trustees appointed officers and elected new members at its quarterly meeting July 22, 2022.
The following trustees were elected as officers: Chair Herb B. Kuhn, of Lohman, Missouri; Vice-chair Isaac R. Navarro, DMD, MPH, '08, of Visalia, California; and Secretary Michelle L. Mayo, PhD, of Durham, North Carolina.
Newly elected trustees are Kimberly Perry, DO, MBA, MHCM, FACEP, FACOEP, '91, of St. Louis, and Felix M. Valbuena, Jr, MD, DABFM, FAAFP, of Bloomfield Hills, Michigan.
Dr. Perry is an osteopathic physician with more than 30 years' leadership experience in emergency medicine, clinical education, and managed care in St. Louis. Dr. Perry has held positions as senior vice president and chief medical officer for Kindred Healthcare in Louisville, Kentucky; chief medical officer for United Healthcare in St. Louis; dean of medical education and chief of emergency medicine at BJC Christian Hospital; and various roles at SSM Health, including director of emergency medicine at St. Joseph Health Center and attending physician at DePaul Hospital. Dr. Perry is currently the regional chief medical officer for SSM Health.
Dr. Perry earned a bachelor of science degree in chemistry from Salve Regina University in Newport, Rhode Island; doctor of osteopathic medicine degree from ATSU's Kirksville College of Osteopathic Medicine (ATSU-KCOM) in Kirksville, Missouri; and master of health administration in care management and master of business administration degrees from University of Phoenix in Phoenix. She has served in numerous leadership roles with ATSU, including service with the Kirksville Osteopathic Alumni Association (KOAA) for two terms and as KOAA chair in 2019. Dr. Perry was also actively engaged with student education, serving five years as director of student medical education for ATSU-KCOM's Missouri/Christian Hospital region site.
Dr. Valbuena is chief executive officer of Community Health and Social Services Center in Detroit. As a bilingual/bicultural physician, Dr. Valbuena is committed to providing culturally proficient healthcare in one's native language to ensure a better understanding of and compliance with medical treatment. He is an active supporter of Federally Qualified Health Centers, currently serving as clinician representative on the Board of Directors of the National Association of Community Health Centers and board member of the Michigan Primary Care Association. Dr. Valbuena is a 2007 recipient of the Degree of Fellow from the American Academy of Family Physicians and diplomate of the American Board of Family Medicine. Dr. Valbuena holds a bachelor of arts degree in psychology from the University of Notre Dame and his medical degree from Universidad El Bosque in Bogota, Colombia.
"ATSU is fortunate to have outstanding trustees committed to the University's mission and vision," said ATSU President Craig Phelps, DO, '84. "We welcome Drs. Perry and Valbuena and look forward to benefiting from their insights, knowledge, and experiences."
"Once again, people from all backgrounds are stepping forward in important governance roles to aid ATSU in its mission of educating our nation's future healthcare clinicians and leaders. With a committed board and talented university leadership, the support for students and their success has never been stronger," said Kuhn.
The following trustees will continue their service on the board: Rosie Allen-Herring, MBA, of Washington; Danielle Barnett-Trapp, DO, '11, of Glendale, Arizona; Reid Butler, JD, of Phoenix; Marco Clark, EdD, of Notre Dame, Indiana; Jonathan Cleaver, DO, FAOCD, FAAD, FASMS, '08, of Kirksville, Missouri; Reid Downey of Atlanta; Linda Eremita, MUA, of Pittsburgh; Alan Morgan, MPA, of Stafford, Virginia; Linnette Sells, DO, FAOASM, '82, of Alpharetta, Georgia; Floyd Simpson, CFA, CAIA, of Philadelphia; and Bertha Thomas of Kirksville, Missouri.
The next board meeting will be Oct. 14, 2022, in Kirksville, Missouri.