A.T. Still University Board of Trustees appoints officers, elects new trustees
Posted: October 4, 2021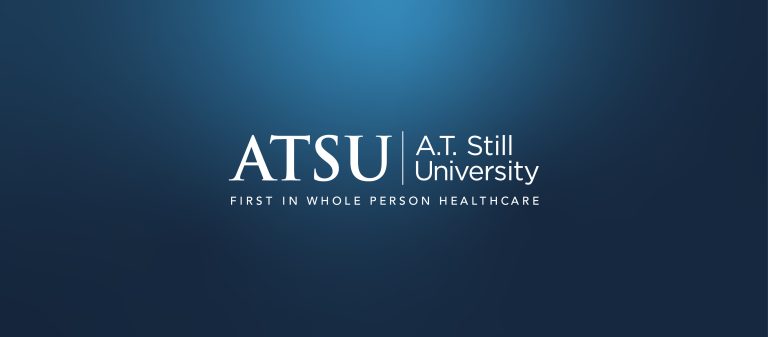 A.T. Still University of Health Sciences (ATSU) Board of Trustees appointed officers and elected new members at its quarterly meeting July 23, 2021.
The following trustees were re-elected as officers: Linnette Sells, DO, FAOASM, '82, of Alpharetta, Georgia, formerly of Kirksville, Missouri, is chair; G. Reid Downey III of Atlanta, Georgia, is vice-chair; and Rosie Allen-Herring, MBA, of Washington, is secretary.
Newly elected trustees are Danielle Barnett-Trapp, DO, '11, of Glendale, Arizona; Marco Clark, EdD, of Austin, Texas; Linda Eremita, MUA, of Pittsburgh; and Floyd R. Simpson III, MBA, CFP, CFA, of Philadelphia.
Dr. Barnett-Trapp is a second-generation osteopathic family physician and graduate of ATSU-School of Osteopathic Medicine in Arizona's inaugural class. She completed a family medicine residency at St. Joseph's Hospital and Medical Center and remained as faculty, providing full-spectrum family medicine care, including hospital and obstetrical services. Dr. Barnett-Trapp completed a fellowship in academic medicine through the University of Arizona and has a passion for medical education. Currently, Dr. Barnett-Trapp is president of the Arizona Osteopathic Medical Association. She also serves on multiple national and state organization committees and is a clinical assistant professor at Midwestern University Arizona College of Osteopathic Medicine.
Dr. Clark has worked as an educator since 1989, and in 2020 he was named as the first lay executive director of the Holy Cross Institute at St. Edward's University. With expertise in leadership, governance, and succession planning, Dr. Clark has served on a variety of advisory and governing boards and teaches in the doctorate of education program in leadership and higher education at St. Edward's. He has also published numerous articles and is frequently invited to speak on a variety of topics related to school leadership and governance. Dr. Clark holds a bachelor of arts in psychology and English from College of the Holy Cross, a master's degree in guidance and counseling from Bowie State University, and a doctorate in education in interdisciplinary leadership from Creighton University.
Ms. Eremita is the managing director of the higher education practice at Stifel Financial Corp. Her 37-year career is punctuated by her successful tenure as an investment banker and institutional debt advisor, bond rating analyst (S&P Global), college and university trustee, and urban planner. The majority of her career has been devoted to higher education clients for whom she has led a significant number of financings. She holds a bachelor's degree from Duquesne University and a master's degree from Boston University. Ms. Eremita has been a speaker at many national and regional higher education industry forums.
Mr. Simpson graduated from Truman State University with a bachelor's degree in business administration. Currently, he serves on the board of the CFA Society of Philadelphia. He is a senior managing consultant and member of the Outsourced CIO Investment Committee of PFM Asset Management. PFM Asset Management has $125.9 Billion of Discretionary Assets Under Management as of June 30, 2021, and provides portfolio management and investment advice for institutional clients. Mr. Simpson is a Chartered Financial Analyst charterholder, chartered alternative investment analyst, and certified financial planner. He earned his master of business administration degree from DePaul University and completed a financial planning program at Northwestern University.
"ATSU's Board of Trustees members are some of America's brightest and most talented leaders," said ATSU President Craig Phelps, DO, '84. "Board members graciously accept challenges confronting all universities and collaborate to find opportunities for ATSU students, faculty, staff, and alumni."
"As chair, I am pleased these highly qualified individuals have agreed to serve as trustees on the board and are willing to share their abilities to promote and enhance the vision and mission of ATSU," Dr. Sells said.
The following trustees will continue their service on the board: Reid Butler, JD, of Phoenix; Jonathan Cleaver, DO, FAOCD, FAAD, FASMS, '08, of Kirksville, Missouri; Geoffrey Hoffa, DHSc, '14, MS, PA-C, '00, DFAAPA, of Phoenix; Herb Kuhn of Lohman, Missouri; Michelle Mayo, PhD, of Durham, North Carolina; Alan Morgan, MPA, of Stafford, Virginia; Paulina Vazquez Morris, JD, MBA, MHSA, of Paradise Valley, Arizona; Isaac Navarro, DMD, MPH, '08, of Visalia, California; Bertha Thomas of Kirksville, Missouri; and Gary Wiltz, MD, of Franklin, Louisiana.
The next board meeting will be Oct. 8-9, 2021.