A.T. Still Memorial Library celebrates 100 years
Posted: January 12, 2023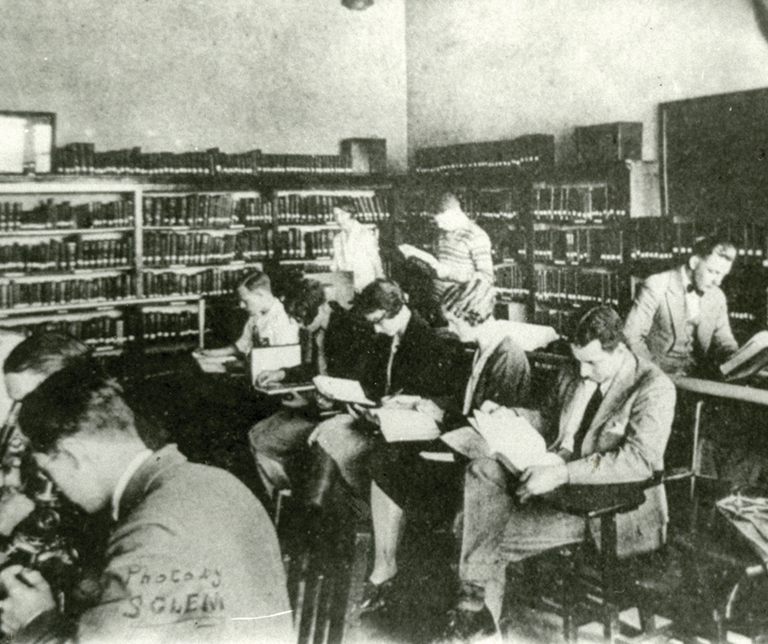 Students studying in the library. Museum of Osteopathic Medicine, Kirksville, Missouri [1994.1599.75]
Students, faculty, and staff came together on Thursday, Sept. 22, to celebrate A.T. Still Memorial Library's 100th anniversary and learn about the facility providing them with a wealth of information.
The library has come a long way from its humble beginnings in Kirksville, Missouri. When it first opened in September 1922, the library was housed in a small room next to the President's Suite in the Andrew Taylor Still College of Osteopathy and Surgery (ATSCOS). Then, in 1924, ATSCOS merged with its rival, the American School of Osteopathy, to form the Kirksville College of Osteopathy. The College's two libraries were then combined and housed at the ATSCOS building. Since then, the library has experienced a series of moves, expansions, and renovations, and now includes two other branches on the Arizona and California campuses.
Today, the library is home to 250,000 e-books, 20,000 e-journals, and more than 100 databases. The three libraries have a shrinking print collection of just under 50,000 volumes with the majority housed in the Kirksville library and archive. The Mesa, Arizona, library was opened in 2002 with only 2,000 volumes, and the Santa Maria, California, library was opened in 2021 with only 10 books, highlighting the library's evolution from a print-based library to a digital one.
The library also boasts an impressive 3D printing program, which began in 2015 with the purchase of its first 3D printer with funds from the ATSU Spark Tank grant.
"We've come a long, long way," says Debra Loguda-Summers, the library's public services and 3D print services manager.
From 2015-21, the library has printed more than 12,100 3D models for student and faculty research, not including the face shields and masks printed during the COVID-19 pandemic. Since the program's inception, the library has increased its printing services to students and faculty by more than 3,600% and expanded to four printers and two designated computers. Those interested in using these services have access to a diverse selection of 3D files and software, and the ability to create STL/OBJ files from CAT scans and MRIs.
"In the coming years, the ATSU library will focus on open access, open education, and open science," says Hal Bright, MLS, AHIP, university library director and ATSU-ASDOH librarian liaison. "We are establishing a digital institutional repository for open data and open access for faculty and student research, transforming our subscriptions to allow faculty and students to publish through immediate access, and providing open-science models at lower costs. We also try to acquire as many textbooks as possible, including open-education textbooks, to lower student costs. These initiatives will allow ATSU to meet student needs by promoting a more equitable situation for all students and will make ATSU research more accessible and reachable to all scientists across the various professions we represent among staff and faculty.
"We want to continue meeting the learning and research needs of faculty and students, especially considering the rising costs among students, the open-access data requirements being established in 2025, and open access U.S. government publishing requirements coming into effect in 2025."