A.T. Still, DO, inducted into Hall of Famous Missourians
Posted: April 17, 2014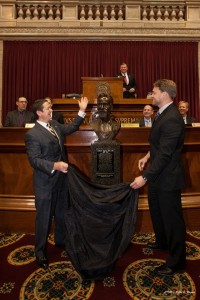 It was a monumental day for A.T. Still University of Health Sciences (ATSU) and the osteopathic profession at the Missouri State Capitol in Jefferson City on April 16, 2014. Andrew Taylor Still, DO, was inducted into the Hall of Famous Missourians, the first ever by popular vote.
The ceremony was led by House Speaker Timothy Jones. Remarks were given by state Rep. Nate Walker; Henry Petry, DO, Missouri Association of Osteopathic Physicians and Surgeons; and Adrienne White-Faines, executive director and CEO, American Osteopathic Association. Special guests included ATSU President Craig Phelps, DO, '84; Jason Haxton, MA, director, Museum of Osteopathic Medicine(SM); and other leaders in the profession, as well as several members of the Still family.
The bronze bust of Dr. Still was unveiled by Jones and the sculptor, Brandon Crandall of Kirksville, Mo. The bust was placed on the third floor of the Missouri Capitol rotunda, forever a symbol of Dr. Still's legacy.