A profession worth bragging about: Tisha Kice-Briggs
Posted: May 21, 2019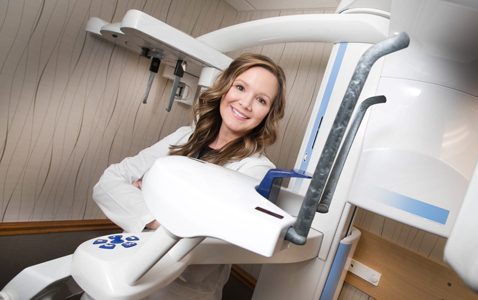 Dr. Tisha Kice-Briggs uses her dental expertise to help ATSU and her community.
ATSU board member Tisha R. Kice-Briggs, DDS, loves to brag she has the best job ever. Originally from Memphis, Missouri, Dr. Kice-Briggs has practiced dentistry in Kirksville, Missouri, for nearly 17 years.
"I get to spend my days visiting with and caring for lots of different people," says Dr. Kice-Briggs. "I am blessed to have many loyal, longtime patients who I have developed friendships with over the years."
Dr. Kice-Briggs, Rick Gooch, DDS, and Matt Harden, DDS, own Kirksville Dental Group, a large private practice in Kirksville with a satellite location in Edina, Missouri.
In high school, Dr. Kice-Briggs knew she wanted to help people in her career. After deciding healthcare was the path she wanted to take, she researched different professions and found dentistry was the best option. Today, she enjoys her career and the flexibility it offers her.
"I love that I have great work-life balance," says Dr. Kice-Briggs. "I am the proud mother of the most amazing twin boys – Isaac and Adrian. They are 9 years old, and they keep my husband and me very busy with all of their activities."
In addition to her private practice, Dr. Kice-Briggs has served on ATSU's Board of Trustees for six years. She became involved with ATSU when former President Jack Magruder, EdD, consulted with her about bringing a dental school to the Kirksville, Missouri, campus. She helped to fundraise for the school through the Friends of ATSU Dental campaign.
"I love everything ATSU stands for, especially preparing healthcare professionals to be committed to whole person healthcare, community health, and serving the underserved populations," says Dr. Kice-Briggs, who completes her term of service to the board this summer. "I am honored and humbled to be a part of their education in any small way."
In August 2018, Dr. Kice-Briggs served as co-chair for the seventh annual Missouri Mission of Mercy (MOMOM), a free dental clinic held in Missouri once per year. The 2018 MOMOM event took place in Kirksville and was the first time the clinic came to northeast Missouri. Through her position as co-chair, Dr. Kice-Briggs was able to serve people in her own community. In two days, the large-scale clinic provided $816,000 worth of free dental care to more than 1,200 patients.
Dr. Kice-Briggs applies her passion for helping people to her career, service on ATSU's Board of Trustees, and service to her community. The joy she finds in her work as a dentist explains how she can proudly say she has the best job ever.