A love for learning
Posted: October 29, 2018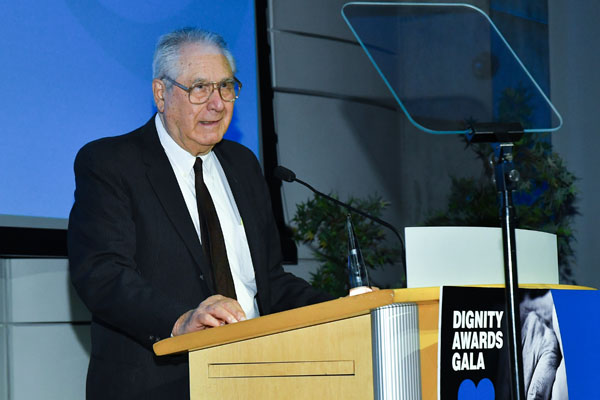 Dr. Turcillo accepts the Humanitarian Award at the 2018 Meet Each Need with Dignity (MEND) Awards Gala in Los Angeles. He serves as a volunteer medical practitioner at MEND clinic. Photo credit: Vince Bucci Photography
From the streets of New Jersey to the shores of California, Dr. Turcillo's journey to become an osteopathic physician began with his determination to learn.
Growing up during the Great Depression in a cold water flat in Garfield, New Jersey, Joseph Turcillo, DO, MD, FACP, '59, had nothing but a strong family bond. His mother, who was illiterate and spoke broken English, was unable to teach him to read and write. After being held back in school because of his own illiteracy, he was determined to learn.
"When I learned how to read, the whole world opened to me," says Dr. Turcillo. "Science was my oyster, so to speak. I loved science and couldn't get enough of it."
Dr. Turcillo was inspired by his family doctor to pursue a career in medicine. As a doctor, he knew he could meet his family's medical and financial needs, so he worked at a nearby factory to save up for his college education.
During his time at Farleigh Dickinson University, where he earned his bachelor's degree, Dr. Turcillo got a job at Passaic General Hospital in New Jersey cleaning up the surgery room. Later promoted to scrub nurse, he learned valuable skills he would apply in his career.
Not immediately accepted into medical school following his bachelor's program, Dr. Turcillo started studying biophysics at Saint Louis University (SLU). After two years excelling in the program, his mentor, B.J. Luyet, offered him the opportunity to stay at SLU as a doctoral candidate. At the same time, he was accepted at ATSU-KCOM. Honored by the recognition of both universities, he accepted ATSU-KCOM's offer.
"I did not appreciate osteopathic medicine then as much as I appreciate it now," says Dr. Turcillo. "The fact that you get the osteopathic principles and work on the musculoskeletal system is extremely important to being a successful doctor."
Dr. Turcillo emphasizes the importance of continuing education. In 1995, he was certified in internal medicine, and shortly after, he was elected to the American College of Physicians as a fellow.
Throughout his practice, Dr. Turcillo has been reassured of osteopathic medicine's importance. Working with patients in severe pain where it is difficult to find the cause, he has seen the practice relieve discomfort.
"Chronic muscular pain is some of the worst pain in the world," says Dr. Turcillo. "Osteopathic medicine has an answer for that."
Today, Dr. Turcillo resides in Malibu, California. Retired from private practice, he still uses his skills to educate doctors and aid the community. He serves as a volunteer medical practitioner at Meet Each Need with Dignity, as a member of the Medical Education Committee of Saint Joseph Medical Center in Burbank, and on the board of governors of City of Hope. His love for science and determination to learn new things inspires him to continue to study medicine to this day.