A Hoffa's footsteps
Posted: December 19, 2016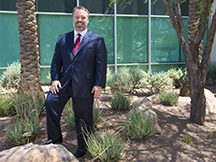 Looking in the mirror one day at Adrian College, a small liberal arts school in southeastern Michigan, a young man with big shoes to fill decided to pursue a career in healthcare. The young man was Geoffrey Hoffa, and he believed nothing was more noble than helping people with his bare hands. He soon transferred to Michigan State University, and with an aptitude for science, started on his path to becoming a physician assistant.
Geoffrey Hoffa, DHSc, '14, MS, PA-C, '00, DFAAPA, has a desire for helping others that stems from his unique family tree. He is the son of James P. Hoffa, the current Teamsters union president, and grandson of the iconic James R. Hoffa, the former Teamsters president. While the Hoffa side of the family dominates contemporary history, Dr. Hoffa's maternal side of engineering business executives also has a strong influence on him. Balancing labor and executive perspectives, his family provides him with a practical political view from both sides of the bargaining table.
"We have a long family history with a conservative culture," says Dr. Hoffa. "The Teamsters union has always been more conservative than most, yet it has always stood apart with its keen sense of social and economic justice."
After graduating from Michigan State University, Dr. Hoffa moved to Arizona and attended ATSU to earn his physician assistant degree. While at ATSU, he met Randy Danielsen, PhD, PA, DFAAPA, dean, ATSU-ASHS, who became a wise and key ally throughout Dr. Hoffa's career, particularly in the realm of health policy. After Dr. Hoffa graduated in 2000, Dr. Danielsen's friendship and status in the profession influenced him to return to ATSU and earn his doctor of health sciences degree in 2014.
As a clinician, Dr. Hoffa worked mostly in gastroenterology and spent more than five years on a solid organ transplant team at Mayo Clinic's campus in Arizona. There, he worked in liver, kidney, and pancreas transplant, hepatobiliary-pancreatic surgery, hepatology, and transplant nephrology. With each professional position, he sought a greater role as he worked toward leadership.
In 2009, Dr. Hoffa was appointed by the governor of Arizona to serve on the Arizona Regulatory Board of Physician Assistants. After he was elected chair in 2012, the board transformed from only fulfilling its quasi-judicial function of regulating physician assistants to also considering statutes and policies that better serve the people of Arizona and the profession. He believes the ability to affect health policy only comes from the passion one has for making things right.
"I view it as a picture hanging on the wall, but crooked," Dr. Hoffa says. "Many things you see in the picture look right, but it needs straightening."
In the current era of healthcare reform, Dr. Hoffa feels some of the most precious things that provided for the health of working people, such as Multiemployer Health Plans established through collective bargaining agreements, are all too often overlooked or don't receive the credit deserved. To correct this, he plans to continue leading at different levels to improve health policy.
Dr. Hoffa works on a national level through the American Academy of Physician Assistants in addition to his work at the state level with the Arizona Regulatory Board of Physician Assistants. Recently, he was appointed chair for the forum of physician assistant state regulators, which seeks to improve the status of regulations around the country. According to him, those regulations and reforms will support the profession, provide greater access to healthcare, and protect the people they serve.
"The country needs a sustainable path of healthcare that isn't divorced from financial or job market realities," says Dr. Hoffa. "We could use more thinkers regarding health policy."
While he focuses much of his effort on policy matters, he also devotes time to other endeavors. At ATSU, he recently completed two years as chair of the ATSU-ASHS Alumni Chapter and a year as chair of the ATSU Alumni Association – the first physician assistant to serve in such a capacity. He maintains his status as an adjunct assistant professor at the University. Additionally, his love for the military motivates him to champion and promote the Teamsters Military Assistance Program.
Through his family influence and well-read history, Dr. Hoffa has a deeply established commitment to eliminate suffering and injustice. That commitment evolved his career as a clinician into one with a focus on health policy and business. Using his knowledge and expertise, he strives to uphold the Hoffa name and to leave bigger footprints than those he follows.
"This family is unique because of its politics and history," Dr. Hoffa says. "Every successive generation has to be better than the last."