A celebration of the osteopathic profession
Posted: April 24, 2013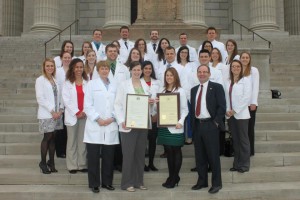 As part of National Osteopathic Medicine Week, Margaret Wilson, DO, dean, and osteopathic medical students from A.T.Still University's Kirksville College of Osteopathic Medicine, celebrated Missouri Osteopathic Medicine Awareness Day.
The group joined over 50 osteopathic medical students, residents, physicians, faculty, and staff at the state capitol in Jefferson City with the Missouri Association of Osteopathic Physicians and Surgeons on April 17, 2013.
Attendees had the opportunity to visit with several state legislators, including Lt. Gov. Peter Kinder, St. Rep. Keith Frederick, DO, St. Rep. James Neely, DO, St. Rep. Nate Walker, St. Sen. Rob Schaaf, MD, and St. Sen. Brian Munzlinger.
St. Rep. Walker and St. Sen. Munzlinger presented a resolution recognizing the profession and its impact on the healthcare of Missourians.