6th annual Day for Special Smiles hosted by ATSU-ASDOH
Posted: November 9, 2016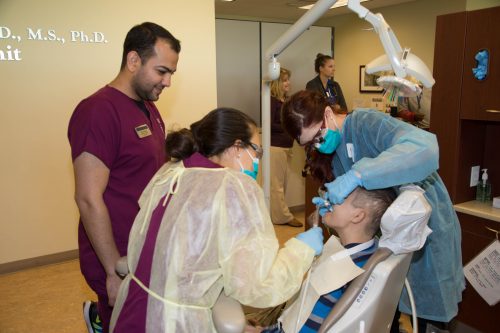 174 volunteers. 61 patients. One Day for Special Smiles.
On Friday, Nov. 4, A.T. Still University's Arizona School of Dentistry & Oral Health students, faculty, and staff joined together with Special Olympics Arizona for the 6th annual Day for Special Smiles event, which provided dental care for patients over 21 years old with special needs, many of whom would not otherwise receive dental care on a regular basis.
"What an amazing day we had on Friday! I cannot begin to tell you what the free dentistry meant to our participants and their families. Only two of the participants I brought have any state funding, they receive only SSDI, and haven't seen a dentist in years. From cleaning to fillings to mass extractions you have given so much to our participants' oral and overall health," said TJ Geist, who brought patients from Arizona Recreation Center for the Handicapped to the event.
Overall, approximately $21,490 worth of dental treatment was given to the 61 patients who were seen, over $5,000 more treatment than was provided at the 2015 event. All patients also received a medical screening and a muscular screening from ATSU-SOMA physician assistant and athletic training students and faculty. The 174 volunteers provided over 1,218 volunteer hours for the event at the ATSU Center for Advanced Oral Health.
For information on how you can support Day For Special Smiles, including volunteer opportunities, please contact Day for Special Smiles faculty coordinator Mai-Ly Duong, DMD, MPH, '12, assistant professor at mduong@atsu.edu.