ATSU's associate vice president for strategic partnerships honored by National Dental Association
Posted: August 4, 2021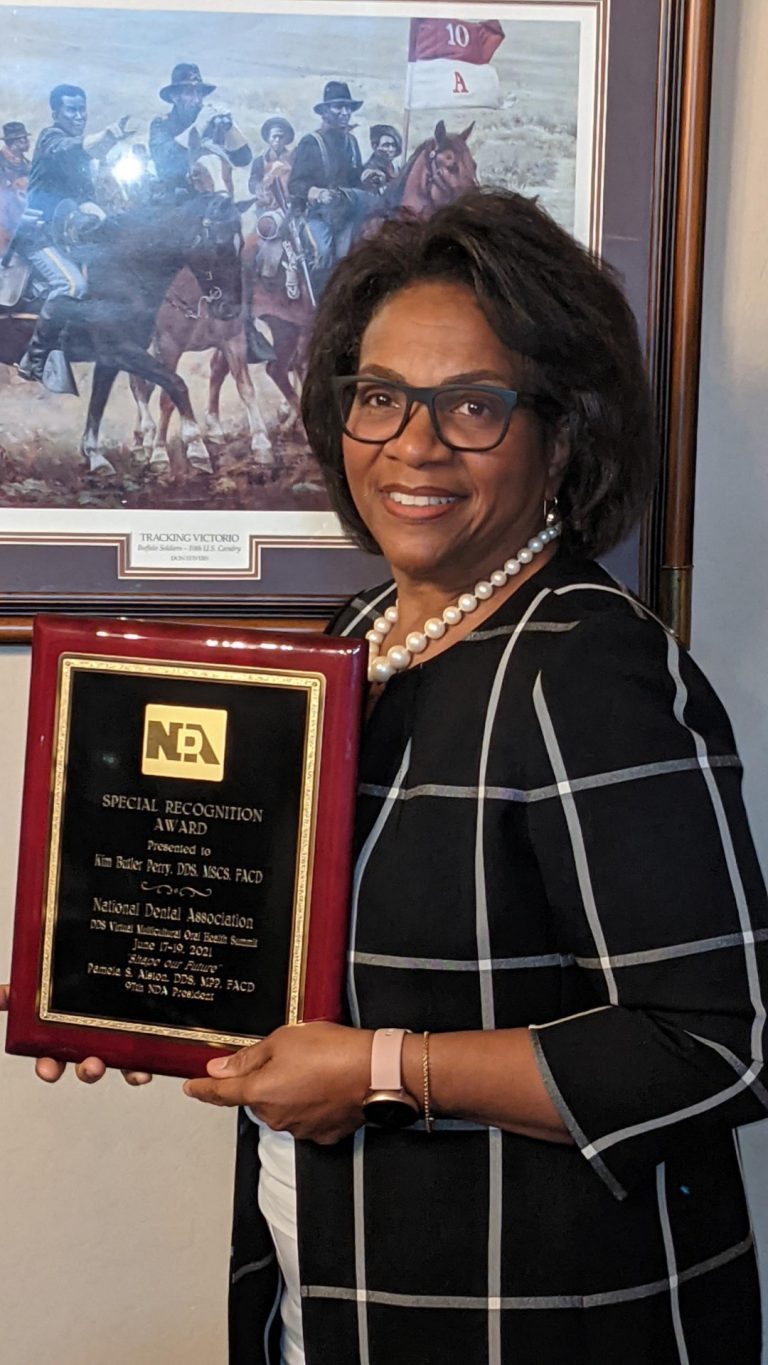 A.T. Still University's Kim Perry, DDS, MSCS, FACD, NIH Clinical & Translational Research Scholar/Distinction, associate professor, associate vice president, strategic partnerships
A.T. Still University's Kim Perry, DDS, MSCS, FACD, NIH Clinical & Translational Research Scholar/Distinction, associate professor, associate vice president, strategic partnerships, was named a recipient of the National Dental Association (NDA) President's Special Award.
The award is given to an NDA member whose support has been critical in advancing the NDA president's theme, which this year is "Forging and Fortifying Partnerships for Health Equity." NDA President Dr. Pamela Alston presented Dr. Perry with the award for her role in developing trusted relationships with partner organizations and constituencies.
"Dr. Kim Perry is a valued member and past president of NDA," Dr. Alston said. "The NDA President's Special Award recognizes Dr. Perry's exemplary actions to further NDA's mission and the president's theme."
Dr. Perry coordinated NDA's feedback to the National Institute of Health (NIH) on the approaches NIH can take to advance racial equity, diversity, and inclusion within all facets of the biomedical research workforce, and expand research to eliminate or lessen health disparities and inequities. She also assembled a group of academicians tasked with developing approaches NDA can use to improve the dental school experience for Black and African American, and other dental students of color.
During her term as president in 2017, Dr. Perry's theme was "A Place at the Table, Advancing and Advocating for the Future of Oral Health," underscoring the importance of NDA being represented at policy and decision-making tables to advocate for NDA's mission and its constituencies. Drawing upon her expertise this year, Dr. Perry served on the Minority Faculty, Administrators, Practitioners and Research Forum. NDA invited her to serve as a panelist during the Diverse Dental Society's Minority Faculty, Administrators, and Practitioners Forum, "Missing at the Table."
"During this particular symposium, Dr. Perry helped her colleagues to understand their responsibility to bring their authentic and diverse perspectives to policy tables," Dr. Alston said.