2016 Assessment Week held
Posted: February 15, 2016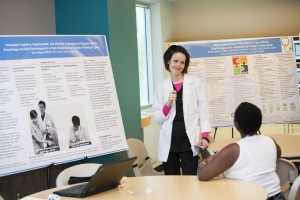 From a Town Hall session on Mapping Core Professional Attributes, to hosted poster sessions and multiple panel discussions on assessment-related topics, ATSU's 2016 Assessment Week provided an array of events held both on-site and virtually on both campuses. The theme for this year's activities, held Feb. 9-11, was Establishing Frameworks for Assessment.
"Since assessment of ATSU's Core Professional Attributes involves efforts across the University,  it was wonderful to see interactions between faculty and staff from different ATSU schools and departments centered around assessment throughout the Assessment Week events," said Tabitha Parent Buck, AuD, professor and chair, ATSU Department of Audiology, and chair, University-wide Assessment Committee.
Melanie Davis, DHEd, assistant director, Office of Assessment & Accreditation, added "One of the most valuable outcomes of Assessment Week is the opportunity for colleagues to communicate with each other about various university-wide assessment activities." Although the keynote speaker, Peggy Maki, PhD, was unable to participate as scheduled due to weather conditions in the northeast, her presentation along with her workshops will be rescheduled in the near future.
Assessment Week is sponsored by the Office of Assessment and Accreditation in conjunction with the University-wide Assessment Committee.