Donors tour new IPEDS building
Posted: August 21, 2013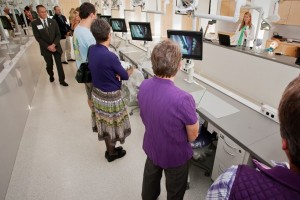 A.T. Still University's Missouri School of Dentistry & Oral Health, pending accreditation, held an Insider's Tour at ATSU's newest facility on Aug. 19, 2013.
Donors were invited to get a first look at the recently completed Interprofessional Education & Dentistry School building.
ATSU President, Craig Phelps, DO, '84, and Christopher Halliday, DDS, MPH, dean, spoke at the event. Randy Rogers, CFP, interim vice president for university advancement, was Master of Ceremonies.
Refreshments were served and donors had the opportunity to tour the building guided by ATSU's Kirksville College of Osteopathic Medicine Student Ambassadors.