Concussion experts discuss myths, facts about injuries in athletes​
Posted: February 17, 2015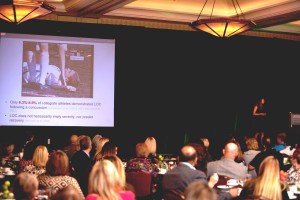 More than 300 attendees gathered at the DoubleTree Resort in Scottsdale, Ariz., on Feb. 12., to hear Tamara Valovich McLeod, PhD, ATC, FNATA, professor and director, ATSU athletic training program and Javier Cardenas, MD, neurologist and brain injury expert at Barrow Neurological Institute in Phoenix, Ariz., discuss Concussions: Myths and facts. The event was hosted by Women for ATSU.
Dr. McLeod shared with the audience about the most important things to know about sports-related concussion and learning important tools and strategies parents, coaches and communities can use to keep children and adolescents safe while participating in sports and physical activity. Her presentation ended with a powerful phrase: "When in doubt, sit them out."
Dr. Cardenas shared with the audience stories of young athletes, who as recently as last year, suffered fatal concussive injuries. He also touched on – as a result of concussion injuries sustained in young athletes – what different healthcare lobbyists and legislative bodies have done to take action in enforcing stricter rules.
ATSU has been partnered with the internationally known Barrow Neurological Institute in Phoenix, Ariz., in their Barrow Concussion Network since 2012. The network is the most comprehensive concussion prevention, treatment, and education program for young athletes in the nation.​
For more information on ATSU's Concussion Program, visit www.atsuconcussion.com