Research Updates
July 26, 2021
We will eventually have the pathogen data linked to the map but until we can get all of the kinks worked out, we will start reporting some of the data here.
Lone star ticks (Amblyomma americanum):
Adair County 9 tested, 4 positive for ehrlichiosis
Boone County 10 tested, 3 positive for ehrlichiosis
Callaway County 10 tested, 7 positive for ehrlichiosis
Jefferson County 10 tested, 4 positive for ehrlichiosis
Franklin County 9 tested, 8 positive for ehrlichiosis (Holy Smokes!)
St. Charles County 8 tested, 1 positive for ehrlichiosis
Warren County 10 tested, 4 positive for ehrlichiosis
We also had positives for Rickettsia species but none of the positives were the bug that causes Rocky Mountain spotted fever.
We are currently testing Montgomery and St. Louis Counties this week.
---
July 2, 2021
We have surpassed 10,000 ticks being submitted to this research project! Thank you so much. For those of you around the Portland Missouri area I will be giving a talk along with others on Saturday September 11th. Please check out the flyer and come join us with your questions. Hope to see you there.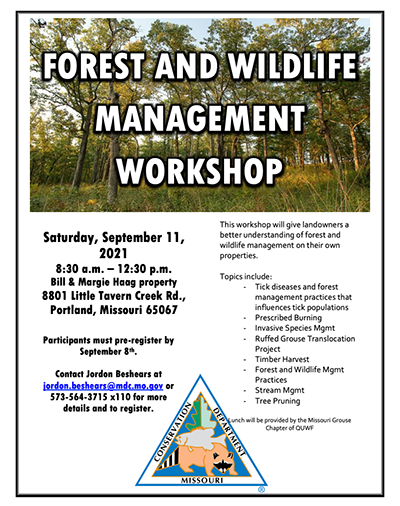 ---
June 24, 2021
We had a very exciting submission from St. Louis City, our first soft tick. We believe it is a bat tick but as we are not experienced in identifying soft ticks so we have sent off some images to the U.S. National Tick Collection in hopes of confirming our identification. As you will see from the images, soft ticks are very different in appearance from hard ticks. When looking at the dorsal side (back of tick) it appears there are no feeding parts or what people typically call the head of the tick. From the ventral side (belly of tick) you can see the mouth parts. Soft ticks do not have a scutum or a "shield" like the hard ticks that is why they appear wrinkly and dimpled. Soft ticks tend to hang out in animal nests, burrows, or roosts and do not quest like hard ticks. Soft ticks will occasionally bite humans and pet animals when their primary hosts are unavailable.
Most ticks people encounter are hard ticks. For instance, we have received over 9,800 ticks so far and only one has been a soft tick!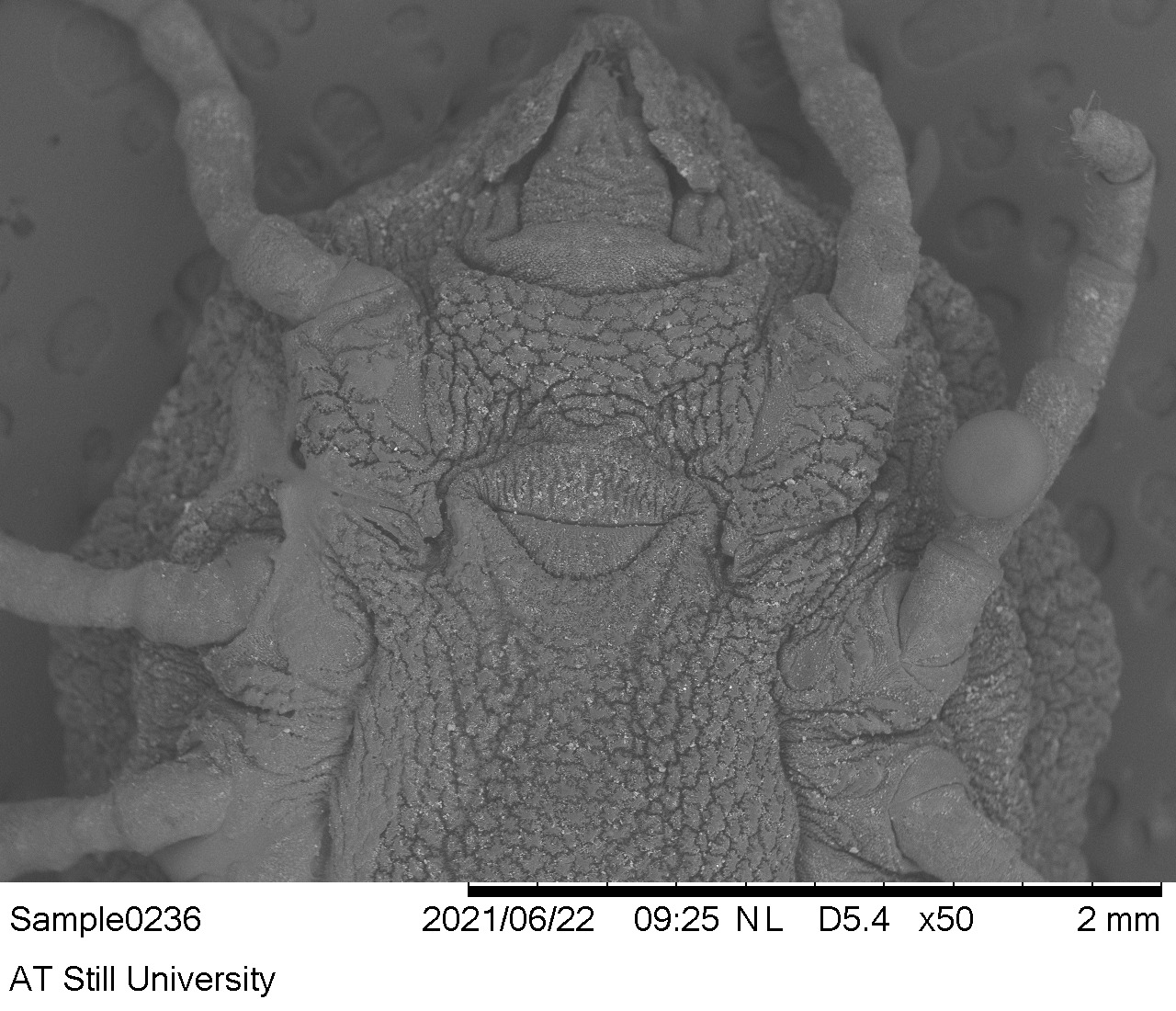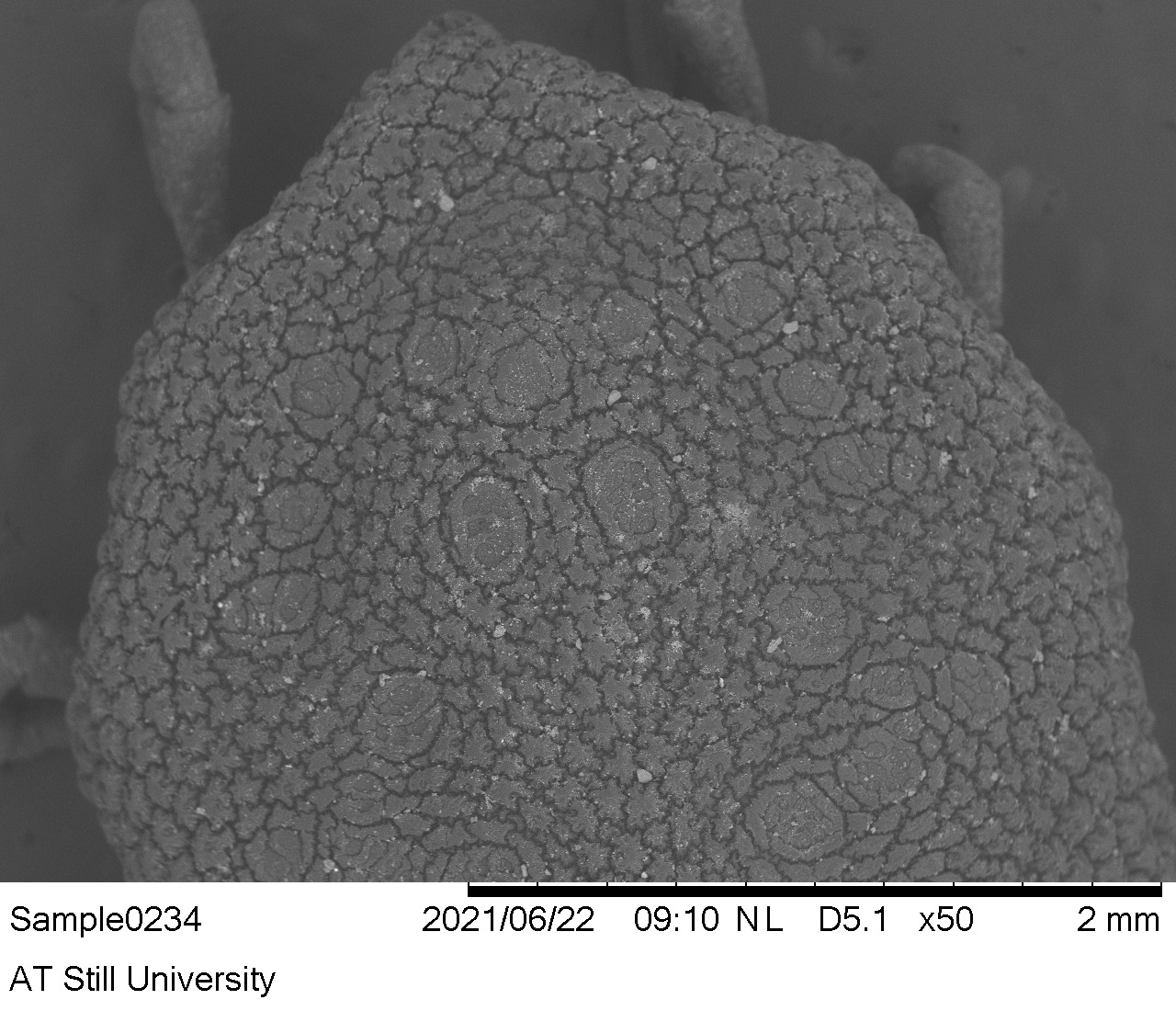 ---
June 22, 2021
Don't become prey to ticks, instead, become a tick predator! Nymphs (seed ticks) are out in full swing. Please look for ticks after spending time outside. If you find one, keep looking, there will be two more.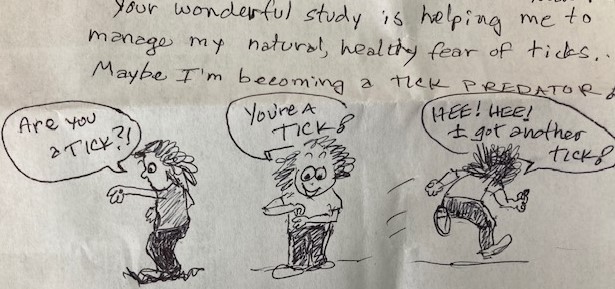 ---
June 9, 2021
We want to give thanks to some of our unsung heroes. We appreciate the drawings, stories, and puns that are submitted along with the ticks. We are posting a few to share. It always puts a smile on our faces. In addition, we want to thank the Daughters of the American Revolution Montgomery Chapter for selecting this research as their Conservation project.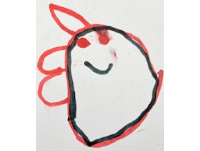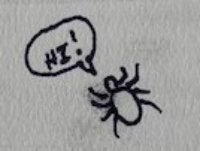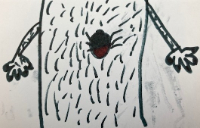 ---
June 2, 2021
As of the 2nd of June, we have received more than 7,500 ticks!!!
The tick lab has hired a new staff member, Nate Linker, to provide additional help this summer. We are hoping this will free up time to begin the pathogen testing.
We have received five species of tick from around the state with the lone star tick being the most prevalent. In fact, we have received the lone star tick in all but four counties (Atchison, Carroll, Mississippi, and New Madrid). The American dog tick is the second most received tick species. We have received the American dog tick in all but thirteen counties. We have also received the blacklegged tick (deer tick), Gulf coast tick, and the rabbit tick.
---
May 20, 2021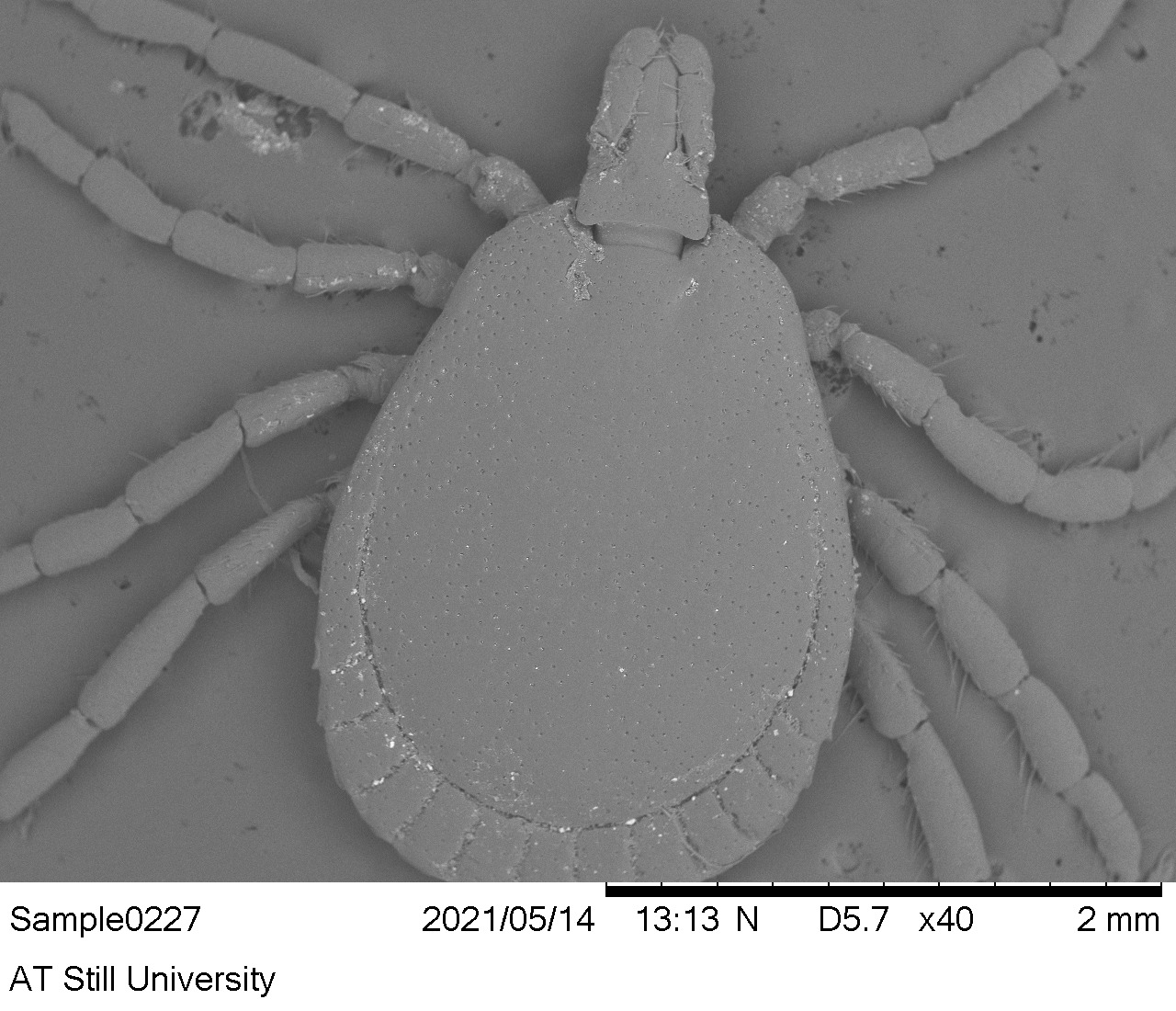 To date, we have received more than 6,300 ticks!!! We have received at least one tick from every county except for New Madrid. If you know of anyone in New Madrid, please let them know about this project.
We will identify and count all species received but will only be testing a subset of those for human pathogens dependent upon the number of samples received for each county. We will be testing for Borrelia spp. (think Lyme and STARI), Ehrlichia spp. (ehrlichiosis) Francisella spp. (tularemia), and Rickettsia spp. (Rocky Mountain spotted fever). We want to make sure that we test a subset of all species from every county that we receive, so the testing will take some time.
If you are interested in what ticks have been submitted by county, please go to the tab called "maps". You can click on that tab and you should see the state of MO. At that point, you can click on the county of interest, and it will report how many ticks we have found and what species. This map gets updated on a weekly basis. Once we begin pathogen testing that data will also be available in the map tab.
The easiest way we have found to view the data from the map tab is at the bottom center of the map box there is a small arrow pointing up. If you click on that, it will show the information in a spreadsheet format instead of a list. You can then either scan down to find your county or click on the county in the map itself.
Thank you, Missourians. Your efforts and contributions are most appreciated!