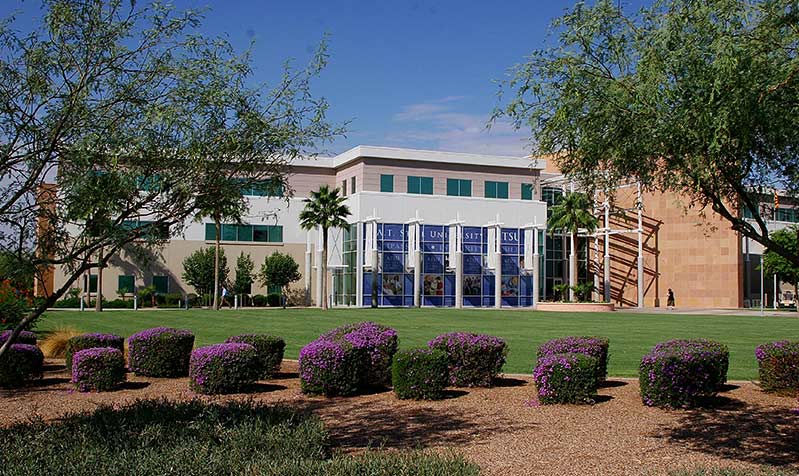 Preparing for your Interview
A.T. Still University School of Osteopathic Medicine in Arizona's ideal candidate for admission understands and identifies with the tenets and philosophy of osteopathic medicine and is able to demonstrate a strong and compassionate commitment to medically underserved populations in the form of volunteerism and/or work experience. An ideal candidate is well-aligned with SOMA's mission to create empathetic physicians aspiring to provide healthcare to medically underserved communities.
Candidates for admission to SOMA are strongly encouraged to spend time shadowing an osteopathic physician and obtain a letter of support from that physician. Candidates are also strongly encouraged to provide a letter of support from a supervisor of activities involving outreach to medically underserved populations.
The ideal candidate for admission to SOMA has the ability to manage a rigorous academic schedule and can demonstrate proficiency in biochemistry, genetics, microbiology, anatomy, and physiology.
To be considered for admission to SOMA applicants typically complete four years of undergraduate work culminating in a bachelor's degree. Osteopathic medical schools require one year each of biological sciences, physics, general chemistry, organic chemistry, and six semester hours of English.
It is required for applicants to take the Medical College Admissions Test (MCAT). The MCAT examines knowledge and skill in areas such as biology, math, reading, and problem-solving. A pre-medical advisor can assist applicants in scheduling and preparing for this examination.
Prospective SOMA students will be evaluated in three major areas: academic accomplishment, personal characteristics of a healer, and propensity to serve the underserved. Prospective students must exhibit a genuine concern for people. Osteopathic medicine is a people-oriented profession that demands dedicated and empathetic individuals. Osteopathic colleges require a personal interview during the application procedure. The applicant is strongly encouraged to have clinical exposure in a healthcare environment.
Students will be located at the Arizona campus during their first year. They then spend years 2 - 4 at one of 17 community health center partners across the country.
ATSU is partnering with the following community health center partners:
Beaufort-Jasper-Hampton Comprehensive Health Services Beaufort, SC (north of Hilton Head) Serving rural, suburban and ethnic populations in the low-country region of South Carolina.
HealthSource of Southern Ohio Milford, OH (east of Cincinnati) Serving rural, farming, ethnic, religious and Appalachian communities across southern Ohio.
North Country Community Health Center Flagstaff, AZ Serving isolated and ethnic populations in rural northern and eastern Arizona.
Adelante Healthcare Phoenix Arizona Serving communities in central Arizona and the Southwest.
El Rio Health Center, Tucson, AZ Serving urban, suburban, ethnic, HIV, and homeless constituents in and around Tucson.
Family HealthCare Network, Tulare County, CA Serving suburban and farm-worker populations in the valley at the base of Yosemite national park.
NWRPCA Campus (Northwest Regional Primary Care Association) Portland, Oregon, A regional model with the classroom serving rural and urban community health centers throughout Alaska, Idaho, Oregon and Washington.
HealthPoint (formerly Community Health Centers of King County), Seattle, WA Serving urban, suburban, émigré and ethnic populations in the county east and south of Seattle.
NearNorth Health Service Corporation Chicago, IL Provides health care, social services and nutrition education to the medically indigent and uninsured resident of the inner-city Chicago area.
Unity Health Care Washington, DC Serving urban, émigré, ethnic, HIV, older adult and homeless populations in the District of Columbia.
Wai'anae Coast Comprehensive Health Center Wai'anae, HI on the island of Oahu. A patient centered medical home providing primary care, social work services, traditional Hawaiian healing, behavioral health, dental care and preventative health care services to a medically underserved minority population.
North Central Texas Community Health Care Center Wichita Falls, TX Seeks to deliver osteopathic healthcare to underserved communities by being the "provider of choice" for healthcare services.
San Ysidro Health Center San Ysidro, CA Serving innovative community-oriented healthcare to over 95,000 patients through a network of 34 program sites across San Diego County including: medical and dental clinics, behavioral health centers, HIV centers, WIC nutrition centers, mobile medical units, school-based health centers, chiropractic services, pediatric developmental clinic, teen clinic, senior health center, and Program for All Inclusive Care for the Elderly (PACE).
Southern Illinois Healthcare Foundation Centreville, IL Offers whole person healthcare services, including internal medicine, family medicine, obstetrics and gynecology, pediatrics, dental, and behavioral health, through an integrated approach to treating each patient holistically.
The Wright Center for Community Health Scranton, PA The mission is to improve the health and welfare of the community through inclusive whole person health services and the sustainable renewal of an inspired public health workforce that is privileged to provide care for the underserved.
North Country Healthcare Flagstaff, AZ Provides access to affordable and quality healthcare across Northern Arizona. This nonprofit organization is based in Flagstaff and operates numerous clinics across Northern Arizona.
HealthSource Mt. Orab, OH A not-for-profit, primary care, community health center providing medical, dental, and mental health services to medically-underserved communities.
Sunset Park-Family Health Centers at NYU Langone Brooklyn, NY Community-based program that provides high-quality primary and preventive outpatient care to adults and children regardless of their ability to pay or health insurance status.
ATSU Santa Maria with CHC's of the Central Coast Santa Maria, CA Enhance the health status of all people in the Central Coast of California, with special emphasis on the medically underserved, by providing accessible, affordable, comprehensive and quality healthcare services, through well trained professional staff, in a strategically located health center.