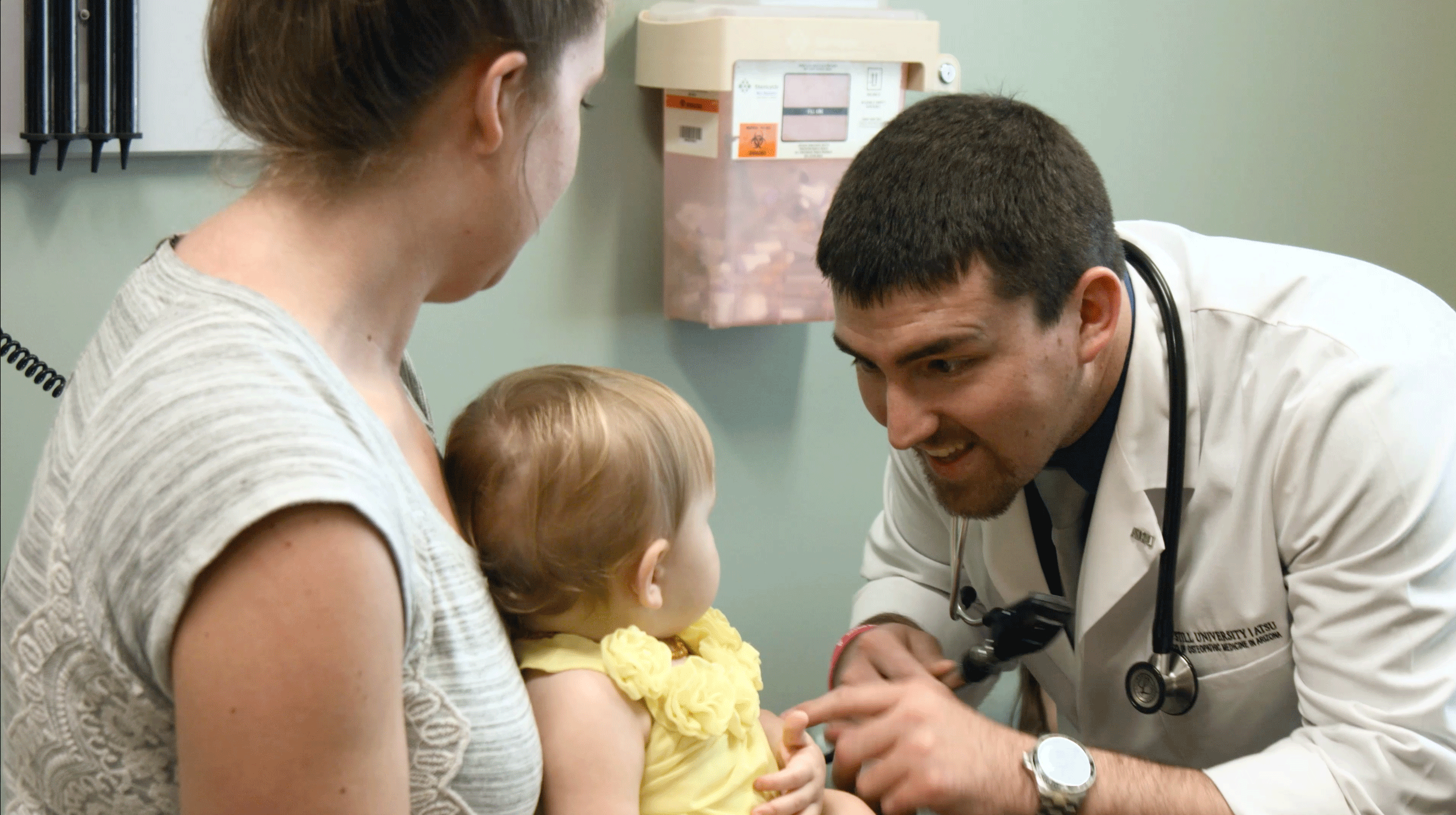 Doctor of Osteopathic Medicine
There are two types of physicians licensed to practice: MDs and DOs. Doctors of Osteopathic Medicine are fully-licensed physicians who practice in all areas of medicine. Emphasizing a whole-person approach to treatment and care, DOs are trained to listen to, and partner with their patients to promote health. DOs receive special training in the osteopathic manipulative medicine, the musculoskeletal system, as well as the body's interconnected system of nerves, muscles and bones. Osteopathic physicians focus on the mind, body and spirit, by addressing how lifestyle and environment impact wellbeing.
Student testimonials
Becoming an osteopathic physician
It requires dedication and vision. The ATSU-SOMA DO program is designed for students with a heart for community service, with open, inquiring minds. Students who attend ATSU-SOMA will be well prepared to think osteopathically, diagnose accurately, work well in teams, demonstrate compassion, and effect change in the community through action research. Students achieve success through rigorous academics, accessible, dedicated faculty, a culture of peer collaboration, contextual clinic experiences, and community oriented primary care research. An interesting, challenging program provides a well-rounded experience.
Program facets
An in-depth orientation provides preparation for metacognitive skills related to learning styles, studying, organizing content, and assessment.
OMSI-II consecutive systems-based courses are team-taught by faculty, and integrate basic, clinical and health systems science.
OMSI-II concurrent courses include Medical skills, Osteopathic Principles and Practice, and Epidemiology and Biostatistics. A robust integrated board preparation Kaplan course prepares students for COMLEX and USMLE.
Formative assessments allow learners to assess their own progress, and monitor competencies through an online dashboard.
Learning environments include classrooms that support group learning, standardized patient simulations, and the virtual anatomy lab.
In OMSI-II, weekly small group sessions provide opportunities to discuss and practice concepts. This involves personalized instruction with a faculty: student ratio of 5:1 for small group discussion.
Learning resource specialists are available to assist with academics.
Faculty value being accessible and responsive, both at the Mesa campus and at the destination health centers.
OMSII schedules include weekly clinical experiences at the CHC sites, as well as experiential lab in osteopathic manipulative medicine.
Students work in teams inside and outside of class. In OMSI, students engage in large group sessions with 100+ peers, but they also form smaller, Community Health Center (CHC) peer-groups, supported by faculty advisers, that remain stable through OMSII-IV.
Education technology supports include an ITS help desk, Blackboard, virtual anatomy lab, virtual patient cases, lecture capture technology, interactive vodcasts, gamification, E*Value, and video conferencing technology, which is open access for student teamwork and collaboration.
Teamwork in healthcare is an important aspect of modern clinical practice. The CHC environment provides students with opportunities to work with providers from a wide variety of professions. In OMSII-IV, students gain experience through early clinical experiences, by participating in patient encounters and team meetings at a CHC
As a capstone experience during the OMSII Epidemiology and Bio-Statistics course, students conduct a community-oriented primary care research project. During OMSIII-IV, students complete rotations, and assemble a portfolio for a residency application, supported by the ATSU-SOMA professional development team.