GPS Golf Tournament
Join us Saturday, April 20, 2024, for our annual Graduate Health Professions Scholarship (GPS) Golf Tournament in Mesa, Arizona. This event is being held to support ATSU's GPS Scholarship fund, which provides financial assistance to students pursuing graduate-level healthcare professions.
The GPS Scholarship is designed to support students who are pursuing degrees in healthcare fields such as medicine, dentistry, allied health professions, and other related fields. The scholarship is awarded to students based on their academic achievements, financial need, and commitment to their profession.
The GPS Golf Tournament is a fun and engaging way to support this worthy cause. Participants can enjoy a day of golfing while knowing that their contribution is making a positive impact on the lives of students who are pursuing careers in healthcare. All proceeds from the Tournament go toward ATSU's GPS Scholarship Fund.
Golf registration deadline is April 1, 2024.
Register
Cultural proficiency at ATSU
Clinton Normore, MBA
VP of Diversity & Inclusion
A.T. Still University strives to create a culturally rich community which embraces all forms of differences. The University is deeply committed to an educational and collaborative environment embracing cultural proficiency. An authentic understanding and appreciation of difference is foundational to reaching cultural proficiency, which, at its core, is based upon the value each human being brings to our society and each person's access and opportunities to contribute to our University's cultural proficiency. The strength of our campus community as well as the potential of the global community is realized through this same understanding, affirmation, and value of human difference.
ATSU Diversity and Inclusion Department
Graduate health sciences programs at ATSU
Graduate Health Professions Scholarship
The A.T. Still University Graduate Health Professions Scholarship (GPS) is designed to accentuate the university's unique mission of service and leadership in whole person healthcare. This tuition scholarship is a targeted approach to attract and educate students whose life contributions and experiences are consistent with the ATSU mission to serve in underserved areas.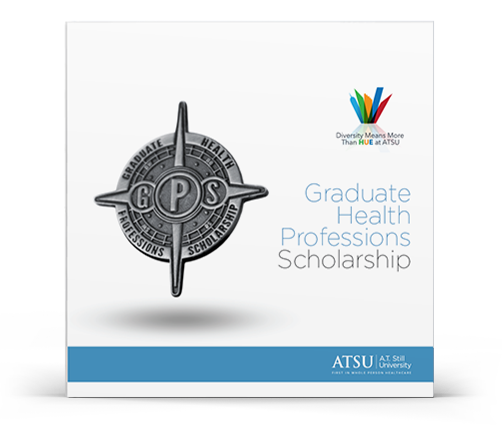 Download Scholarship PDF
Meet the students this scholarship has supported
|
Arizona School of Dentistry & Oral Health
Working with underserved communities has always been a passion of mine. Throughout my undergraduate years, I was intentional with volunteering with different communities, and this allowed me to build my knowledge and love for service. I am extremely proud to be at a school that focuses on public health, and I am honored to be able to grow and learn from the communities around me these next four years.
|
School of Osteopathic Medicine in Arizona
As a first-generation Latinx growing up in an immigrant, underinsured, low-income family, I became intimately aware of barriers to healthcare. This awareness shaped my career path, one in which I have been deliberate in working with low-resourced communities experiencing food, housing, and financial insecurities that inform the multiple domains of health. I remain committed to working with historically marginalized communities and, through this work, hope to continue to advance health equity. GPS has provided the space for me to collaborate and build community with like-minded individuals to become a well-rounded physician for the communities I hope to one day partner with.
|
College for Healthy Communities
As a small-town Louisiana native, I longed for representation within medicine that I had rarely seen. From that experience, my mission has been focused on the necessity to advocate for underdeveloped communities and minorities. My values are the influence for my decision to attend ATSU, as well as being a part of the GPS program. It is with great honor to be a chosen scholar to further connect with communities and gain the resources needed to be a competent and respectful physician assistant.
|
Arizona School of Health Sciences
I know firsthand the struggle of being a first-generation college student. Since 2014, I have committed myself to my family, my education, and my country. I have graduated with my Bachelor of Science degree from the University of Washington, completed my contract with the U.S. Army, and am well on my way to becoming one of the first Latinx women from my hometown to obtain a degree as a Doctor of Physical Therapy. Not only am I self-motivated, but I give back to my community any chance I get. I have tutored students younger and older in various subjects throughout my academics and have worked multiple jobs to put myself through school. I continue to use the obstacles in my path as motivation to grow. I am excited to return home to Washington and help my underserved community in more than just physical therapy.
|
Kirksville College of Osteopathic Medicine
I plan on becoming an osteopathic physician because I've personally witnessed the impact osteopathic physicians have on the lives of people they serve, the community they advocate for, and the change they wish to see in the healthcare system. As a GPS scholar, I see myself taking full advantage of the opportunity to grow as both an individual and as a professional. I plan on working with the individuals in my community to implement programs that encourage more improvements in preventive care through more effective interpersonal interactions with patients. I also plan to engage my fellow peers in community outreach to educate communities, especially rural communities, on preventive health. With more outreach, I believe we will also be able to bring more awareness to the social determinants of health and their impacts on the individuals we serve, while actively pursuing long-term solutions to better our healthcare system for those who are underprivileged.
|
Arizona School of Dentistry & Oral Health
Growing up in a rural community, I unknowingly experienced the impact of the limitation in dental services and providers. This is why it is important for me to continue to strengthen my awareness of the multifaceted characterization of disparities and influences on health and well-being. As a GPS scholar and as a Navajo woman pursuing my training and education in dental medicine, I will continue to take advantage of various clinical, leadership, and public health opportunities to foster my ability to initiate and create positive change and impact for my patients and their community. My goal in my educational and professional commitments is to always support and be responsive to my patients and their needs.
|
Arizona School of Health Sciences
Born into a culturally and linguistically diverse family, my fascination with language and how it connects communities developed very early. I quickly realized language barriers can deeply affect an entire family's quality of life, and I vowed from a young age to dismantle as many language and other access barriers for as many people as possible. As a late identified neurodivergent adult, I understand the importance of receiving correct diagnoses from healthcare professionals as early as possible. As a future bilingual speech-language pathologist, I will dedicate my work to correctly identifying speech and language disorders within diverse populations, reducing the proportion of incorrectly diagnosed individuals.
|
Missouri School of Dentistry & Oral Health
I have studied the alignment of art and science my entire life, as I have been an entrepreneur with my own henna business since a very young age. This discovery of client satisfaction translates to my passion and motivation to study patient satisfaction in the field of dentistry. I strive to implement art in terms of not only intricacy, but also cultural differences, and uniqueness, to ultimately aim to serve the best care as a health ambassador of my community. As a GPS scholar, I strive to recognize people for who they are, as they will add to a more colorful world where access to dental care and education is attainable for all.
|
School of Osteopathic Medicine in Arizona
Growing up in a small, poor, underserved town called High Point in North Carolina, my passion for medicine stemmed from being a caregiver for my grandmother. I watched her make difficult decisions between managing her diabetes and affording necessities – food, housing, etc. This experience exposed me to the effects of social determinants on health and how health disparities can affect an individual's ability to access and receive care and manage their health. While this was my initial starting point, many of my undergrad experiences demonstrated the need for physicians who do more than just treat patients in the clinical setting. The work begins far before a patient presents with symptoms. For these reasons and many more, this is why I chose to pursue my Doctor of Osteopathic Medicine degree and why I aspire to pursue my Master of Public Health. I genuinely believe through advocacy, compassion, curiosity, and addressing the root causes and social determinants of health-related disease, I can positively impact these communities and help someone else's family member have better health outcomes and quality of life.
|
Arizona School of Health Sciences
Growing up in an underserved area, I always wanted to impact my community in a positive way. Before coming to ATSU's Physician Assistant Studies program, I was able to serve my community as a first responder. Now, as a GPS scholar and future medical provider, I will be prepared with the tools and resources necessary to become an influential leader and advocate for my own underserved community.
View more student insights
Dreamline PathwaysTM
The Dreamline Pathways are comprehensive community-based collaborations that introduce K12 students to graduate health professions programs offered by ATSU. ATSU has unique relationships with school districts and community-based organizations, offering experiential learning opportunities to students in these partnerships. These collaborations introduce young minds to career opportunities in healthcare.
Learn more about Dreamline Pathways
Recognized for diversity
ATSU received the Health Professions Higher Education Excellence in Diversity (HEED) Award from INSIGHT Into Diversity magazine, the oldest and largest diversity-focused publication in higher education for six consecutive years in a row! Only 24 health professions schools received the HEED award. The Inspiring Programs in STEM Award from Insight into Diversity honors colleges and universities that encourage and assist students from underrepresented groups to enter the fields of science, technology, engineering, and mathematics (STEM).
Thank you to our sponsors