Why earn a master's degree in kinesiology?
If you're pursuing a career in health and wellness, and are interested in exercise, physiology, and the science of human movement, you may be considering attaining a graduate degree in kinesiology.
A master's degree in kinesiology offers many benefits to professionals in the health and wellness industry. Read on to discover insights into different programs and which degree may be the most appropriate for you based on your career goals.
Benefits of earning a master's degree in kinesiology
Kinesiology is an interdisciplinary field that draws on principles from exercise science, physical therapy, biomechanics, and sport science. A master's degree in kinesiology is a graduate-level exercise science program that focuses on evidence-based research in human movement to develop clinical leaders in kinesiology, exercise science, health and fitness.
Career advancement and flexibility
A master's degree in kinesiology can open new career opportunities, leadership roles, opportunities for specialization, and increase earning potential. Kinesiology master's programs elevate sports medicine, exercise, and fitness professionals by enhancing knowledge, skills, and abilities in the design and maintenance of exercise science programs and serve as a valuable source of credibility to health professionals, athletic organizations, educators, club owners, coaches, and fitness department managers.
Advanced knowledge and expertise
A kinesiology master's degree provides students with a deeper understanding of human movement and anatomy, and offers students comprehensive knowledge and proficiency in functional anatomy, exercise physiology and kinesiology, behavior change, functional assessment, and exercise program design. This knowledge is meant to be immediately applied to a variety of settings.
Personal development
Pursuing a master's degree in kinesiology can be a challenging and rewarding experience that can help develop critical thinking, problem-solving, and communication skills. Additionally, it may lead to a sense of self-confidence and accomplishment that will benefit students both personally and professionally.
Best fit for kinesiology master's degree
Individuals who are a good fit for a kinesiology master's program have a strong interest in the study of human movement and the science behind it. Working professionals who love to learn and desire to better themselves as professionals in the industry are the perfect fit.
In addition, the following traits and characteristics can lead to success:
Passion for learning
Interest in helping others
Aptitude for science
Ability to think analytically
Love of physical activity
Online or residential degree?
Both residential and online master of science in kinesiology programs have unique benefits, and the choice between the two depends on individual needs and circumstances.
Benefits of an online master's degree in kinesiology include:
Online education offers students optimal flexibility. Asynchronous online programs enable students to complete the program at their own pace, any time and from anywhere. This allows students to balance their studies with work and other responsibilities.
Online kinesiology programs can be completed from anywhere. This is an especially convenient option for individuals who are unable to travel or have other responsibilities, such as a full-time career and family, that make attending classes in person on a regular basis difficult.
In addition to often having lower tuition costs, online programs typically have fewer expenses, such as travel and living expenses, when compared to residential programs
Benefits of a residential master's degree in kinesiology include:
A residential program provides a set schedule and location where students have focused time with the subject matter.
Residential programs provide students with hands-on experience through required laboratory and practical sessions, which can be valuable for individuals who want to gain new practical skills in the field, but it may not be ideal for individuals who prefer to learn in a theoretical setting.
Residential programs offer more face-to-face opportunities to network with peers to build connections. (However, ATSU's online kinesiology program includes a one-week Summer Institute where students have the opportunity to network with their peers and ATSU's faculty.)
Kinesiology degree vs. an exercise science degree vs. a human movement degree vs. an exercise physiology degree
Kinesiology, exercise science, human movement, and exercise physiology are related fields that study different aspects of the science of human movement.
Kinesiology
Kinesiology is a broad field that studies human movement, anatomy, physiology, and biomechanics. It seeks to understand how the body moves, what affects movement, and how movement can be improved. Kinesiology also encompasses the study of sports science and physical therapy.
Exercise science
Exercise science is a subfield of kinesiology that focuses specifically on the physiological and biomechanical responses to physical activity. Exercise scientists study the effects of exercise on the human body, including the impact on cardiovascular health, muscle strength and endurance, and metabolism. Most commonly, this degree is earned at the bachelor's level to create foundational knowledge. This degree can be taken as a precursor to a more specialized program, such as a master's in kinesiology.
Human movement
Human movement is the study of how people move, including the mechanics and physiological processes involved in movement. It encompasses a wide range of disciplines, including anatomy, physiology, biomechanics, and motor control. Human movement degrees focus on the foundation of physics and biology to explore human movement across the human lifespan, including treatment and prevention of movement disorders.
Exercise physiology
Exercise physiology is a field that helps people reach peak performance, maintain healthy lifestyles, and prevent chronic illness, disease, and injury. Exercise physiology programs teach students about the human body and its relationship to physical activity to improve overall health and wellness.
Master of Science in Kinesiology program
Offered through A.T. Still University's College of Graduate Health Studies (ATSU-CGHS), the online Master of Science in Kinesiology program is designed for working health and fitness professionals who are looking to become clinical leaders in kinesiology, exercise science, health, and fitness. The online kinesiology program encompasses 42 credit hours of study, with a 45-hour dual concentration option, and includes a week-long conference at the Summer Institute where students and faculty come together to perform hands-on, cutting-edge work, network with industry experts, and participate in face-to-face mentoring.
Created as a post-professional kinesiology program, this exercise science degree was developed to build on a baccalaureate foundation in a related degree area and professional experience in exercise physiology, kinesiology, biomechanics, or related fields.
The kinesiology master's degree offers health and wellness professionals comprehensive and applicable knowledge in functional anatomy, exercise physiology, behavior change, functional assessment, and exercise program design. By focusing on evidence-based research, this online degree program enables clinicians working with clients, patients, and populations to immediately apply what they've learned.
Students earning their kinesiology master's degree at ATSU have the opportunity to specialize in one of five areas with speciality certificate course groupings or concentrations:
Adaptive Sports
Corrective Exercise and Orthopedic Rehabilitation
Exercise and Sports Psychology
Functional Fitness for Older Adults
Sports Conditioning
(A dual track option is also available, enabling students to enroll in two of the specialty tracks.)
Read more +
Career advancement
With a master's degree in kinesiology, individuals can pursue a variety of careers, such as:
Exercise scientist
Strength and conditioning coach
Physical therapist
Biomechanist
Public school coach
Weight training instructor
College athletic directo
Exercise psychologist
Management positions in sports management
Professional assistant coach
Physical education instructor
College coach
Corporate wellness manager
Fitness choreographer
Fitness instructor
Sports psychologist
Sports researcher
Intramural sports director
Professional head coach
University professor
Read more +
Earn a master's in kinesiology
Pursuing the science of health and wellness offers many paths. When deciding which graduate degree is best for you, consider what type of learning environment best suits your needs, how you'd like to apply your education, and your desired career outcomes.
An online master's degree in kinesiology is fitting for those who desire career advancement, flexibility, personal growth, have a passion for learning, and want to help others. Ready to take the next step? Contact ATSU to learn more about the online Master of Science in Kinesiology program.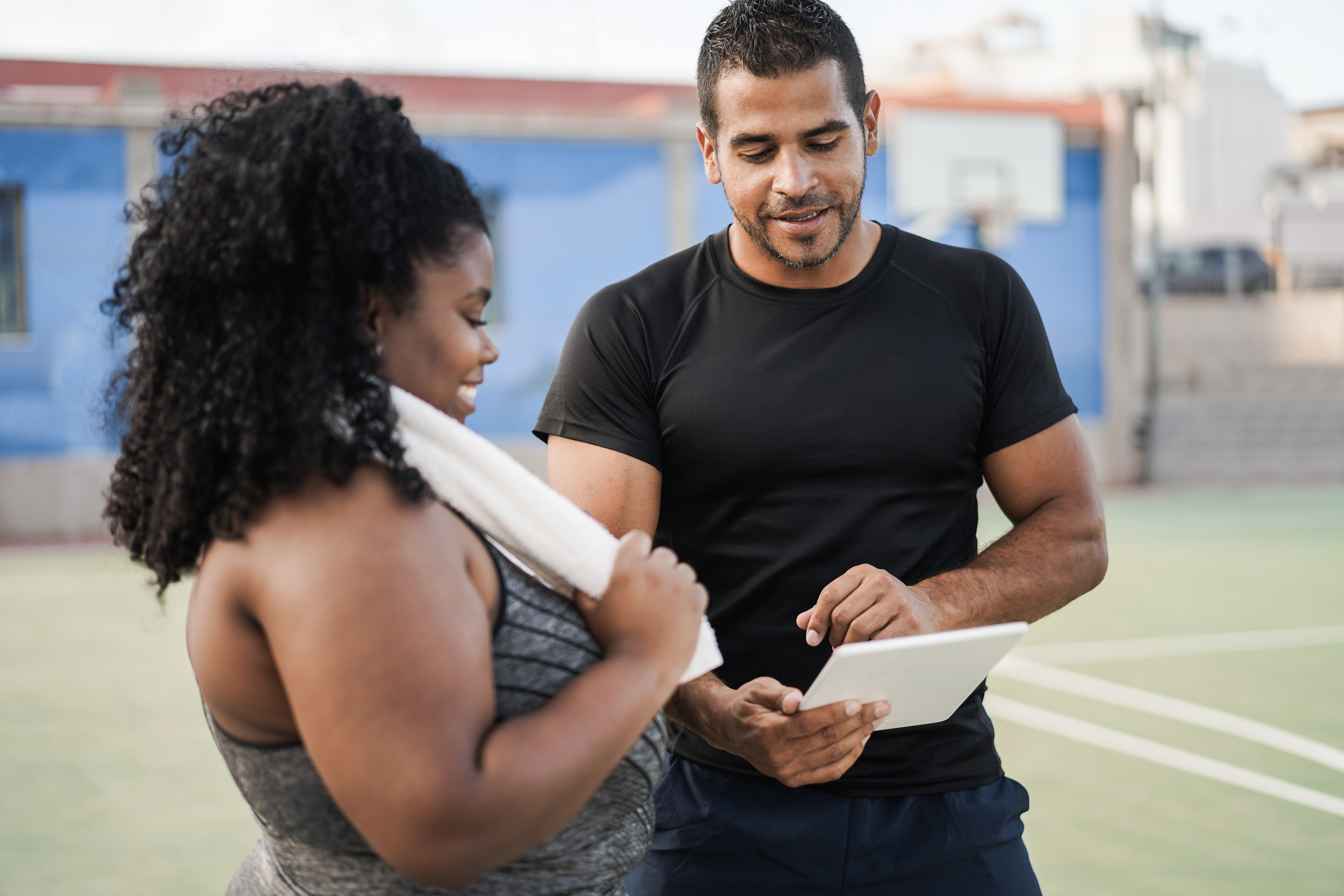 Not sure if the KINE is right for you?
ATSU-CGHS offers a variety of master's programs that meet your professionals needs and career goals.