Still Magazine Articles
Fall/Winter 2013

Fall Prevention Goes to State
Caroline Lindsey, AuD, '16, met with Arizona Governor Jan Brewer in September to discuss ATSU's Still Standing Fall Prevention Outreach, a community health education program conducted by ATSU's Aging Studies Project to alleviate falls among older adults. Since 2009, students from ASHS' Physical Therapy, Occupational Therapy, Audiology, and Athletic Training programs have presented the evidenced-based Matter of Balance program to more than 1,500 seniors in Arizona
---
Fall 2013 - Harry: A Journal of Thought and Action
(Truman State University Publication)

A Helping Hand: Local Universities Team Up to Provide House Calls for Area Residents
Truman State University and the renowned osteopathic medical school, A.T. Still University, both located in Kirksville, MO, have teamed up to offer House Calls: a home-visiting program whose goal is to improve communication between elderly patients and physicians and nurses.
---
Fall/Winter 2012

Age is Just a Number
"There are more people that are living past 100 these days," said Christa M. Hojlo, PhD, RN, NHA, at ATSU's 8th annual Lecture on Aging in April. "Many of us are going to be caring for people who are very old, so it's time to pay attention to the process of aging and recognize that we don't have to fear caring for people in those later years. Aging is a normal process."
---
Summer 2012

Uncrossing the Lines: Articles on the Heart Failure Project, Still Standing Fall Prevention Outreach, and House Calls
This publication covers three of the programs that ATSU's Aging Studies Project offers to students and members of the community: the Heart Failure Project, Still Standing Fall Prevention Outreach, and House Calls.
---
Fall 2011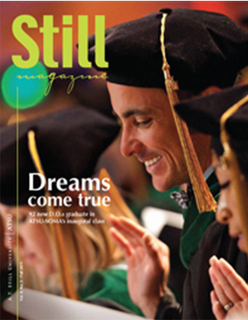 Lecture on Aging Focuses on Alzheimer's
ATSU's Committee on Aging hosted its 7th annual Lecture on Aging on April 1 to enhance healthcare providers' understanding of the challenges associated with Alzheimer's disease and share current concepts related to diagnosis and patient care. The lecture, "Meeting the Challenge of Alzheimer's: Current Concepts in Diagnosis and Care," featured speakers from Banner Alzheimer's Institute (BAI) in Phoenix, and was held on the Arizona campus with simultaneous videoconferencing on the Missouri campus.
---
Spring 2011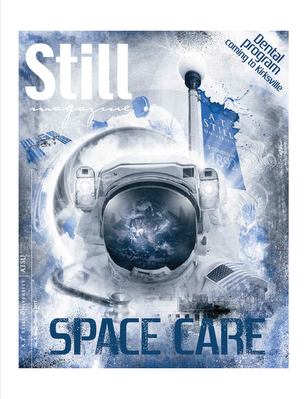 Aging Project Gets New Leadership
Janet Head, Ed.D., is now director of the ATSU Aging Project for the Kirksville Campus, and Elton Bordenave, M.Ed., assumes the same position on the Mesa Campus.
Drs. Head and Bordenave are responsible for coordinating outreach programs and activities linking students with community elders and establishing links to community agencies that serve older populations in their respective communities.
---
Spring 2009
ATSU and Phoenix: Partners in Fall Prevention
Phoenix seniors and Mesa graduate students are benefiting from an innovative partnership between ATSU and the city of Phoenix that has brought falls prevention education to elderly citizens in senior centers across the Valley. Students in ASHS' occupational therapy, physical therapy, audiology, and physician assistant programs have been trained as volunteer lay leaders in the "A Matter of Balance" falls prevention program, which is designed to reduce program participants' fears of falling and increase activity levels among older adults.
---
Summer 2008
ATSU Sponsors Governor's Conference on Aging
For the second time, the Arizona Campus Geriatric Initiative was a gold track sponsor for the Governor's Conference on Aging, held every two years in Arizona. ATSU sponsored the Falls Prevention track, and faculty member Jeff Alexander, Ph.D., presented on exercise and fall prevention. D.O. and P.T. students provided health screens.
Integrating Mental Heatlh in Primary Care Topic of 4th Annual Lecture on Aging
The 4th Annual Lecture on aging was held Friday, April 4, on the Missouri campus and was broadcasted simultaneously to the Arizona campus. Dr. Sue Levkoff, associate professor of psychiatry and social medicine at Harvard Medical School, spoke on the integration of mental health in primary care.
---
Spring 2008

Students Enthusiastic About Geriatric Initiative
In 2003, the ATSU Board of Directors initiated a University Geriatric Initiative in light of the growing healthcare challenges of an aging society. The Arizona campus is actively engaged in geriatric outreach programs. According to Assistant Professor Elton Bordenave, M.Ed., CHC, Arizona Campus committee chair for the Program on Aging, the goal of the outreach programs is to increase the quality of life, health, and wellness for seniors while promoting student healthcare education.
---
Summer 2007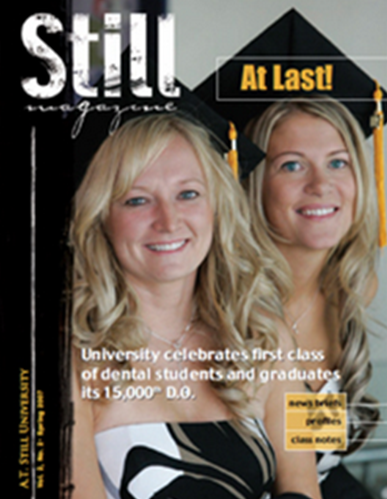 3rd Annual Lecture on Aging
The 3rd Annual Lecture on Aging, titled "Interdisciplinary Care for Elders," was held April 20. The guest speaker, Dr. Elizabeth Protas, is interim dean at the School of Allied Health Sciences, University of Texas Medical Research Branch, Galveston. Dr. Protas also is a Ruby Decker Endowed Professor and a senior fellow of the Sealy Center on Aging. .