Master of Public Health Degree Online
Master of Public Health Degree Online
Online Healthcare Degree
The Master of Public Health (MPH) degree at A.T. Still University prepares graduates to become seasoned professionals in the field of public health. The focus of this master's in public health online is to create elite healthcare professionals who are prepared and driven to make a difference and lead the future of healthcare.
Read More
This master's program is uniquely designed in close alignment with newly published public health standards, thus cultivating experienced, modern leaders who will excel in a wide range of public health professions.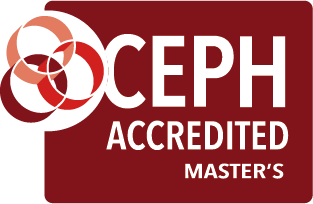 The Master of Public Health program is accredited by the Council on Education for Public Health (CEPH) see disclaimer, meeting accepted standards established by and with the profession and covering essential skills and knowledge needed for today's jobs. View ATSU's CEPH final team report and CEPH self-study for additional information.
ATSU-CGHS's Master of Public Health degree is ranked 10th in the United States by BestColleges.com, and among the top 20 programs by TheBestSchools.org, adding to ATSU's long-standing reputation for integrity, quality and leadership in education. Students can now earn their dental public health master's degree from a prestigious health sciences University dedicated to improving public health.
The Master of Public Health degree program is offered through ATSU's College of Graduate Health Studies (CGHS). All core master's in public health online courses are taught by our renowned and highly qualified doctoral-level public health faculty including industry leaders, top national public servants and public health academic innovators. As class size is limited to 16 students, valuable and extensive one-on-one student-faculty interaction allows for the cultivation of lifelong relationships and professional public health connections.
This master's in public health online aims to empower its students to take their influence and abilities to a new and highly professional level. This includes the integration of highly contemporary public health industry resources such as leveraging social media to extend the impact of public health professionals' efforts. While utilizing forward thinking strategies and technological resources is an important component of this public health degree, students enrolled in the Master of Public Health program will also gain world-class, timeless knowledge on the foundation of the public health field.
While earning a master's degree in public health at ATSU, you will have all the resources necessary to keep your career moving forward in one seamlessly integrated public health degree.
Read Less
Accreditation

+

A.T. Still University is accredited by the Higher Learning Commission

230 S. LaSalle Street; Suite 7-500
Chicago, IL 60604

Phone: 800.621.7440 | Fax: 312.263.7462
Email: info@hlcommission.org




The Council on Education for Public Health (CEPH) has accredited the Master of Public Health program at ATSU-CGHS for a five-year term extending to July 1, 2020.

The Public Health Program at A.T. Still University College of Graduate Health Studies is undergoing the re-accreditation process with the Council on Education for Public Health (CEPH). The CEPH re-accreditation site review is scheduled for April 30 and May 1, 2020. As part of the accreditation process, CEPH encourages interested parties, including students, alumni, faculty and the practice community, to provide written input that will inform the deliberations of a site visit team. CEPH is accepting written comments about the public health program and its practices, procedures and policies until March 30, 2020.

You may send your written comments to CEPH at:
Zeinab Bazzi, MPH
Council on Education for Public Health
1010 Wayne Ave, Suite 220
Silver Spring, MD 20910

Or via email: zbazzi@ceph.org

Thank you
Career Advancement

+

Many diverse career options in both the public and private sectors are available for graduates who have earned ATSU's master's degree in public health, including:

Assistant/Associate Professor in Health Education
Director of Community Health Services
Director of Health and Wellness Program (for a corporation, hospital, or health system)
Health Advocacy/Policy/Research
Health Educator
Health Education Consultant

Health Policy Adviser/Consultant
Public Health Information Officer
Public Health Project Manager
Public Health Management Analyst
Program Manager at an Insurance Company
Related Master of Public Health Degree Programs
Master of Public Health Degree Faculty
ATSU College of Graduate Health Studies (CGHS) instructors have diverse academic and working backgrounds in public health, and all hold doctoral degrees. Their academic areas of interest include access to care, workforce issues, impact of water shortages, preventive health care, health disparities, injury prevention, maternal and child health, health policy and cultural disparities.
ATSU-CGHS faculty and staff are dedicated to your success, and comprehensive student services are available, including advising, tutoring, career services and technical support.
Master of Public Health Degree Admissions
ATSU's renowned master of public health online program admits public health professionals who have diverse graduate education, work history and life experiences. Qualified candidates demonstrate an ability to pursue a rigorous course of graduate academic study and hold increasingly responsible positions in public health.
Students are selected by an admission committee that considers the overall qualities of the applicant through application content, academic record, prior experience, letters of evaluation, and personal motivation. In special circumstances, a personal interview may be required.
The
ATSU

Family and Culture
Canvas Demo Course

+

Explore our interactive online learning platform (Canvas) through a virtual course tour.

Click the "Connect Now" button below, then complete the following steps:

Choose "I'm a Student"
Enter join code: KADNHH
Enter your full name
Create a username and password
Agree to the Terms of Service and Privacy Policy
Choose the "Start Learning" button



Master of Public Health Curriculum Overview
The online Master of Public Health curriculum provides comprehensive training that develops leaders who are fully prepared to address society's healthcare issues. All core courses are taught by ATSU's exceptional, doctoral-level faculty, which includes former top national public servants, industry leaders and academic innovators in public health.
Year 1
Year 2
Other Courses
Learn More