ATSU College for Healthy Communities
A.T. Still University's (ATSU) Santa Maria campus is located in a 25,000 square foot facility designed to foster pre-clinical education and team-based learning opportunities, featuring 10 clinical simulation rooms, a spacious, comfortable library, student lounge, and an on-site exercise/recreation area.
Innovative, integrated healthcare education also distinguishes ATSU's new Central Coast Physician Assistant Program (CCPAP). This strategy prepares graduates to serve the needs of underserved communities. During clinical education, students integrate pre-clinical science with the clinical experience to diagnose and treat a wide range of patients.
CCPAP graduates will go on to propel the University's mission of community outreach to underserved and diverse populations throughout the nation, transforming the way healthcare is delivered.
Life in Santa Maria, California
​Santa Maria, located in California's Central Coast region, offers sandy beaches, rocky coastline vistas, wine country tours, and world-famous barbecue. Sunset magazine named Santa Maria "The West's Best BBQ Town."
Geography and Climate
Santa Maria experiences a cool Mediterranean climate typical of the coastal areas of California. The days are mostly sunny, refreshed by the ocean breeze and common fog. The last recorded snowfall was in January 1949.
Located in Santa Barbara County, Santa Maria is 65 miles northwest of Santa Barbara and 150 miles northwest of Los Angeles. The city comprises of 23.42 square miles, .64 of which is water. The valley is bordered on the west by the Pacific Ocean and by the San Rafael Mountains and Los Padres National Forest to the east.
Culture
Santa Maria offers a variety of recreational and cultural activities—two public libraries, multiple youth centers, theaters and museums offer activities for all ages. A forty-acre fairground hosts the Santa Maria Valley Strawberry Festival each year.
Santa Maria-style barbecue is a regional culinary tradition. Side dish favorites consist of garlic bread, pinquito beans, and salad. Santa Maria, CA is located less than 20 miles from the Pacific Ocean beaches and recreation.
Economy and Demographics
Agriculture plays a vital role in the city's economy. Hosting an increasing number of vineyards, wineries, and winemakers, the agricultural areas surrounding the city are some of the most productive in California, with primary crops including strawberries, wine grapes, and lettuce.
The most recent U.S. Census Bureau states an estimated population of 99,553 persons, with: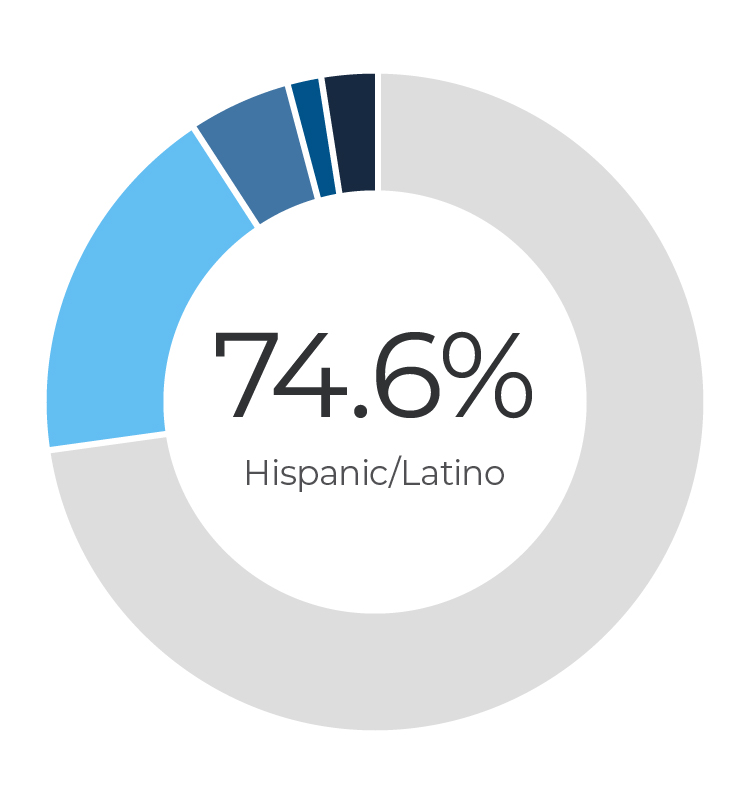 74.6% Hispanic/Latino
18.1% White
5.2% Asian
1.3% African American
2.5% Other
Serving the Underserved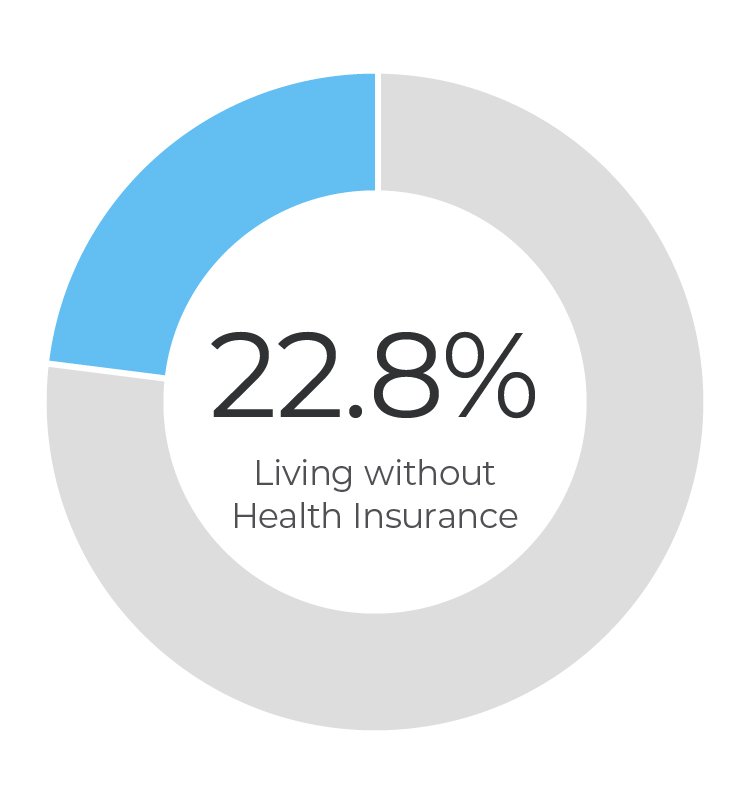 22.8% of persons are living without health insurance
77.3% of persons are living with health insurance
Transportation
U.S. Route 101 runs through the Santa Maria Valley and State Route 1 runs the western edge. The Santa Maria Valley Railroad is a short-line freight railroad to Guadalupe where the Union Pacific Railroad Interchange point is. Santa Maria is near two airports, the San Luis Obispo County Regional Airport, which services three airlines and is open daily, and the Santa Maria Public Airport, which has two active runways and is a home base for over 200 general aviation aircraft.
Santa Maria Area Transit (SMAT) is the local bus service provided by both city and country-run lines. Services during the evening end at 10:15 p.m. The Breeze Bus stops at Lompoc and Vandenberg Air Force Base. RTA Route 10 connects Santa Maria to San Luis Obispo and the Guadalupe Flyer connects Santa Maria to Guadalupe. Long-distance intercity bus service is provided by Greyhound Lines and the Clean Air Express commuter bus runs between Santa Maria, Goleta, and Santa Barbara during weekdays.