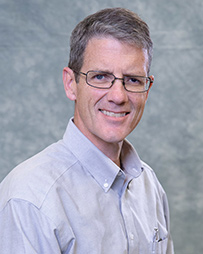 James Keane, DO
Assistant Professor
Email: jameskeane@atsu.edu
James Keane, DO, is a board-certified Internist and Holistic Medicine physician who practices Osteopathic Manipulative Medicine regularly as the Medical Director of A.T. Still University's Osteopathic Medicine Center. After practicing in several Arizona-based clinics, both in- and out-patient, Dr. Keane joined the faculty at ATSU-SOMA full-time in 2018.
Born and raised in Chicago, IL, Dr. Keane has spent the last 25 years in Arizona. He received a Master's degree in Higher Education from Arizona State University (ASU). Following his time at ASU, Dr. Keane served as an analyst at the Arizona State Senate and briefly as a lobbyist for Arizona's cities and towns. After studying health and wellness informally for years, Dr. Keane left public policy to attend Midwestern University in Glendale, Arizona and completed his Internal Medicine Residency in Sierra Vista, Arizona.
For fun, Dr. Keane enjoys spending time with friends and family, hiking, cooking, meditating and other hobbies.