ATSU's sixth school, the Missouri School of Dentistry & Oral Health (ATSU-MOSDOH), was established in 2013 on the Missouri campus. ATSU-MOSDOH was founded to address the disparities in oral healthcare in Missouri and across the nation. By graduating dentists who have an in-depth understanding of and a desire to serve populations in need, ATSU-MOSDOH will help increase access to and services for vulnerable populations.
Offering a doctor of dental medicine, MOSDOH's dental program features an innovative curriculum, simulation technology, state-of-the-art facilities, service learning experiences, and leadership training. ATSU-MOSDOH's curriculum is integrative by interweaving core disciplines into the humans systems, preclinical, and dental sciences with a strong emphasis on the application of clinical medicine and clinical dentistry. Students spend their first and second year studying basic sciences and basic principles of patient care in the classroom and complete dental simulation exercises in the Kirksville campus simulation clinic. During the third and fourth years, students transition to the clinical environment by providing patient care at the St. Louis Dental Education and Oral Health Clinic.
To provide the core dental clinical curriculum, ATSU-MOSDOH has partnered with Affinia Healthcare, formerly Grace Hill Health Centers, Inc., in St. Louis. The innovative partnership with Missouri's largest community health center allows ATSU-MOSDOH to focus on the educational elements of comprehensive patient care, while Affinia Healthcare manages the clinical operation. At the St. Louis clinic, third-year students work under the direct supervision of licensed ATSU-MOSDOH dental faculty. During the fourth year, students spend half of the year in the St. Louis clinic, and the other half of the year in community health centers and other safety net clinics in St. Louis and throughout the Midwest, all under the supervision of ATSU-MOSDOH adjunct faculty. Additionally, students who have not obtained either a certificate or master's degree in public health with a dental emphasis will earn a certificate in public health while enrolled at ATSU-MOSDOH.
Student Testimonials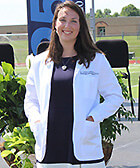 "I am so glad I chose to attend ATSU-MOSDOH. I have never felt as much a part of something as I do at this school. The environment at ATSU is so welcoming and friendly. This helps make the stressful days a little less stressful. Other schools make you feel like you are lucky if they pick you, but MOSDOH makes you feel like they are the lucky ones. Our facilities are state of the art and our curriculum is unlike any other school. Our professors, staff, and faculty go above and beyond what is expected of them to ensure we succeed and everyone has an open door policy. Our dean even knows our names! The environment at MOSDOH is very conducive for learning. Our small class size allows group collaboration with our classmates and the low student to faculty ratio ensures we get the one-on-one time with our professors if we need it. We are fortunate enough to take gross anatomy and head and neck anatomy with human cadavers. With the medical school close by we even get some exposure to ultrasound lab and patient simulations in the simulation lab. I couldn't be happier being a dental student at ATSU-MOSDOH!"
—Caitlin Eikermann, Class of 2021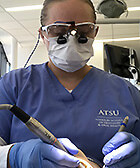 "During the time when I was researching dental schools, visiting those I was interested in, and figuring out the pros and cons of each school, MOSDOH was one that piqued my interest. It was a new school, state-of-the-art equipment, beautiful split campuses, and dedicated to serving the under-served populations. I knew I was going to apply here. My altruistic nature and community service driven personality matched everything that MOSDOH stood for. During the interview you could tell that the school atmosphere was desirable. This school is unique in the sense that we have the ability to get a Masters in Public Health at the same time. Also, MOSDOH has ultrasound labs, patient simulations, and the most up to date evidence based teaching, making this school hard to compete with!"
—Tiffany Pinkston, Class of 2020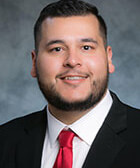 "When I first decided to attend ATSU-MOSDOH, I was a bit hesitant moving so far away from home. Campus is 1,100 miles from my home in Texas. After considering my options, I decided that I would take this next step on my way to becoming a dentist. From the first day that I arrived on campus, I noticed the faculty and staff's desire to help us succeed on our path of becoming a dentist. Dental school is extremely hard, and there are no qualms about that. It's what the faculty does to help you achieve all you can, that truly sets this school apart. I have never been to a university that gives you so many resources to help you reach your goals. Whether it be tutoring, meetings with professors, and even professors willing to stay on campus until midnight to help you understand a concept. I know without a doubt, that I made the correct decision to attend ATSU-MOSDOH."
—Mark Betancourt, Student Body Vice-President, Class of 2020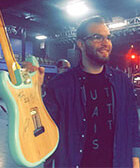 "Having spent time at multiple dental schools -both new and old, I can confidently say that ATSU-MOSDOH can and does compete with the best. This school has offered more than I could have imagined, and continues to surprise me every day! The facilities are second to none, and the faculty are always willing to go above and beyond for every single student. Additionally, the small class size provides an intimate learning environment where no one is left fighting on their own. There is no dental school I would have rather gone to!"
—Emmanuel Salar, Class President, Class of 2020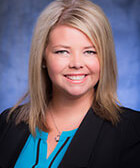 "ATSU-MOSDOH has been a springboard for me to increase my love of leadership. There are so many ways to gain knowledge and experience as a leader on campus. Having a voice for our entire campus through Student Government Association, has been a great experience and deepened my love for this campus and community. ATSU offers a plethora of opportunities to give back and truly lives their mission of creating leaders to serves those in need."
—Annie Ernst, Student Body SGA Chair, Class of 2019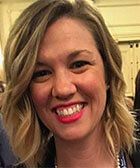 "I chose ATSU-MOSDOH because I wanted to not just learn dentistry, but also how to be a leader through community service and an interprofessional education. I have not been disappointed! Along with state-of-the-art materials, I have received a service focused education that I am confident will fully equip me to be a great dentist and an ambassador of health for my patients' and the community in which I will serve. At ATSU-MOSDOH our voices as students are heard, encouraged and empowered and I wouldn't want an education anywhere else."
—Lisa Bosch, Class of 2019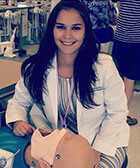 "I chose ATSU-MOSDOH because of the small class sizes and new technology, but more importantly because of their emphasis on public health. My personal goal is to work in a public health clinic treating an underserved population of patients. Completing fourth year rotations in Federally Qualified Health Centers and working in a clinic that partners with Affinia will provide valuable experience when I am applying for jobs. One of the unique aspects of ATSU-MOSDOH is the dual campus - we are completing our education in two separate environments, Kirksville, MO and St. Louis, MO. Kirksville is a small town and perfect for the first couple years of dental school were the main focus is on studying and completing the biomedical science coursework. St. Louis will give us an opportunity to interact with our patients and network with dental professionals in a larger city."
—Gina Hansen, Class of 2019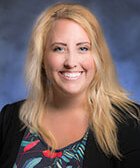 "I am beyond thankful for what ATSU-MOSDOH has provided me already in just my short year and a half. I do not know where I would be in my educational career if I had not made the choice to attend this institution. The faculty and staff are beyond supportive and willing to do anything to ensure you are making the most of your education from their open door policy to staying on campus in the anatomy lab late - they ensure your success. You are exposed to the best technology, small class size, and patient centered care ensuring you become the best dentist possible."
—Molly Wagenknecht, Student Body President, Class of 2019