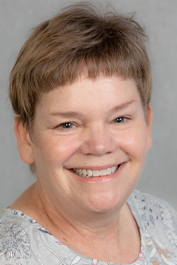 Patricia E. Inks
, MS, RDH
Director, DIC & ICSP
Assistant Professor
Patricia E. Inks, RDH, MS, is director of dentistry in the community and integrated community service partnerships for A.T. Still University-Missouri School of Dentistry & Oral Health's (ATSU-MOSDOH) St. Louis Dental Education and Oral Health Clinic. She received her bachelor's degree in dental hygiene from West Virginia University and master's degree in professional leadership and training and development from Carlow University.
Prior to joining ATSU-MOSDOH, Inks served as director of dental hygiene at Fortis Institute – Erie for three years before her appointment to dental chair in 2012. She also served as an assistant professor at the University of Pittsburgh for nine years and has more than 15 years' experience as a dental hygienist.
Inks holds professional memberships with the American Dental Education Association and American Dental Hygienist's Association, and she serves as a board member for the North West Pennsylvania Area Health Education Center. In addition, she has been a contributing author and presenter/instructor for continuing education activities, as well as an active community volunteer.