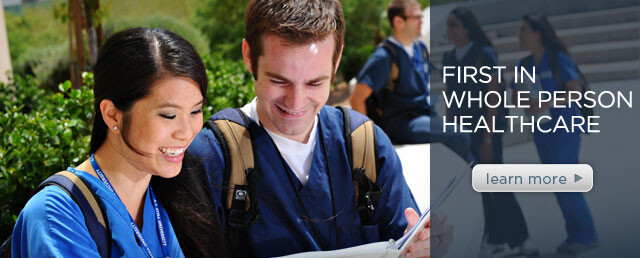 Student Financial Services
Investing in your future as a student is one of the most important steps you will take in your life. ATSU can help you put together a financially sound aid package that will let you focus on your education instead of worrying about how you will finance it.
We see our role in the Office of Student Financial Services as helping you with your finances, so you can concentrate on your academics. We are here to serve you. Please email our office at financialaid@atsu.edu or call us at 1.866.626.2878 ext. 2529.
Arizona School of Health Sciences - Residential

+

Athletic Training +

Physical Therapy +

Physician Assistant +

THE 10 STEPS REQUIRED FOR A STUDENT TO RECEIVE FINANCIAL ASSISTANCE ARE AS FOLLOWS:

The student completes the Free Application for Federal Student Aid (FAFSA) or a Renewal FAFSA by going to fafsa.gov and following the instructions on the website. The school code for all campuses and programs of A.T. Still University of Health Sciences (ATSU) is G02477.


The Central Processing System (CPS) performs matches and edits, calculates a student contribution, and sends the data back to the processor.


A.T. Still University of Health Sciences receives the information electronically (ISIR) within three to five business days.


The student looks over the Student Aid Report (SAR) and, if accurate, keeps it for his/her records. If any corrections are needed, the student contacts Student Financial Services.


Student Financial Services sends an electronic award letter to the student, along with instructions for completing the loan applications and other required forms.


The student accepts, refuses, or modifies the award letter and submits all required forms to Student Financial Services.


In addition, the student completes loan applications and master promissory notes as required.


Student Financial Services looks over the required forms and performs verification if necessary.


The lender wires the funds by Electronic Funds Transfer (EFT) to the school or sends the institution a loan check.


If by EFT, all funds will be applied to the student's account. The refund will be directly deposited to the student's direct deposit account on file.

Financial Aid Brochure: Paying for Health Professions School (pdf)

Free application for federal student aid (FAFSA):

Must be filled out each year (after January 1st ) to apply for financial aid


Need prior year federal tax returns if required to file (Keep a copy of your return in case you are picked for verification.)


Apply on the web (fafsa.gov) or by using paper FAFSA


School will receive information electronically if student lists school code (G02477)


Check your copy over. If you find errors, call the school before making corrections!


Parental information not required for Federal Stafford Loans, but must be included to be considered for Federal Perkins Loans

Eligibility for Financial Assistance

Eligibility or unmet financial need is determined by subtracting a student's expected contribution from the student budget. The student's expected contribution is listed on the Student Aid Report (SAR), which is the output document the student receives after completing the Free Application for Federal Student Aid, and is based on the student's financial strength. Students may choose to receive financial assistance up to their unmet financial need. For example, if a student's budget is $40,000 and the expected contribution is $5,000, the student's unmet financial need is $35,000. The student may receive financial aid through scholarships, loans, etc., to arrive at this figure. (Note: Students may use the Unsubsidized Federal Stafford Loan or any private loan to replace their expected contribution.) Every effort will be made to meet the student's need, but in some instances, the student may have to rely on parents or other outside resources. It is of critical importance to be creditworthy, as the Grad PLUS and private loans require a credit check.

Student Budget Determination

The student expense budget is determined each year by the Student Financial Services Director. Every effort is made to ensure allowances in each category are realistic and fair. Periodically, students are given questionnaires to report their actual expenses in each category. This information is used in determining student budgets for the next academic year. Although the Student Financial Services Director determines the average student budget, students having credit history difficulties may not be able to borrow the full budgeted amount, due to the Grad Plus and private loans being based on creditworthiness.

Verification

2015-16 Verification Information -- Each year, applications for federal student aid are selected for verification by the Central Processing System (CPS) in order to confirm the accuracy of the data listed on the Free Application for Federal Student Aid (FAFSA). All applications selected will be verified for students receiving need-based funding (Federal Perkins Loan or Federal Work-Study), or for whom professional judgment is performed.

If verification is required and you used the IRS Data Retrieval Tool when you completed your FAFSA electronically (and you have not amended your tax return), you will not need to request a 2014 tax return transcript. (You may go to fafsa.gov and choose to use the IRS Data Retrieval Tool even if you didn't use it on your initial FAFSA.) If you are unable or choose not to use the IRS Data Retrieval Tool, you must request a 2014 IRS tax return transcript and send it to our office.

Until verification is complete, you cannot receive any federal need-based aid (Federal Perkins Loans or work-study). If the required documentation is not received prior to the end of your academic year, you will not be able to receive federal need-based student aid for the 2015-16 year.

After your application has been verified, ATSU will process any necessary corrections based upon the documentation received. The award process will then proceed, and you will receive an email containing information and instructions for accessing your electronic award letter. In the event a correction must be made as a result of the verification, you will receive notification from CPS of the change to your Student Aid Report. You will also receive notice via email from Student Financial Services within 10 business days if your financial aid award offer must be changed.

Student Financial Services does have a referral policy, as required by the federal government, in the event of an actual or suspected case of fraud or abuse. Students who willfully submit fraudulent information will be investigated, and all cases must be reported to the proper authorities. Fraudulent situations will be reported to the hotline of the Department of Education's Inspector General.

If you have any questions regarding the verification process, please feel free to call us at 866.626.2878, ext. 2529 or email us at financialaid@atsu.edu. Thank you for your assistance!

Special Conditions

Professional judgment allows the Director the flexibility to evaluate individual students with extenuating circumstances on a case-by-case basis. This authority is clearly stated in the federal regulations and is used as needed. The adjustments may be made in the cost of attendance, expected family contributions, or satisfactory academic progress.

Although every effort is made to meet a student's financial need, financial assistance is not an entitlement and, in some instances, not all of a student's need will be met.

Financial Planning

Financing a medical school education is an investment in your future. As a major investment, it should be entered into with conscientious planning. Setting goals and establishing a game plan are essential in order to minimize your debt.

A simple financial plan begins with the establishment of a long-term goal. As an osteopathic student, for example, your long-term goal might be to set up a private practice in your home town. As you plan your strategies to reach this end, keep in mind that your short and mid-term goals should be consistent with and built upon this long-term goal. To help keep you on track, it is important to develop a budget.

A budget lists all sources of income, as well as all estimated expenditures. To make a budget work for you, keep the following points in mind:

Have a written plan;
Set realistic goals;
Establish priorities;
Keep expenditures below income; and
Stick to your game plan.

It is important for you to determine your needs so that you will borrow only the amount necessary, rather than the amount for which you are eligible. Because of accrued interest, you may pay back 2-3 times the amount you borrowed. Therefore, the less debt you accrue in school, the more financially secure you will be later. You can live like a student now, or you can live like a student later. The choice is yours.