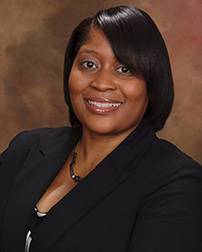 Eboni Anderson, DHEd, MA, MEd, MSW, CHES®
Assistant Professor
Director of Community Oriented Primary Care
Email: ebonianderson@atsu.edu
In summer 2019, Dr. Anderson joined ATSU-SOMA Department of Public Health as a full-time faculty member and Director of Community Oriented Primary Care (COPC). She earned her bachelor's degree in English from Wayne State University. She holds three master's degrees; one in Counseling (MA) from Wayne State University, one in Higher and Post-Secondary Education (MEd) from Arizona State University, and one in Social Work (MSW) from Arizona State University. Additionally, Dr. Anderson completed her doctoral degree in Health Education (DHEd) from A.T. Still University-College of Graduate Health Studies.
As a former "Emerging Professional" and a two-term voting member of the National Partnership for Action-Regional Health Equity Council (RHEC IX), Dr. Anderson fostered several health policy initiatives that sought to shine a light on and reduce health disparities in the Southwestern United States. She previously held an academic appointment at the rank of Clinical Assistant Professor at Arizona State University-Edson College of Nursing and Health Innovation. She also served as the Academic Department Chair of Health Sciences at St. Petersburg College.
Dr. Anderson's research and teaching interests include Social justice & health disparities, the science & art of resilience, HIV/AIDS & aging, LGBT+ community, health care coordination, community health, integrative health, interprofessional education (IPE), and community-campus partnerships for health. Her 20+ years of employment and volunteer work includes serving in the areas of public health, behavioral health, higher education teaching and administration, and local government.