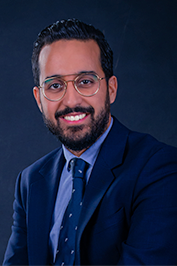 Mohamed Rahhal
, BDS, MSc, PhD
Assistant Professor
Mohamed Rahhal, BDS, PhD, MSc, is a prosthodontist and implantologist who has been working at his own dental office in Egypt since 2006. Dr. Rahhal established his academic life working as a teaching assistant in the Periodontics, Diagnosis, and Medicine department at Misr International University and then moved to the Prosthodontics department at Modern Sciences and Arts University from 2009-18 as an assistant professor. Following that, he worked as an assistant professor at Fayoum University from 2018-21.
Dr. Rahhal is a graduate of the faculty of oral and dental medicine at Cairo University. He is a member of American Dental Association and earned his master's and doctoral degrees in prosthodontics and implantology from Cairo University. Additionally, Dr. Rahhal earned an advanced implant diploma from Napoli University in Italy and a fellowship from Egyptian Society of Oral Implantology.
He participated in several local and international conferences and courses, including AEEDC Dubai in 2014, 2016, and 2020, the international Egyptian Scientific Society for Dental Implantologists conference in Egypt in 2015, and International Dental Conference in Fayoum North Upper Egypt conference in 2017 and 2019.
Dr. Rahhal has conducted training for prosthodontics and prosthetic implant dentistry modules for the last six years. He achieved an externship program of six months with the Department of Periodontology, University of Kentucky College of Dentistry.