Request Information Contact a Representative Apply Now Request a Tour
About : Director's Message : Faculty & Staff : Residents : Orthodontic Postgraduate Program : Application Process : Alumni : Contact Us : Become a Patient : Orthodontic Emergencies
A message from Dr. Park: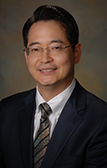 Orthodontic treatment has been long thought of as elective or cosmetic and not regularly incorporated into the typical treatment planning protocol of most dentists. Because of this, government funds to assist the disadvantaged are not allocated for orthodontic treatment. ATSU's Arizona School of Dentistry & Oral Health (ASDOH) Postgraduate Orthodontic program seeks to change this long held thought process through a paradigm shift. While it is true that there are more important life threatening or tooth threatening maladies that afflict patients, orthodontics needs to be considered when developing a true comprehensive treatment plan for our patients.

The special needs population in dentistry also presents with many unique occlusal and functional problems. Patients with low-resources also deserve advocates in healthcare that are willing to deliver true comprehensive care. Establishing oral health for all patients requires a consideration of several factors and the management of occlusion needs to be one of those factors; orthodontics is the treatment of choice when management of occlusion is desired. The philosophy at ATSU, ASDOH, and the Postgraduate Orthodontic program is one of teaching our residents to become competent healthcare professionals who continuously develop and demonstrate compassion, integrity, and ability and are committed to scholarly inquiry that anticipates and addresses society's healthcare needs.
Changing the thought process of our profession, our elected officials, and the public from seeing orthodontic care as an elective or cosmetic procedure will be our task into the future. Our program will work toward a true paradigm shift that will make orthodontic care available not only to those that can afford it, but also to those with more meager means. Compassion, integrity, ability, and society's healthcare needs are all words that move our orthodontic program every day. Action and not words alone will bring our goals to light.

Welcome to our program,

Jae Hyun Park, DMD, MSD, MS, PhD
Program Director
ASDOH Postgraduate Orthodontic program