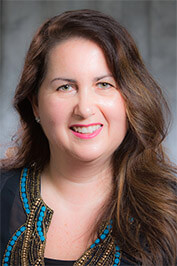 Romana Muller
, RDH, BA, MSDH
Assistant Professor, Clinical Hygienist
Romana Muller, MSDH, RDH, is an assistant professor at A.T. Still University-Missouri School of Dentistry & Oral Health's (ATSU-MOSDOH) St. Louis Dental Education and Oral Health Center. Her teaching experience includes didactic and clinical instruction of dental and dental hygiene students, with a focus on evidence-based dentistry and patient-centered care. Muller holds a master of science degree in dental hygiene with an emphasis on higher education, public health, and research. Her background in pedagogy includes expertise in application of education methodologies, assessment, course design, and program development.
As a researcher, Muller is interested in various topics related to dental care access, such as language and communication barriers. In her master's thesis, she investigated the impact of educational programs on the oral health literacy of refugees and immigrants. The results of her research were presented on a national level. Muller is passionate about improving patient-provider communication for individuals with limited English proficiency through oral health education and training of healthcare interpreters. Her background in interpretation and translation gives her a unique perspective on the challenges of treating today's linguistically diverse population. She is a nationally accredited continuing education course provider.
Muller is a member of the American Dental Education Association, American Dental Hygienists Association, and Missouri Coalition of Oral Health. She is active in her professional organizations on local and state levels.