Annual Lecture on Aging
11th Annual Lecture on Aging - 2015
Sleep & Aging: Helping Elders Get a Good NIght's Rest
Dr. Sonia Ancoli-Israel, PhD
Sonia Ancoli-Israel, PhD, is a professor emeritus and professor of research in the Departments of Psychiatry and Medicine at the University of California-San Diego (UCSD) School of Medicine, director of the Gillin Sleep and Chronomedicine Research Center, and director of education at the Sleep Medicine Center at UCSD.
Dr. Ancoli-Israel received her bachelor's degree from the State University of New York-Stony Brook and master's degree in psychology from California State University-Long Beach. She received her doctorate in psychology from the University of California-San Francisco.
Her expertise is in the field of sleep disorders and sleep research in aging adults. Her current work includes the longitudinal effect of sleep disorders on aging, the effect of circadian rhythms on sleep, therapeutic interventions for sleep problems in dementia, and fatigue - particularly the relationship between sleep, fatigue, and circadian rhythms in cancer and chronic illnesses.
Dr. Ancoli-Israel is past president of the Sleep Research Society (SRS) and Society for Light Treatment and Biological Rhythms. Additionally, she was a founding executive board member of the National Sleep Foundation (NSF).
She has been honored with numerous awards including NSF's Lifetime Achievement Award (2007), SRS' Mary A. Carskadon Outstanding Educator Award (2007), the Society of Behavioral Sleep Medicine's Distinguished Career Award (2012), and SRS' Distinguished Scientist Award (2014).
Dr. Ancoli-Israel publishes regularly in medical and psychiatric journals with more than 400 publications in the field to date.
Click Here to View the 11th Annual Lecture on Aging
---
10th Annual Lecture on Aging - 2014
So Many Drugs, So Little Time: A Focus on Polypharmacy
Dr. Joseph Flaherty, MD

Joseph Flaherty, MD, is the Co-Director of the Fellowship Program for the Division of Geriatrics at Saint Louis University, the Co-Medical Director of the Palliative Care Consult Service at Saint Louis University Hospital, the Medical Director of the ACE (Acute Care for Elderly) Unit with its Delirium Room at Des Peres Tenet Hospital, and the Medical Director of Bethesda Dilworth Nursing Home.
His areas of interest and publication include hospital care of elderly patients, especially delirium; palliative and end of life care; medication use among older persons; and longevity research among Chinese nonagenarians and centenarians in collaboration with Sichuan University in Chengdu, China.
Click Here to View the 10th Annual Lecture on Aging
---
9th Annual Lecture on Aging - 2013
Creativity : The Critical Link in Person-Centered Care
Dr. Andrea Sherman, PhD.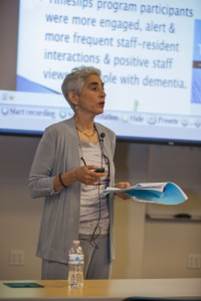 Andrea Sherman, PhD, joined the National Center for Creative Aging as a senior curriculum director and consults for the Washington D.C. Area Geriatric Education Center Consortium. She trains and presents nationally at numerous meetings and has published in the areas of caregiving, long-term care, geriatric emergency preparedness and response, creativity and aging, rituals in the second-half of life, intergenerational relations, the arts and older Americans, and lifelong learning.
Dr. Sherman is the co-founder and author of Transitional Keys (www.transitionalkeys.org) and created rituals that span the lifecycle from birth to dying.
Click Here to View the 9th Annual Lecture on Aging
---
8th Annual Lecture on Aging - 2012
Caring for the Aging : Options, Opportunities, and Outcomes
Dr. Crista Hojlo, PhD, RN, NHA
Crista Hojlo, PhD, RN, NHA, is the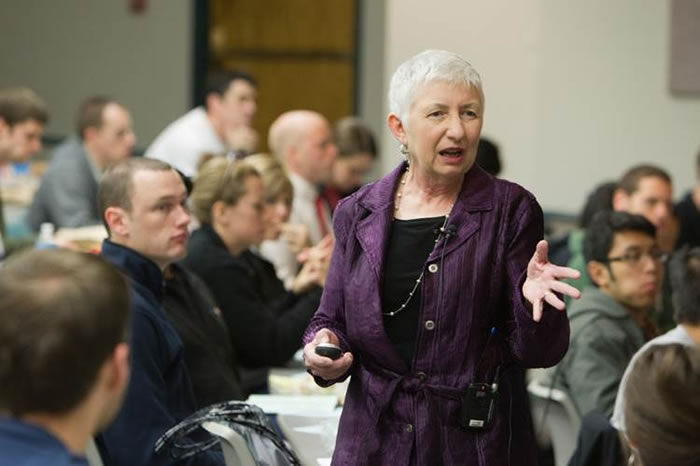 director, VA Community Living Centers & Director, State Veterans Home Clinical and Survey Oversight Program, Department of Veterans Affairs Central, Washington, D.C. Dr. Hojlo is a registered nurse and nurse practitioner with extensive experience as a clinician, educator, administrator, lecturer, and leader in various aspects of the healthcare delivery system. She has served on several hospital boards of trustees and two corporate boards of directors for large national not-for-profit health systems. She also served as the VHA liaison on the professional technical advisor board for long term care for the joint commission and is active in several professional organizations.
Click Here to View the 8th Annual Lecture on Aging
---
7th Annual Lecture on Aging - 2011
Alzheimer's
Dr. Roy Yaari, MD, MAS
Helle Brand, PA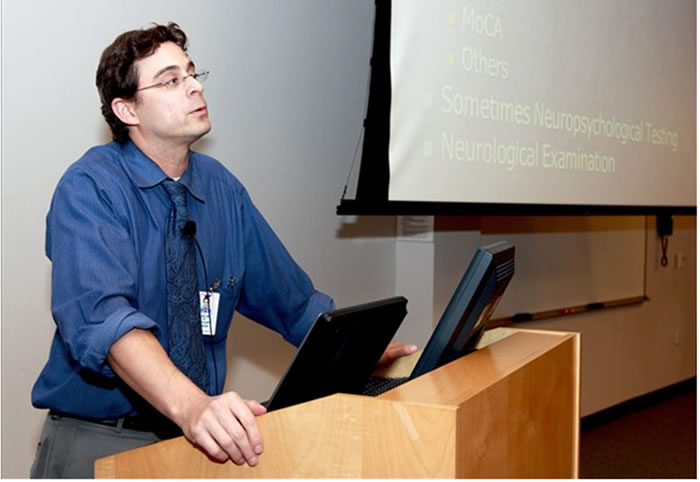 Roy Yaari, MD, MAS, is the Associate Director of the Memory Disorders Clinic at the Banner Alzheimer's Institute in Phoenix, Arizona. Dr. Yaari is a Clinical Associate Professor of Neurology at the University of Arizona, and is a member of the American Academy of Neurology and the Arizona Neurological Society. He is actively engaged in multiple clinical trials testing new drugs for the treatment of Alzheimer's disease.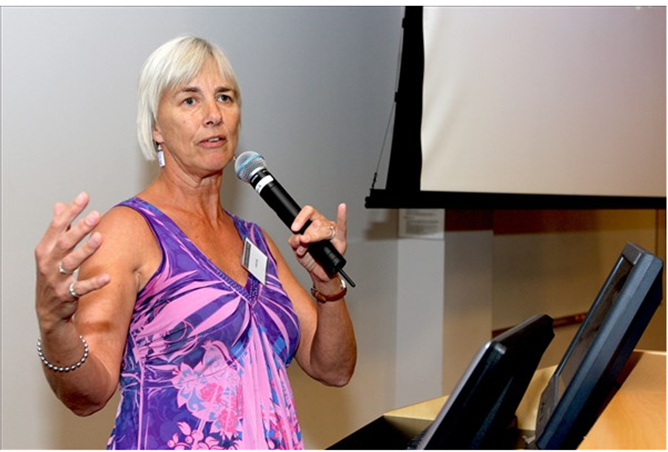 Helle Brand is a physician assistant focusing on the "whole person experience" treating the body, mind and soul of patients at Banner Alzheimer's Institute in Phoenix. Helle has an interest in education and counseling related to dementia, looking at both the effect of dementia on patient's daily functioning and effects on the extended family.
Click Here to View Part 1 of the 7th Annual Lecture on Aging
Click Here to View Part 2 of the 7th Annual Lecture on Aging
---
6th Annual Lecture on Aging - 2010
Chaos or Coordination : The Choice is Ours
Dr. Paul R. Willging, PhD
Paul R. Willging, PhD, served as President and CEO of the American Health Care Association, the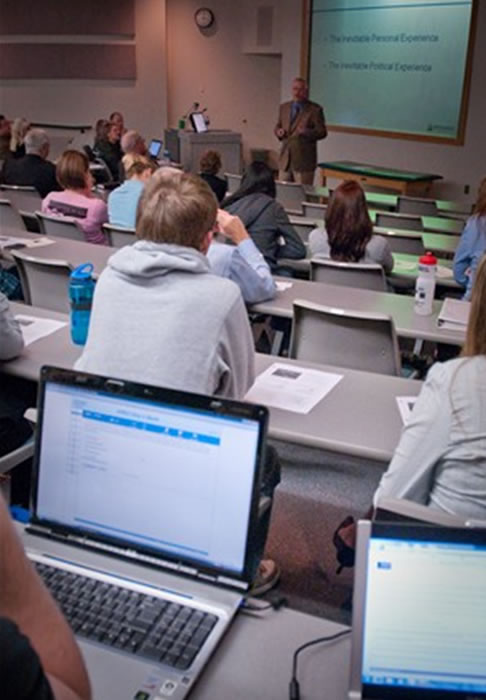 Assisted Living Federation of America after serving as an officer with Blue Cross / Blue Shield of Greater New York. He held senior positions in the Health Care Financing Administration (now CMS, the Centers of Medicare and Medicaid Services) where he oversaw both the Medicare and Medicaid programs. His career continued with faculty assignments to the John Hopkins Center on Health and Aging, and the University's School of Medicine. At the community level, he was an active member of the Howard County Commission on Aging and contributed leadership to the Aging in Place Advisory Committee of the Howard County Office on Aging and the Partners Group co-directed by the Office on Aging and the Horizon Foundation. Dr. Willging passed away in May 2011 following more than thirty five years of extensive experience in health care management as a practitioner, teacher, and policy maker.
Click Here to View the 6th Annual Lecture on Aging
---
5th Annual Lecture on Aging - 2009
From the Halls of Ivy to the Kitchen Table : Moving Evidence-Based Falls Prevention into Practice
Dr. Dorothy I. Baker, RN/APN, PhD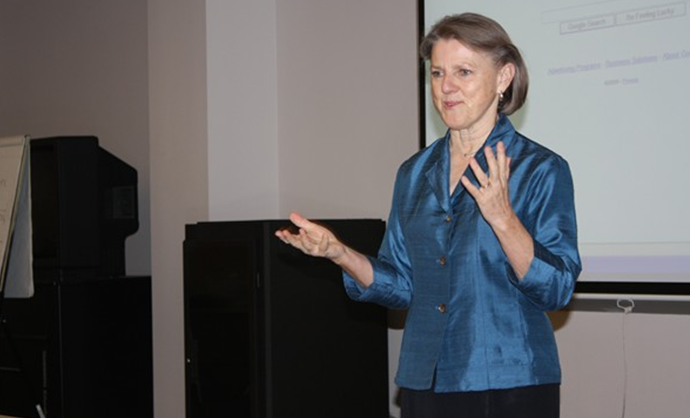 Dorothy Baker, RN/APN, PhD., is a research scientist / scholar in Internal Medicine/Geriatrics at Yale University School of Medicine. She is a nurse practitioner with a background in outpatient and homecare settings. She has over 2 decades of experience conducting community-based research on topics that include fall prevention. She was an investigator on Yale FICSIT, Yale HIP, Project Independence and currently directs the Connecticut Collaboration for Fall Prevention, Step by Step and the Hospital Elder Life Program Dissemination projects. Dr. Baker is an author on multiple publications regarding falls and the prevention of functional decline among community dwelling older adults.
---
4th Annual Lecture on Aging - 2008
Integration of Mental Health Services for Older Adults in Primary Care
Dr. Sue Levkoff, MSW, SM, Sc.D.
Sue Levkoff, MSW, SM, Sc.D., is an associate professor in psychiatry for the Brigham & Women's Hospital and Harvard Medical School, and associate professor, Department of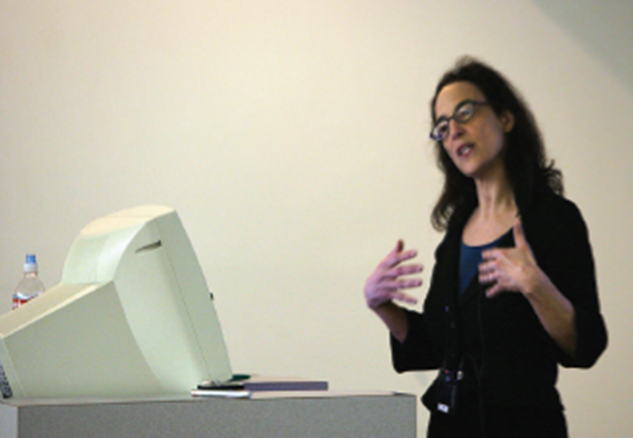 Social Medicine, Harvard Medical School. Dr. Levkoff has served as Director for the Harvard Upper New England Geriatric Education Center and Principal Investigator and Project Director for a SAMHSA-funded multi-site randomized trial on Primary Care Research in Substance Abuse and Mental Health for the Elderly (PRISM-E). In addition, she served as Director of the SAMHSA funded Positive Aging Research Center (PARC), a technical assistance and education center for evidence based behavioral health care for older adults. Dr. Levkoff was the recipient of a five-year NIA Special Emphasis Research Career Award (SERCA) that focused on reducing excess disabilities in elderly patients with cognitive impairments. Dr. Levkoff served as Principal Investigator (PI) of NIA's Exploratory Center Grant and received a NIA-supported Leadership Award to develop a Center of Excellence on Minority Aging.
Click Here to View the 4th Annual Lecture on Aging
---
3rd Annual Lecture on Aging - 2007
Interdisciplinary Care for Elders
Dr. Elizabeth Protas, PhD.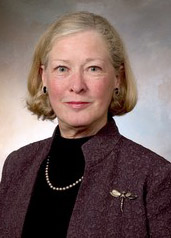 Elizabeth Protas, PhD., has published over 50 manuscripts and book chapters. Her research and clinical interests focus on exercise, aging and physiological responses to exercise of individuals with chronic disabilities, particularly individuals who have had a stroke or Parkinson's disease. She was an investigator with the Veteran's Affairs Rehabilitation Research and Development Center of Excellence on Healthy Living with Disabilities and the Parkinson's Disease Research, Education and Clinical Center. In 2007, the Council of Aging and Adult Development of the American Association for Active Lifestyles and Fitness awarded Dr. Protas the Herbert H. DeVries Award for Distinguished Research in the Field of Aging. The University of Texas Health Science Center at Houston College of Nursing awarded the Joseph C. Valley Gerontological Professional of the Year to Dr. Protas in 2000.
---
2nd Annual Lecture on Aging - 2006
Geriatric Research and Implications for Care Practice
Dr. John Morley, M.B., B.Ch.
John Morley, M.B., B.Ch, is Dammert Professor of Gerontology at Saint Louis University Medical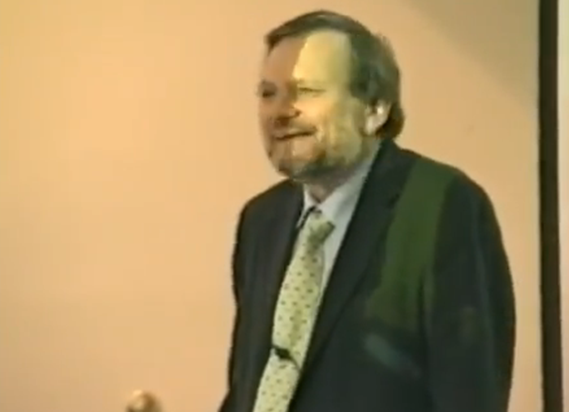 School and Director of the Geriatric Research Education and Clinical Center at the St. Louis V.A. Medical Center. Dr. Morley is the author of numerous papers and 14 texts, including "Geriatric Nutrition", Second Edition (1995), "Memory Function and Aging Related Disorders" (1992), "Medical Care in the Nursing Home", Second Edition (1996), "Frailty in Older Individuals" (1993), and "As We Age" (1996). In 1990, he was included among the 100 Most-Cited Scientists in the World from 1981-1988. Dr. Morley's current research topics include memory function, nutrition, and endocrinology of the elderly.
Click Here to View to 2nd Annual Lecture on Aging
---
1st Annual Lecture on Aging - 2005
The Challenge of Aging Society for a Health Science
Dr. Michael Creedon, DSW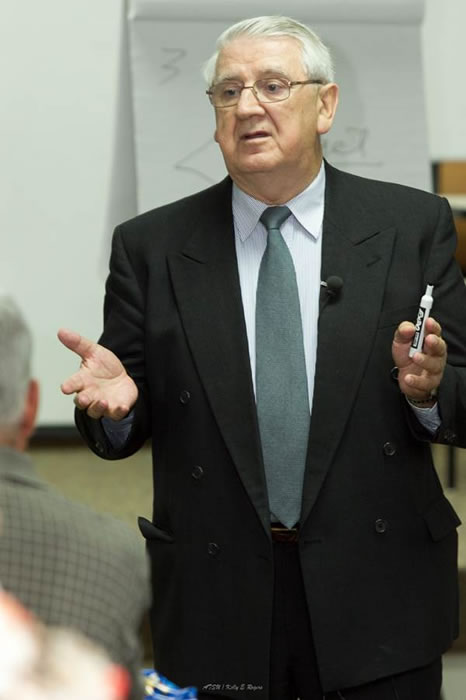 Michael Creedon, DSW, was the founding Chairman of the Aging Studies Project at the A.T. Still University of the Health Sciences, and he still serves in that role. He has served as Professor of Geriatric Health Management with A.T. Still School of Health Management and as the Chairman of the Master's Program in Geriatric Health Management. Dr. Creedon holds a permanent appointment as Visiting Professor of Gerontology and Social Work at the National University of Ireland at Cork. He was founding Coordinator of the Odyssey Certificate on Aging Studies Program at Johns Hopkins University (1995-2005), and Chairman of the Advisory Board for the Program (2005-2010). Dr. Creedon served as Director of Aging Research for Carlow International from 1993 to 2000, carrying out R&D projects on technology and aging for the European Union, NIH, the Department of Health of Ireland, and other bodies. He was Director of Corporate Programs for the National Council on the Aging from 1987 to 1990. He held the Virginia Prentice Andrews Chair in Gerontology at the University of Bridgeport (CT) (1984-87). He was an Assistant Professor at the Catholic University of America School of Social Service (1979-84) and Director of the Center on Aging at CUA (1982-84).