Education Programs
The Healer Within You
History Lectures and traveling exhibits of museum artifacts can be schedule by contacting Museum at museum@atsu.edu or calling 660.626.2359
Website: www.healerwithin.org
The Healer Within You Programs are curriculum-integrated activities provided online by the Museum that are not otherwise available to local schools. They are set up to serve children in Kindergarten through Grade 8. The Museum identified curriculum integration points using the 2008 Approved State of Missouri Curriculum for K-8 (Department of Education, State of Missouri).
Upon request the Museum will offer assistance with using the Kindergarten through Grade 8, "Healer Within You" Curriculum.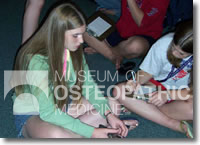 Education and Outreach Programs
These programs held at the museum differ from the Healer Within You Programs in being educational but not integrated to specific curriculum points. They are suitable for many age groups, including preschoolers and senior citizens.
10 Education and Outreach Programs are currently available at the Museum:
Creating a Stress Free Trail (All Ages)
The Hole Truth about Body Piercing (6th-12th)
Human Skeleton (All Ages)
Medicine: Now and Then (1st-8th)
Museums: A Behind the Scenes Look (1st-8th)
The Painted Truth about Body Tattooing (6th -12th)
Scavenger Hunt (All Ages)
Self-Portrait from Nature (All Ages)
Tour (All Ages)
What's in a Brain (6th-8th)
Tours
Museum staff give tours to varied groups, including school children, college students, and senior citizens, as well as friends of the osteopathic profession and ATSU-KCOM applicants. Tours can be adapted to the particular interests of the tour group (e.g., local history, health and medicine, medical instruments).
All programs are free, but space is limited and reservations are required. Programs are also subject to change.
For more information about education programs, contact the Museum at 660.626.2359 or museum@atsu.edu.